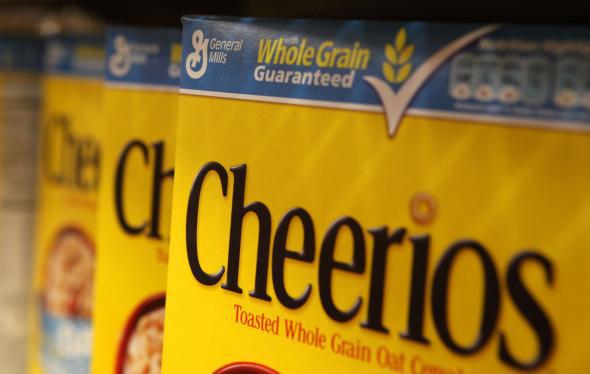 General Mills announced on Monday it is recalling 1.8 million boxes of Cheerios and Honey Nut Cheerios after discovering the boxes, despite a gluten-free label, are not actually free from gluten. The cereal was produced in California where the company says traces of wheat flour mistakenly contaminated gluten-free oat flour used to make the cereal.* "The use of wheat flour means the cereals are not gluten-free, and people with conditions like wheat allergies or celiac disease who consume them might suffer an allergic reaction or discomfort," the Associated Press notes.
The recall comes just months after General Mills announced it had come up with a way to make its Cheerio-brand cereals gluten-free (via the AP):
The recall comes shortly after General Mills launched gluten-free Cheerios. Earlier this year the company said it found a way to remove small amounts of wheat, rye and barley that are unintentionally added to oat supplies when the oats are being grown or transported. It started shipping gluten-free Cheerios in five flavors in July.
"We sincerely apologize to the gluten-free community and to anyone who may have been impacted," the president of General Mills Jim Murphy wrote in a blog post on the company website Monday. Murphy said he was "embarrassed" that the mishap occurred and it was the result of human error at the plant, rather than a problem with the company's flour supply.
*Correction, Oct. 6, 2015: This post originally misstated that wheat flour was used instead of oat flour to make the recalled boxes of Cheerios. Oat flour contaminated with traces of wheat flour was used.
---