As Hurricane Joaquin slowly pulls away from U.S. shores, a veritable firehose of rain is being directed at parts of South Carolina—including Charleston. The result: An ongoing flooding risk that may peak at historic levels. On Saturday, President Obama declared a state of emergency in South Carolina to speed up the flow of disaster aid to the stricken state.
As of midday, nearly 20 inches of rain had fallen in parts of South Carolina in the previous 24 hours alone, according to estimates from weather radar. That's nearly four months of rainfall in a single day, and it exceeds the National Weather Service's already-dire predictions.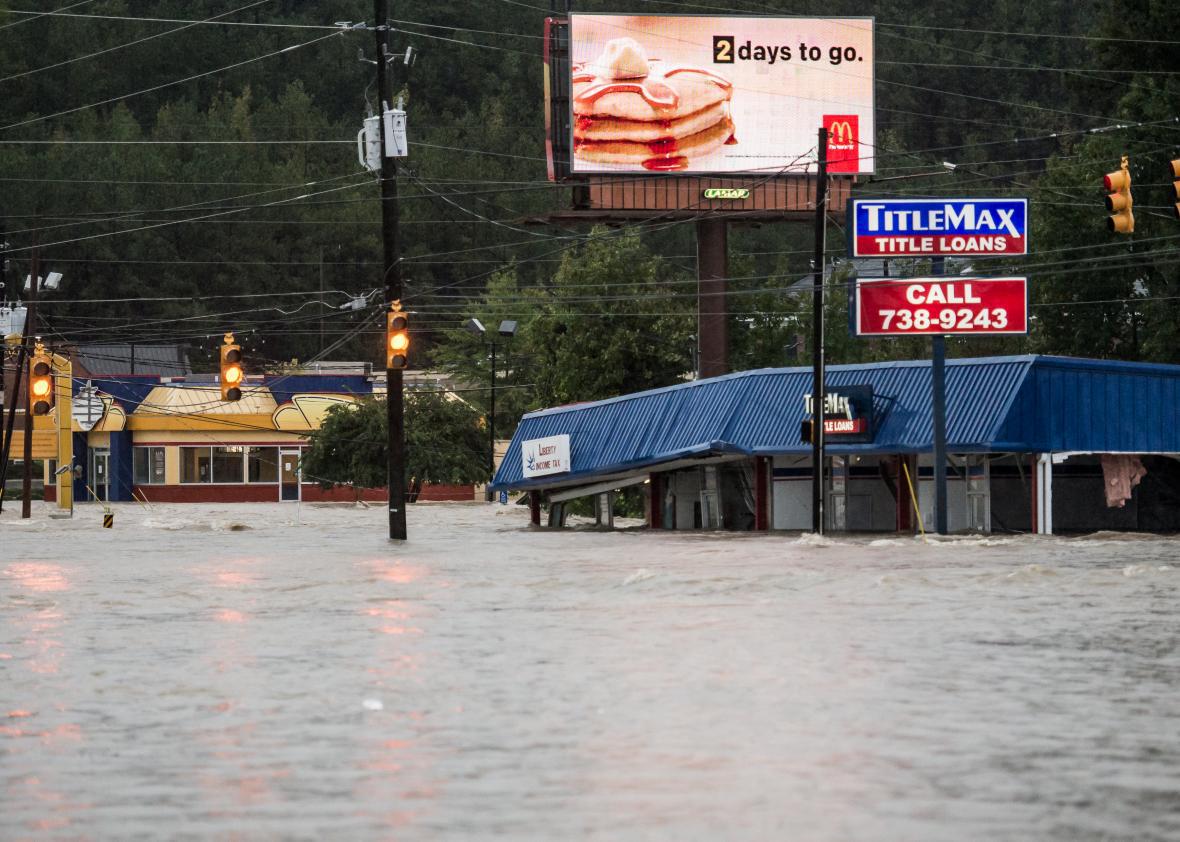 The Charleston region appears to be among the worst-hit so far, though heavy rain is falling across much of the Southeast, from the northern Atlanta suburbs to North Carolina. More than a foot of rain has already fallen in Charleston since the downpour began on Thursday, and much more is on the way. By 8 a.m. Saturday, Charleston had already broken its daily rainfall record of 3.28 inches, set in 1994. By Saturday afternoon, it had doubled the previous record.
When combined with persistent, strong onshore winds, the heavy rain created an exceptional coastal flood in the city on Saturday afternoon—the worst in Charleston Harbor since Hurricane Hugo's landfall in 1989. Several water rescues were reported in the historic downtown, as waves lapped over seawalls and flooded the low-lying city. Police closed traffic on all roads into and out of Charleston early Saturday in an effort to prevent vehicles from getting stranded or washed away. By Saturday afternoon, police were going door to door in the hardest-hit areas and advising residents to voluntarily evacuate, fire stations were being converted into temporary shelters, and the city was providing free sandbags.
The incredible moisture flow streaming toward South Carolina from the Atlantic Ocean is being enhanced by Hurricane Joaquin, which continued to strengthen on Saturday and is now the strongest hurricane on record in the Atlantic this far north this late in the year, and one of the strongest ever during an El Niño, which typically makes Atlantic hurricanes weaker.
Though Joaquin is headed out to sea, away from the U.S. coastline, the close juxtaposition of two phenomena—a strong Canadian high pressure system and a separate low pressure center over Alabama—is diverting a conveyor belt of heavy rain from the hurricane, and a pronounced kink in the jet stream is strengthening the rain even further.
As I described Friday, this is an exceptionally rare meteorological situation, and one the National Weather Service seems unusually concerned about. On Saturday, the NWS warned that "catastrophic flash flooding" was possible in South Carolina until at least Sunday evening with "isolated areas reaching the 1000 year recurrence interval" in terms of the statistical (un-)likelihood of the torrential rainfall.
The National Weather Service in Charleston isn't optimistic that the rain will slow down for at least another 24 hours. By then, an additional foot of rain is likely to blanket the hardest-hit spots. In the foothills of the southern Appalachians, a few landslides had already occurred by early Saturday—and the National Weather Service expects more.
After the rain stops, it'll take at least a day or two for river flooding to peak, as smaller tributaries will cause larger rivers to swell, prolonging the flooding impact well into next week. At that time, Columbia, the state capital, could see record-setting high water from rain that originally fell further upstate. Charleston could get another round of severe flooding, too.
Charleston, which was first settled in the 1600s, expanded in size by reclaiming creeks and marshes. That process has, in hindsight, greatly contributed to its modern-day flood risk; the city's low sections are notorious for flooding, even during regular high tides. Now, sea level rise and stronger storms linked to climate change, like this weekend's, threaten to exacerbate the problem. Saturday afternoon's coastal flood was the city's seventh-worst on record, and it didn't even require a hurricane landfall.