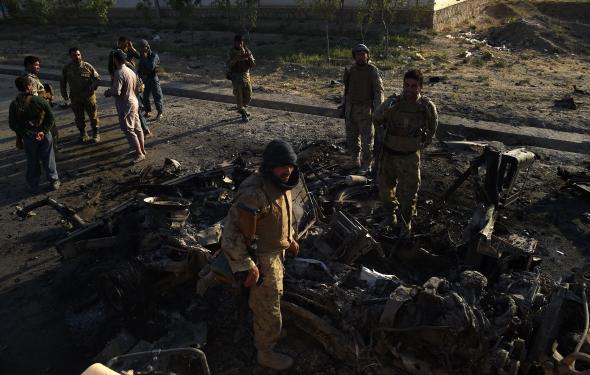 Howdy Slate-ners,
With the news Thursday mostly about Afghanistan, Dennis Hastert, and Hillary Clinton, it's tough to remember which decade we're in. I'm here to help.
Obama used to be the guy who ended Bush's wars. Now he's announced we'll still be in Afghanistan after he leaves the job.
In 2014, Barack Obama announced that American troops would leave Afghanistan by the end of 2016. A year earlier, he said, "We've ended one war in Iraq. We're ending another in Afghanistan." And in July this year, he used the past tense: "We've ended two wars." Sadly, these statements are no longer true. Thousands of troops will stay in Afghanistan through the end of 2016. The change was initiated, in part, by the recent Taliban takeover of the Afghan city of Kunduz, where the U.S. subsequently bombed a Doctors Without Borders hospital, killing 22 doctors and patients.
There are still 9,800 Americans serving in the country, and they'll stay there through most of next year. There are now high schoolers who have never known a world without an American war in Afghanistan. If, after nearly 15 years, you're bored of this depressing story, there's always a new war to follow.
Plus ça change, plus people have the plague.

Ah—the Middle Ages. Knights in shining armor. Princesses in castles. Bubonic plague. Fifteen Americans contracted the disease this year, three of whom died. It's a tiny number, but still a troubling one. Decades ago, we had a window to get rid of it in the U.S., but we missed it. Without political will to make the plague finally go the way of feudalism, such a window may never open again.
On the Web, the other realm where things go viral, people are angry because reader polls say Bernie won the debate, not Hillary.
But these polls are not scientific at all. Plus, Josh Voorhees argues, just because a candidate expresses views that people most agree with, does not mean he or she performed the best at a debate. In my opinion, knowing what you believe, clearly articulating what you mean, and saying the right thing at the right time are qualities to which politicians should aspire. What I'm saying is: vote for me.
If you're not angry about the debate, maybe you're relaxing with some naked Playboy spreads. Philistine.
I approve this message,
Seth Maxon
Home page editor for nights and weekends
If you like what you see, please encourage a friend, family member, or enemy to sign up for the Today in Slate email newsletter here.
---