We're thrilled to announce a new way to read Slate: Apple News.
Apple News is a new app that comes preinstalled on Apple's latest mobile operating system upgrade, iOS 9. We're thrilled to have been invited by Apple to be one of the first publishers included. By following Slate's channel, you have a new way to read almost all of Slate's content on your mobile devices and tablets.
Tap here from an iOS 9 device to access Slate on Apple News.
A Little Background
We've been hard at work on our channel since the spring. As an early partner, we were able to customize our channel's experience with our fonts and colors, and we had the opportunity to utilize fun and engaging effects, like our use of parallax and our notch on the header image.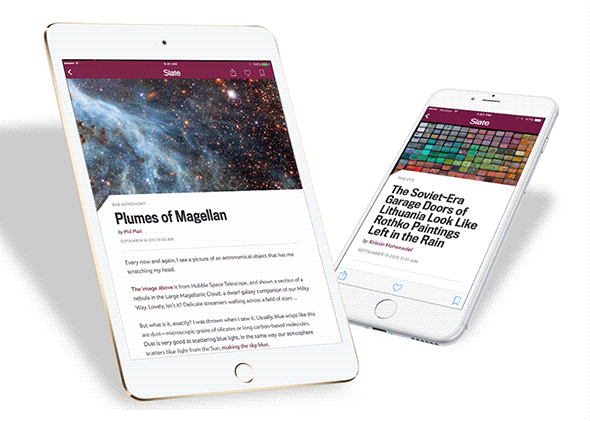 We also used Apple News as an excuse to develop a new Slate content API—a powerful way to deliver our content to the Web and apps—that we've wanted to have for some time. What the API allows us to do is get around the restrictions of RSS to send the exact content we want to show up in Apple News. We'll be using the content API not only for Apple News but for some exciting new projects we're testing and launching this fall. It's all part of an effort to improve your Slate reading experience no matter what platforms you use. We're considering opening up our API to selected partners so they can easily incorporate our content into their applications. If your organization is interested in participating, send us an email.
In Short
Apple News is an important part of an emerging ecosystem—along with Facebook Instant Articles and the open-source Google-Twitter instant content project—allowing publishers to reach large audiences beyond the websites they operate. We're excited about the opportunity this presents for Slate and all the new readers we'll get to interact with.
Some Praise
I'd be remiss to not thank the folks who worked on this (and are still working on it!):
Chase Felker, back-end software developer
Jon Lechliter, front-end software developer
Holly Allen, designer
And, Apple! Apple's been a great partner, collaborating with us through this whole process.
We hope you enjoy Slate on Apple News!
---