DALLAS—Donald Trump's political rallies are, if nothing else, an event. While you wait for the Donald to appear—and even during his off-kilter and meandering talk—you can buy snacks. On Monday evening, American Airlines Center wasn't just a venue for Trump's next speech: It was open for business, and attendees could grab popcorn, peanuts, nachos, and plenty of beer. This was a spectacle, and the assembled embraced it. People dressed in Trump memorabilia—including one woman in a Trump-branded dress—took selfies in front of Trump signs, and cheered in anticipation of the billionaire's arrival.
"This is actually my first rally I've ever been to, period," said George Lanier, a well-built personal trainer from nearby Carrollton, Texas. "I was like—what better way to start it off than by seeing Donald Trump, you know? He's very exciting, it'll be very entertaining." Lanier liked Trump's ideas, but he was much more drawn to the candidate's affect and style. "I love that he's talking in everybody else's language. He's not trying to be politically correct—he's just speaking to us like how we're talking here, or how you talk to your friends."
We associate Trump with the Republican right wing, but this wasn't a Tea Party rally. The crowd was diverse, or at least more diverse than you might assume. Chris Nieves was a transplant from New York City who studied at Texas Christian University and came as an undecided voter, interested in Trump as a businessman who could bring jobs and opportunity to minority communities. "He's not a politician, and I think that's huge for us minorities, because a lot of politicians like to exploit us," said Nieves. "I think that he's an independent voice, and I think that would be especially good for minorities who are in need of that, because of the establishment that has failed us."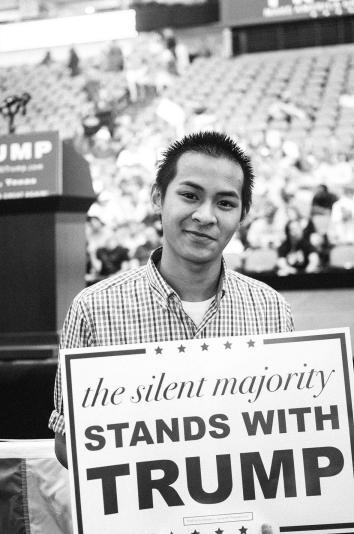 "I wanted to see what this was all about," explained Lawrence Badih, a real estate agent who lives in Fort Worth but was born in Sierra Leone and immigrated to the United States. "I've been registered Republican for a long time, and we need a change. I see Trump is rising in the polls—he's No. 1. He's saying things that no one else wants to say—they're being politically correct."
For all the Trump-curious voters, however, there were just as many Trump supporters, who were clear-eyed and enthusiastic about their candidate. "We absolutely love Donald Trump, and we are supporting him 1,000 percent," said Marilu Rumfolo, a retired investment banker who came all the way from Spring, near Houston. Rumfolo thinks Trump will be a strong conservative on immigration. "He hit a home run with immigration," she said. "People who just walk in and take our country by force, they really don't have the same values. We want immigrants, but we have to make sure the law is followed."
She also thinks Trump will be a less divisive leader than President Obama. "I don't feel like he's going to create that kind of animosity that we see with Black Lives Matter," she explained. "Because honest to God, all lives matter, and it's really an insult to see a person working 40 to 60 hours a week and be told, even if they've struggled their whole life, that if they're white, 'Your struggle doesn't count because your skin color isn't a certain way.' "
At 30 minutes after its scheduled time, the event began. An estimated 16,000 people were packed in the center waving American flags and signs for Trump. First onstage: A megachurch pastor who thanked God for Trump's "selfless public service." Then, a local Tea Party activist who railed against Republican leaders—citing the Mississippi Senate primary where incumbent Thad Cochran worked with Democrats to beat his challenger, Chris McDaniel—and declared her belief that, with Trump on the ballot, "2016 may be more historic than the election of Barack Obama." (At that, the crowd went wild.) Finally, Trump sauntered on stage to whoops, hollers, and cheers.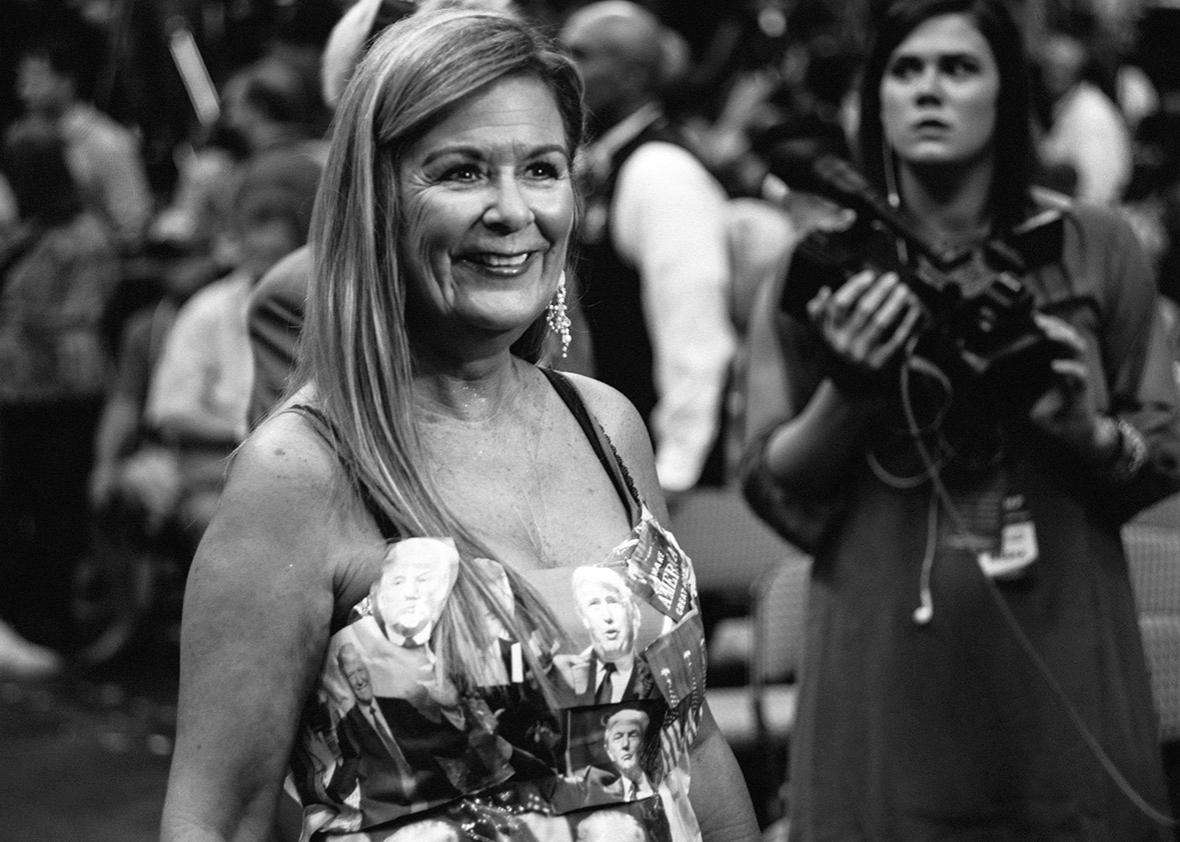 Trump gave the usual. He gestured toward policies and issues (the Iran Deal, China, Mexico); attacked his opponents ("Jeb Bush," he said to boos, before mentioning Hillary Clinton to even louder ones); praised himself (he was leading the polls, unlike everyone else, he didn't need the "blood money" of rich people, and if elected president, he was going to win so much "your head will spin"); and leaned in to his anti-immigrant rhetoric. "Many of these gang members are illegal immigrants," he said to huge cheers. "They're rough dudes." He complained about trade with Japan—"They send us millions of cars. Millions. We send them beef. They don't even want it."—and promised to make a deal that will force Mexico to "build that wall." After more than an hour of speaking, he concluded with his slogan: "You're going to say to your children, and you're going to say to anybody else, that we were part of a movement to take back our country. … And we will make America great again."
At this point, the speakers blared with "We're Not Gonna Take It," and the crowd filed outside in the glow of Trump's unabashed nationalism. There, in the plaza outside the center, they were met by demonstrators from the League of United Latin American Citizens. Carrying Mexican and American flags, they protested Trump's presence and his message. "No more Trump," chanted a group of activists wearing shirts that said "Latinos Stand Up" on the front and "Fuck Donald Trump" on the back. "We want them to know we're united," said Maira Medina, a manager at a local restaurant who was holding an anti-Trump sign. "If this state is going to be united, we have to unite with everybody and put the hatred and derogatory terms aside."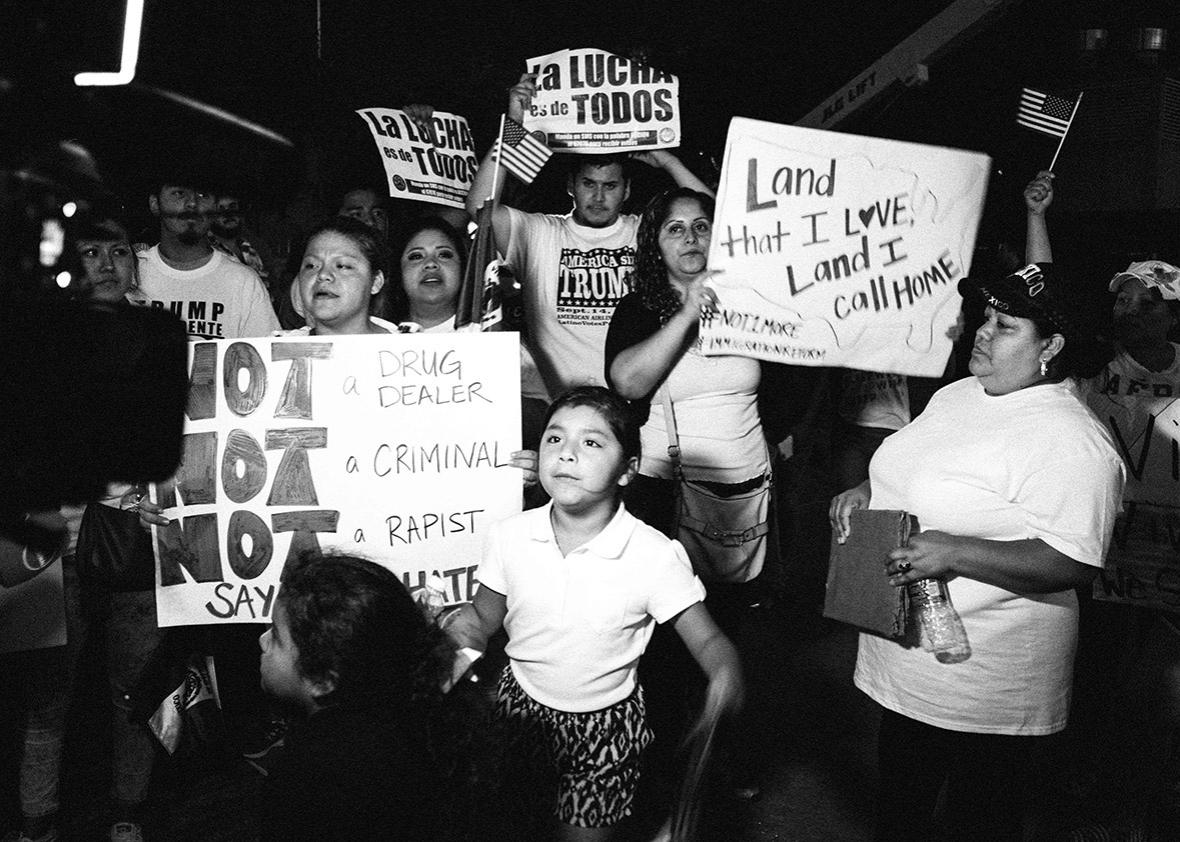 Most of the Trump rally's attendees walked by without incident. But some couldn't resist a confrontation. "Deport illegals! No more illegals!" yelled one older woman who got into a shouting match with a group of protesters. A bald, bearded young man—wearing a T-shirt with the words "Commies aren't cool"—almost got into a fight with one of the demonstrators before police officers separated the two. And another young man—this one wearing a navy blazer, a pink patterned bow tie, and a pair of gray dress pants—was surrounded by media and bystanders as he argued with a young Mexican American man about "illegals."
Trump is a sideshow, and in the presence of his personality, it's easy to overlook the ugliness behind his campaign. But it's there, a debased successor to the nationalist white resentment of Pat Buchanan and George Wallace. And although spectators may miss it, it's more than clear for the targets of his xenophobia, and the people who hate them.