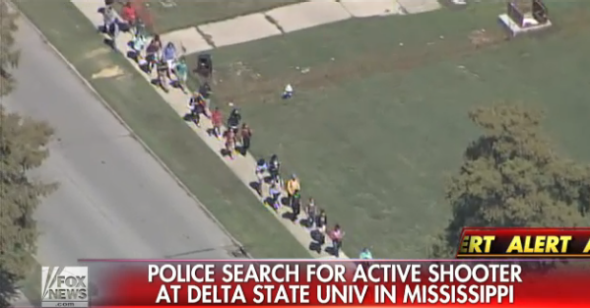 A history professor at Delta State University in Cleveland, Mississippi was shot in the head and killed in his campus office on Monday, reports say. Victim Ethan Schmidt's assailant is still at large and was reportedly seen driving a vehicle (a green SUV) that was also used by the suspect in a different Monday shooting that took place approximately 300 miles away in the town of Gautier.* (Update, 3:45 p.m.: That suspect is a Delta State employee named Shannon Lamb who has been ID'd as a "person of interest" in Schmidt's death.)

Schmidt specialized in Native American and colonial American history; he appears to have been a Kansas native who got his Ph.D from the University of Kansas and had published his second book earlier this year:

Cleveland is about 100 miles south of Memphis near the Arkansas-Mississippi border.
*Correction, Sept. 15, 2015: This post originally misspelled Gautier.

---