This post has been updated with additional details.
The suspected shooter in the Wednesday morning killing of two Virginia journalists, which occurred live on CBS affiliate WDBJ7, was a former employee of the station and had a history of filing discrimination complaints, including one against the station.*
A Twitter user claiming to be Bryce Williams, the on-air name for former WDBJ7 employee Vester Flanagan, posted a graphic first-person video of the shooting on Wednesday. He also claimed in tweets that he filed a complaint against the station to the Equal Employment Opportunity Commission and accused one of the victims, Alison Parker, of making "racist comments."
Parker, 24, and WDBJ7 cameraman Adam Ward, 27, were both killed in the attack while Parker conducted an interview of a local Chamber of Commerce director Vicki Gardner, who was also shot and taken to surgery. Flanagan reportedly shot himself while being confronted by law enforcement, but was taken into custody in critical condition. He eventually died of his injuries in the hospital.
The station's general manager, Jeff Marks, confirmed on WDBJ that Flanagan had filed a complaint and said that the EEOC had found that it had no merit.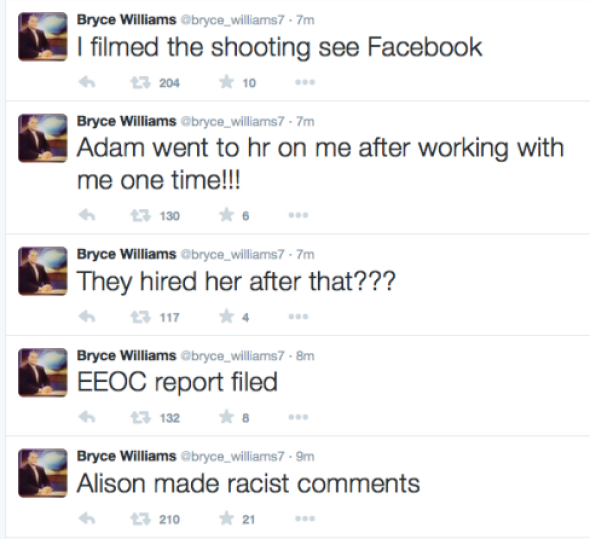 A "suicide note" fax that ABC News received after the shooting from a man claiming to be Bryce Williams confirms that he was motivated at least in part by race, with him attributing the attack to his reaction to the Charleston church shooting and alleged killer Dylann Roof's reported calls for a "race war."
"What sent me over the top was the church shooting," the note read. "And my hollow point bullets have the victims' initials on them."
The note also seemed to indicate he was motivated by other mass killers, expressing admiration for Virginia Tech shooter Seung–Hui Cho and Columbine shooters Eric Harris and Dylan Klebold.
The Twitter account also posted a photo of an apparent newspaper article about a lawsuit he had filed against previous employer, NBC News 40, in 2000.
Another article from March of 2000 in the Tallahassee Democrat described Flanagan's lawsuit as "alleging that news producers and other managers made offensive remarks about blacks and fired him for complaining about it."
He told the paper at the time that he had filed a formal complaint to the Florida Commission on Human Relations after having complained to supervisors. He then filed a lawsuit against the station and was let go. Flanagan claimed at the time that he had been retaliated against: "They told me, 'This is war,' and there could be no compromise," he told the newspaper.
Current NBC News 40 general manager John Dittmeier did not respond immediately to a request for comment on how the lawsuit turned out.
Other details about Flanagan's life were recently posted on his social media accounts, including photos apparently showing him in his youth with the message "Hell yeah I've been a high paid 'companion' " and images apparently from earlier in his life labeled "modeling late teens" and "High school graduation." The photos included images that he claimed were from his childhood, including a shot labeled "when I was in Kindergarten" and one with the caption "Me modeling for Macy's at age 14 in 1988." He also described his religious background.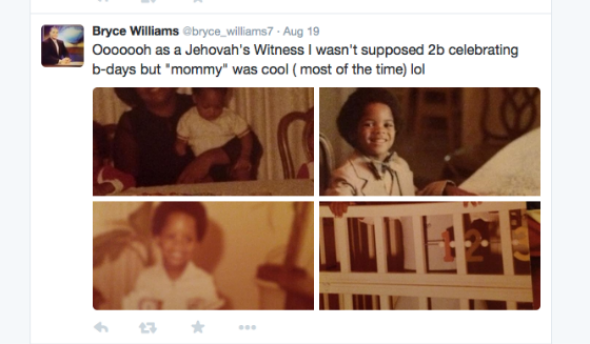 He apparently opened the account, or at least first started tweeting from it, two weeks ago. 

Both social accounts also included images of his cats, one of which he said was named "Kangawoo."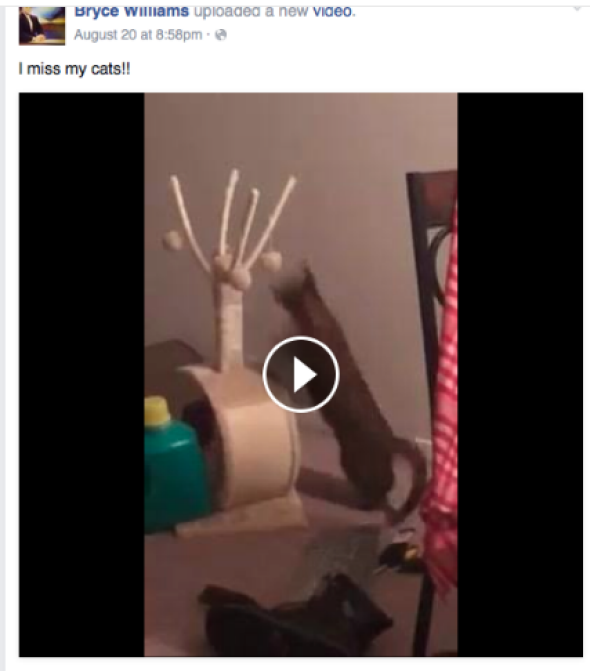 Finally, after the shooting on Wednesday morning, the account posted horrific first-person images of a shooter pointing a gun at the shooting victims and firing.
Correction, August 26, 2015, 2:00 p.m.: This post originally mistated that WDBJ7 was an NBC affiliate.