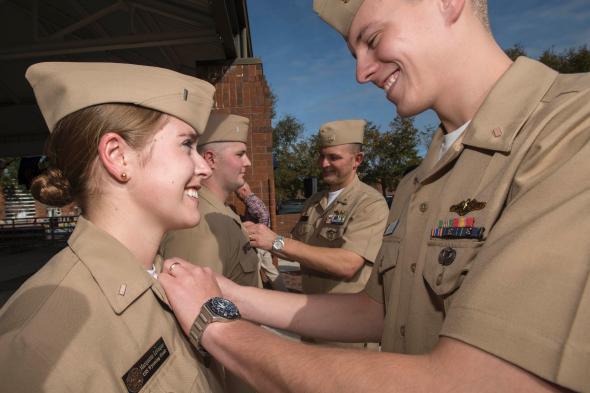 The top brass of the U.S. Navy announced this week the military branch is planning to open up its elite SEAL teams to female sailors for the first time. Women are currently barred from serving in special operations combat units and the prospective policy change comes on the heels of the news this week that two women had completed the grueling Army Ranger School for the first time.
"Adm. Jon Greenert said he and the head of Naval Special Warfare Command, Rear Adm. Brian Losey, believe that if women can pass the legendary six-month Basic Underwater Demolition/SEAL training, they should be allowed to serve," according to the Navy Times. "Why shouldn't anybody who can meet these [standards] be accepted? And the answer is, there is no reason," Greenert told the Navy Times. "So we're on a track to say, 'Hey look, anybody who can meet the gender non-specific standards, then you can become a SEAL.'"
The flurry of moves is part of an ongoing assessment by the Pentagon on how to integrate female members of the five branches of the military into combat roles. The Pentagon lifted a blanket ban on women serving in combat positions in 2013 and each branch of the armed forces has until the end of the year to submit which jobs, if any, will continue to be male-only.
---