A couple of months after Hurricane Katrina, as public officials debated whether and how to rebuild heavily damaged sections of New Orleans, Michelle Longino and Tamara Jackson planned a parade. The event, a local tradition called a second line, would consist of brass bands and groups called social aid and pleasure clubs dancing through the ruins of the city. The parade was meant to stake a claim to the city's historically black neighborhoods on behalf of their former residents, who were still scattered across the country in the wake of the flood. The idea came from Longino, who, in the black, working-class world of second lining, was white and middle class. Jackson, who is black, and grew up on a second-line route, helped her track down members of dozens of clubs, who were eager to sign on.
Their plan was not met with enthusiasm from city authorities. The New Orleans establishment might venerate the city's black culture, which has long been part of its appeal to tourists, but, as was evident in the aftermath of the storm, it remained leery of the people who make it. Civic leaders' embrace of the Neville Brothers tended not to extend to other folks from the Calliope projects. James Reiss, a member of Mayor Ray Nagin's rebuilding commission, openly advocated excluding low-income families from the new city. "Those who want to see this city rebuilt want to see it done in a completely different way: demographically, geographically, and politically," he told the Wall Street Journal. 
I met Longino and Jackson when they approached me about paying a band for their parade through a musicians' relief fund I was administering. I offered to help however I could. In January 2006, about a week before the parade date, I joined Longino, Jackson, and others in a meeting with the New Orleans Police Department's Sixth District Commander John Bryson. The flooding had condensed the territory available for drug trafficking in Central City, and he had word that a gangster I'll call Mike planned to take out a rival at the second line. The club members were undaunted. They lived with the risk of shootings in their neighborhoods every day before the flood and didn't want to concede the streets now. Commander Bryson had other priorities. He refused to approve the permit for their parade.
Jackson and Byron Vallery, another club member, grew up around Mike and his family in Central City and arranged a meeting with him. When Jackson told him about the second line, she didn't have to explain how important it was. Mike agreed to stand down while the parade was on the street; he said he hadn't planned to do anything anyway. If someone moved against him, though, he said he would do what he had to do. Vallery brought the news to Commander Bryson, who was unmoved.
Meanwhile, displaced second liners, many of whom had no transportation of their own, were renting cars and even chartering buses to get to the parade. Vallery made a desperate call to City Council President Oliver Thomas, who had strong ties to the clubs. Thomas thought this second line might be the last one the city would ever muster, that the tradition itself was at stake. "That's why, for me, it had to happen," he told me later. He convinced the Nagin administration that the parade would be more manageable than a crowd of people who found their way back from exile only to discover it had been canceled. He helped secure a permit for a route contained in NOPD's First District, a loop around Treme, regarded by some as the oldest black neighborhood in the country, and a bit of the Seventh Ward, birthplace of Jelly Roll Morton and Sidney Bechet.
Two days later, around 300 club members and three brass bands filled St. Claude Avenue in front of the Backstreet Cultural Museum. The club members wore black shirts that said "renew orleans" across the chest. Father Jerome LeDoux came out of St. Augustine Catholic Church to bless them. Thousands of people surrounded the clubs, spilling onto side streets. From the front porch of the Backstreet, Jackson announced that the second-line community was coming home. If the club members had affordable housing and basic services, she said, they would bring the city back to life.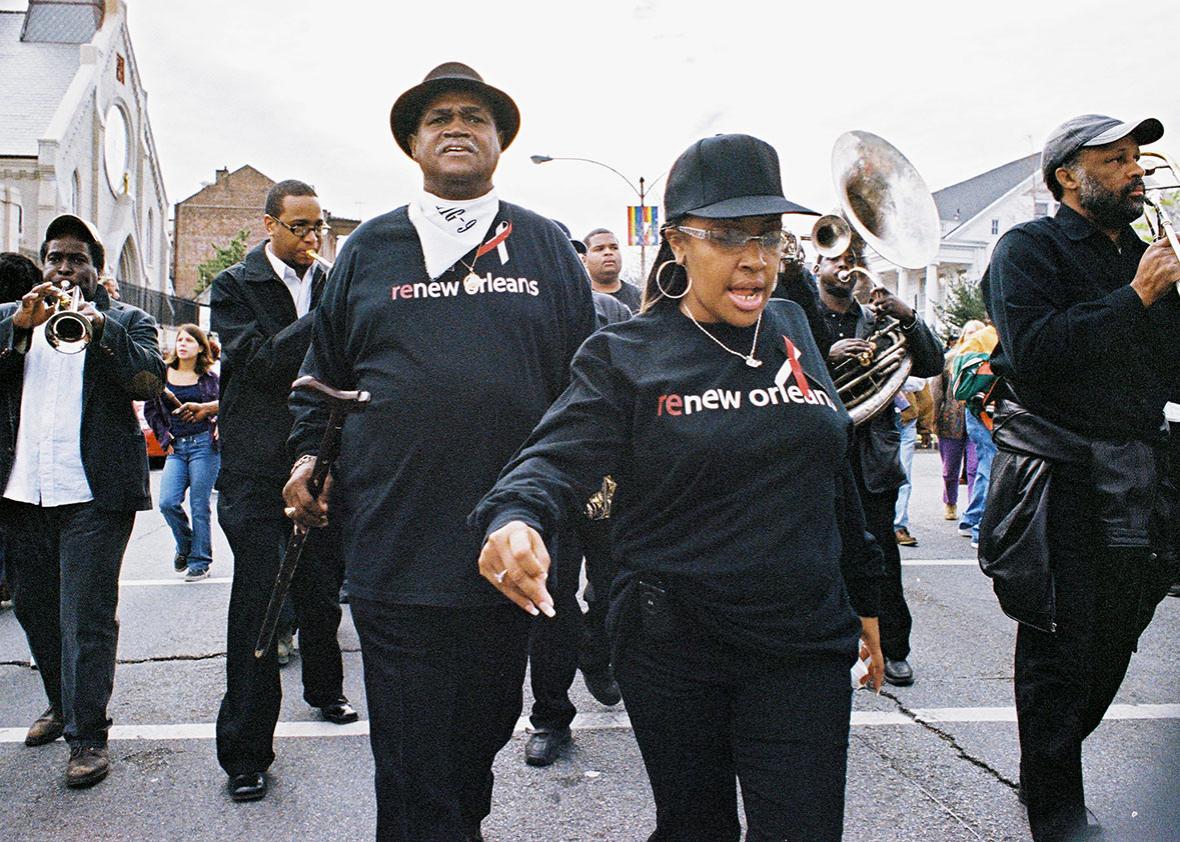 Then a bass drum thumped, the horns started to play, and the parade proved the point. Empty streets filled with people, shoulder to shoulder, flowing around piles of moldy sheetrock on the curbs and onto porches of vacant houses with holes in their roofs. Dancers spun, popped, and jumped on the hoods of drowned cars. Thomas danced along with them. "We exorcised Katrina" that day, he recalled. It was considered by many the biggest second line ever. The parade gained momentum turning onto Claiborne Avenue, and it felt to me as if the force of these thousands of people was reshaping the city. Jackson remembers the turn onto Claiborne as "the greatest moment of my life."
After four hours, with the Rebirth Brass Band two blocks from the end of the route, two bursts of gunfire sent the crowd diving to the street. Jackson saw a man lying on his back in a puddle of blood, shot twice near a kidney and once in his arm. She took off his belt and tied it as a tourniquet around his torso. Two NOPD officers came through the crowd with their guns drawn and aimed them at Jackson. They shouted at her to "back the fuck up!" She shouted back that she would not. She was in nursing school at the time and knew that the only functioning trauma center was more than 7 miles away. Jackson told the officers that she had to keep pressure on the man's wounds, or he would bleed out. She stayed with the bleeding man until emergency medical services arrived. He would survive, as would a young woman hit in the leg and a young man hit in the arm.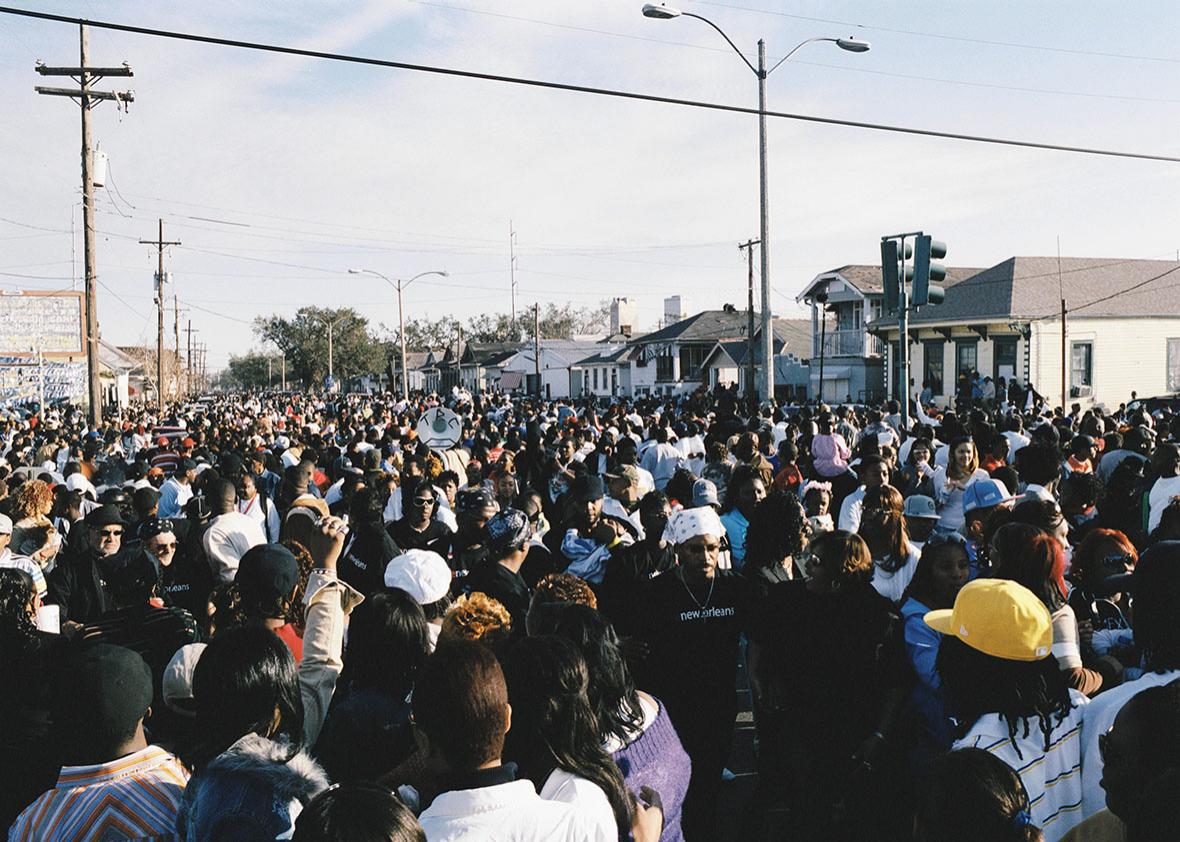 As far as Commander Bryson, Vallery, and Jackson know, Mike had nothing to do with the shooting. But Bryson's fears of violence had come to pass, prompting some local leaders—and others in Washington—to argue against rebuilding New Orleans' poorest neighborhoods. For generations, these parts of town, and the extended families and social networks that called them home, had been the source of the city's renowned black traditions. After the storm, and the violent conclusion to the big parade, the second-line community's culture was at stake, as well as their homes. The people who defined New Orleans for the rest of the world might not have a place to live in the post-Katrina city.
* * *
Contemporary social aid and pleasure clubs evolved from benevolent societies of the late 19th century. Black New Orleanians were excluded by mainstream insurance companies, so many paid dues to benevolent societies to provide for common needs, including burials. The clubs hired brass bands for special events, making them some of the first patrons of jazz. The bands' strutting rhythms percolate through the whole canon of New Orleans music. Louis Armstrong cited the parades as an influence. So has Lil Wayne.
The name second line refers to the people following the sponsoring organization (the "main line") and brass band through the streets. Clubs held annual parades, stopping at the homes of honorees and neighborhood bars where members met throughout the year. Second lines were also part of funeral processions, when, traditionally, a brass band would play dirges en route to the cemetery and celebratory songs after the body was "cut loose."
After Jim Crow, when club members were able to secure insurance, second lines continued as a form of resistance to de facto segregation. Black New Orleanians, denied access to housing and amenities in certain parts of town, used second lines to assert dominion over public space. In parades, working-class blacks were kings and queens, and the largesse of the club members, decked out in matching derbies and three-piece suits, waving fans of ostrich plumes, let the whole neighborhood take pride in the transformation. Different clubs maintained different levels of social aid. Some still tended to ailing members, while others helped parents buy school clothes for their kids.
Second liners were almost entirely black, with a handful of nonblack academics, photographers, and brass band enthusiasts in tow. Hundreds of people could thunder through Central City all afternoon, and folks two blocks away on St. Charles Avenue would never hear them. Still, New Orleanians' devotion to local traditions, even those obscured by segregation, made outsiders vaguely aware of the clubs as markers of the city's distinctiveness.

In the 1980s and 1990s, as New Orleans' economy came to rely increasingly on tourism, second lines became part of the city's brand. Strutting to the sound of a brass band fit the image of New Orleans as exotic and permissive, a place where a party could break out at any time (though the spontaneity of the clubs' parades had already been curtailed when the city started requiring them to be permitted). Second-line music, made to be mobile, could leave its social context behind. Brass bands were hired to lead processions between booths at the convention center and to snake around slot machines at Harrah's casino. Private events and festivals became important sources of revenue for brass-band musicians, but clubs weren't usually hired to dance along with them. The tourism industry needed the idea of a place-based culture and the suggestion of authenticity but not the club members themselves, or, for that matter, the neighborhoods they paraded in.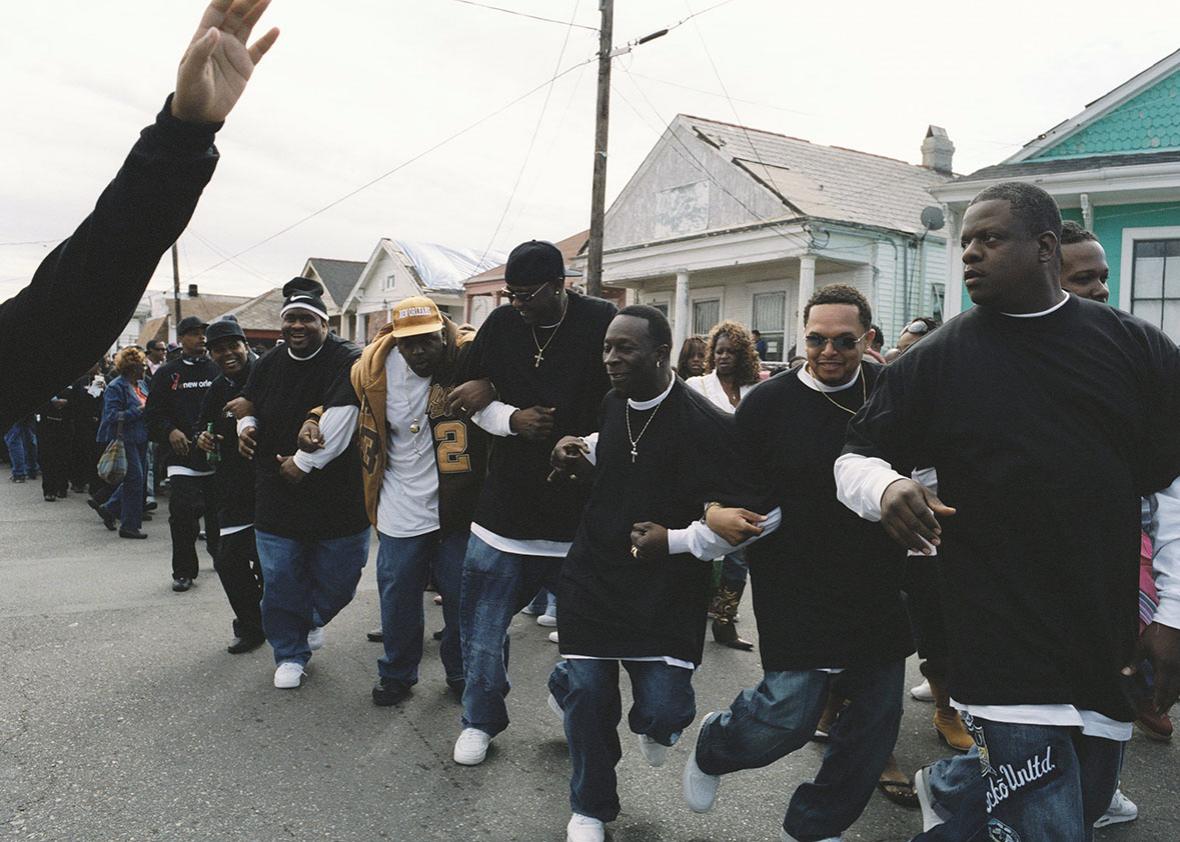 * * *
The precariousness of those neighborhoods was put in stark relief in the aftermath of the violence at the big parade. "I believe the shots fired at the rally and second line this past Sunday were directly related to the repopulation of the Treme neighborhood and the Iberville public housing development," one New Orleans resident wrote in a letter to the editor of the Times-Picayune. The answer: "Bulldoze Treme and the Iberville."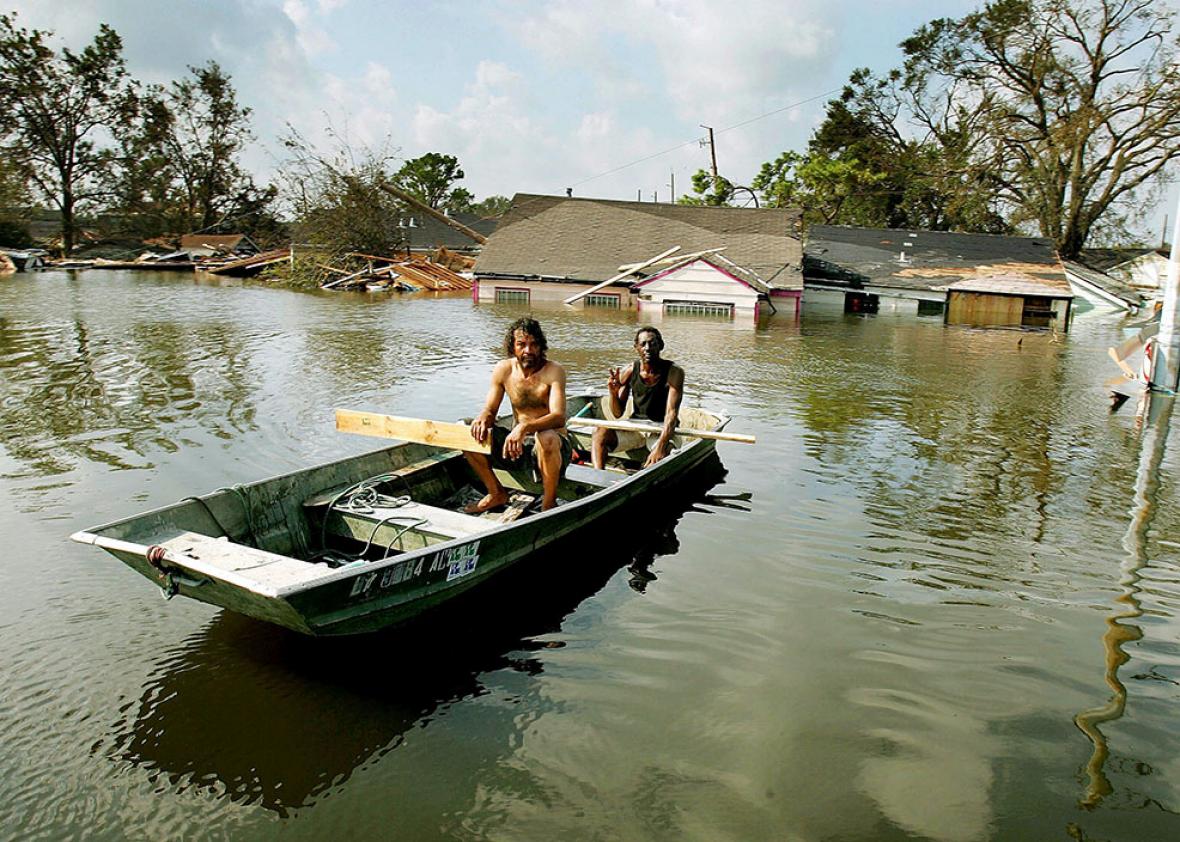 The idea that New Orleans might bulldoze its problems out of existence had purchase in Mayor Nagin's rebuilding commission. Before the parade, it had proposed a moratorium on building permits in heavily flooded areas, putting the onus on displaced residents to demonstrate their communities were viable. If they failed to do so, the city would reduce its footprint, consolidating rebuilding efforts on high ground. Since New Orleans' racial order had always consigned black residents to the most flood-prone parts of town, this meant designating several predominantly black neighborhoods, home for many club members, as "areas for future parkland." The public outcry was immediate and heated. Former mayor Marc Morial called it a "massive redlining plan wrapped around a giant land grab."
For weeks, the sitting mayor avoided taking a stand on the issue. Facing re-election in the spring, though, Nagin had to address the racial implications of the rebuilding plan if he wanted to win over black voters. He did so the morning after the big parade in a rambling speech in honor of Martin Luther King Jr. Day. After extolling New Orleans culture and decrying the shooting at the second line, he said, "This city will be chocolate at the end of the day … It's the way God wants it to be."
The "Chocolate City" speech became national news, decried as "divisive" and "offensive" by pundits. Still, it successfully communicated to black voters that no one would seize their property and that everyone would have the right to return. In his campaign, Nagin pivoted to a "market-based" recovery strategy, permitting residents to rebuild everywhere, though at their own risk and with no guarantee of city services. A pledge to do nothing was preferable to a committee of developers redrawing the city map in a boardroom. Though they had not turned out for Nagin in 2002, black residents voted overwhelmingly for his re-election in 2006. From motel rooms and trailers, exiled New Orleanians made plans to come home.  
Nagin's plan, however, did not address what displaced residents had the right to return to. The invitation to come back, absent public support, left most of the second-line community stuck without the resources they needed to rebuild. When federal aid finally starting flowing to the state in 2007, the bulk of discretionary funds, eventually over $8 billion, went to a program called Road Home, meant to pay for repairs to damaged houses. It was a bureaucratic mess, later found by a federal court to have discriminated against homeowners in black neighborhoods by basing its payouts on pre-Katrina home values and not the cost of renovations.
Jackson, like most club members and brass-band musicians, had been a renter before the flood and was therefore ineligible for even an inadequate grant from the Road Home program. She and her mother rode out the storm in their half of a double shotgun but left the next day when water started rising in the street. They didn't know how deep it would get or what they might encounter, so they tucked their IDs into their brassieres in case their bodies had to be identified. After some harrowing nights outside the convention center, they evacuated by bus and moved through five out-of-state shelters and two untenable housing arrangements in Louisiana. By the time they moved back, even the toxic mold in her house smelled good, Jackson said, because she was home. Her place had no running water or electricity, so she got an ice chest and a portable propane burner to cook outside.
* * *
While the future of their neighborhoods remained cloudy, the clubs saw a clear threat to their parades from the NOPD. Warren Riley was appointed Superintendent of Police by Nagin after the flood, and he took over a decimated department, short of personnel, facilities, vehicles, and everything else. He was tasked with policing a city that mostly disappeared at night, when darkness took over whole neighborhoods without utilities. The threat of violence at parades looked like a problem with a relatively easy solution: Don't parade.
Lieutenant Joseph Valiente and Officer Ross Bourgeois, who administered the permits for second lines, argued for the parades. Valiente had built relationships with club members over the years, and he and Bourgeois appreciated that second lines would help re-establish black communities and help them recover from the trauma of the flood. Second lines "serve a valuable function," Valiente told me recently. "It's almost like a religious thing." The officers, like the club members, knew that parades didn't create conflicts. "That's a faulty cause-and-effect relationship," Bourgeois said. Feuding criminals might find each other at a second line, but shootings were an unfortunate fact of life in these parts of town regardless of parades.
Riley continued to allow second lines but with a dramatically larger police presence to be paid for by the clubs. NOPD considered this a concession; the clubs saw the fee increase, from $1,200 to $4,445, as an attack. Pre-Katrina, clubs held fundraising dances, raffles, and fish fries year-round to afford parades. Adding thousands to the bottom line at a time when club members were struggling to relocate and rebuild would price most of them off the street.
In February 2006, Jackson and Longino, leading a task force representing about half of the city's clubs, met with other community members and Superintendent Riley in the ballroom of a Bourbon Street hotel that served as NOPD headquarters in the aftermath of the flood. Weeks of tense talks followed, until a Sunday in March, when a 19-year-old named Christopher Smith was shot and killed on a second-line route in Central City, a few blocks ahead of a parade. Riley ended the negotiations and set the price for second lines at $3,760—still more than triple the pre-storm fee.
As a stopgap, nonprofits, including one I ran, helped the clubs cover expenses. On the street, relations between police and second liners were strained. At the end of a parade I went to, NOPD cruisers immediately disbursed the crowd with piercing sirens but still required the sponsoring club to pay for two hours of post-parade security. Longino reached out to the American Civil Liberties Union, which sued the city for effectively taxing the clubs' First Amendment right to expression with inflated security fees. After the Times-Picayune reported that the NOPD had quoted one club a fee of $7,560 for security and noted that a city ordinance capped security costs at $750 for much larger Mardi Gras parades, public support coalesced behind the clubs. The city settled out of court in 2007, and parades continued with police details costing $1,985.
* * *
Club members enjoyed less success on the housing front. While homeowners wrangled with insurance adjusters and the Road Home, renters found the stock of available rental properties devastated—and costs soaring. The U.S. Department of Housing and Urban Development reported that approximately 71 percent of the city's rental properties sustained damage. As Karl F. Seidman writes in Coming Home to New Orleans, small landlords (the sort that tenants in the second-line community had typically rented from) couldn't take advantage of post-Katrina federal tax incentives or afford upfront expenses to be reimbursed by the state's relatively modest Small Rental Property Program.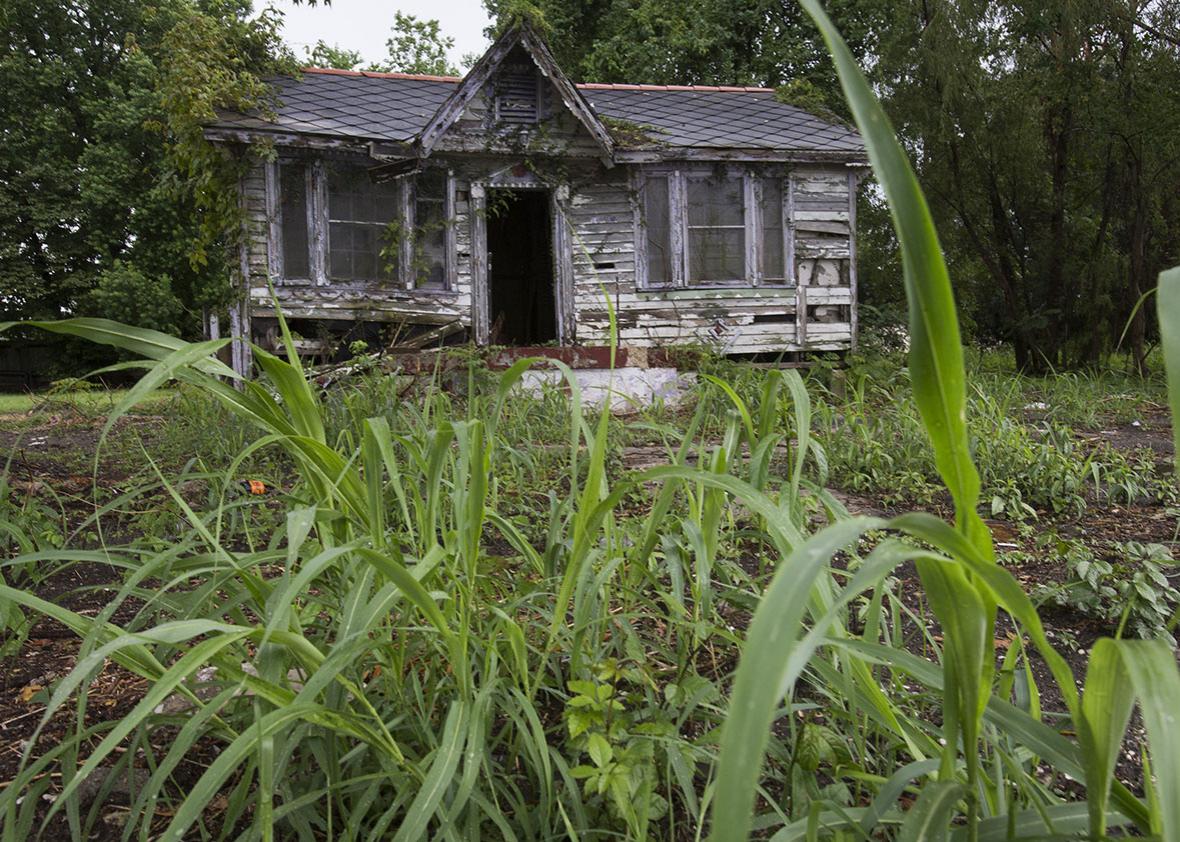 In late 2007 and early 2008, the city council voted to allow the Housing Authority of New Orleans, under federal receivership by HUD, to demolish the city's four largest public housing projects, located in Central City, Treme, and the Seventh Ward, where most second lines took place. They were replaced with new developments that are lower-density and mixed-income. More than 3,000 occupied units came down; at the start of 2015, HANO reported 706 subsidized units had gone up in their place. HANO gave vouchers to residents displaced from these sites, and thousands displaced from others, for use in the private market, which only put more strain on the insufficient supply of rental properties.
Ronald Lewis, president of the Big Nine Social Aid and Pleasure Club, saw the demolitions as a setback for club members who were still unable to move back to town. The city wanted us to "bring back the culture," he said, "but at the same time, they weren't trying to make it economically feasible for us to do so." In 2011, the city cleared 27 largely residential blocks near Treme to make way for a controversial medical complex, pushing affordable housing further from the city center. By 2013, when the Iberville project at the edge of Treme came down, fulfilling the Times-Picayune letter-writer's prescription, the streets that club members had made their own were transforming again, this time without them.
* * *
After the legal settlement in 2007, second lines started running more smoothly. Lt. Valiente had encouraged Riley to accept the deal and to let him "reset" how the NOPD related to the clubs. The agreement reduced the number of parades in a season from 54 to 39, so Valiente convened representatives from the clubs to divvy up the calendar and hash out logistics. He also developed a pool of officers who were knowledgeable about the tradition and communicated well with second liners, a move that club members credited with a significant improvement in relations with police. There were new security protocols, too. District commanders began assigning on-duty officers to parallel parade routes, extending the police presence into the surrounding neighborhood.
For second-line veterans like Lewis, one of the first people to move back to his part of the Lower Ninth Ward, post-Katrina parades felt more purposeful. "The culture of the second line was something to attach to," he recalled. "It was recognizable when everything else wasn't." A 2010 study from Sweet Home New Orleans, the organization I ran, showed that clubs were attracting new members despite the city's population loss. The proportion of children in the city was down as well, but more kids second-lined after the storm than before. More young people formed brass bands, too. Philip Frazier, leader of the Rebirth Brass Band, told me he turned over the street to the next generation of groups, like the New Breed and the Young Fellaz. Parades had always been sources of pride and declarations of identity. The slog of rebuilding, a years-long gauntlet of partially repaired houses, air mattresses, and red tape, only made them more urgent.
In another study, Louisiana State University sociologist Frederick Weil found that club members exhibited the highest level of civic engagement of any social group in post-Katrina New Orleans, which, according to his research, improved people's chances of recovering personally from the storm. Even though club members faced higher levels of damage and had fewer economic resources than citywide averages, they were much more satisfied with their neighborhoods, religious communities, circles of friends, and families than other citizens. Weil attributed this in part to the clubs' mutual-aid activities, like job fairs and toy drives for Christmas. Their old neighborhood-based support system had fragmented, but it was still supportive.
The parades were also attracting newfound attention. Outsiders, from within the city and around the country, showed up, aided by the clubs' new practice of sharing parade routes with the media, for all to see. Post-storm transplants to New Orleans, unconcerned with the city's longstanding social boundaries, second-lined like it was a civic rite of passage. Intrepid tourists and seekers of "authenticity" came out, too. The crowds grew, and a thicker ring of cameras and smartphones formed around the bands. Even people who didn't go to the parades saw them in a stream of post-Katrina news reports, documentaries, and television shows. "Tonight the Gulf Coast is still coming through the dirge, yet we will live to see the second line," President George W. Bush said in his address from Jackson Square, weeks after the storm. Throughout the rebuilding period, second lines were a ubiquitous symbol of the city's "resilience."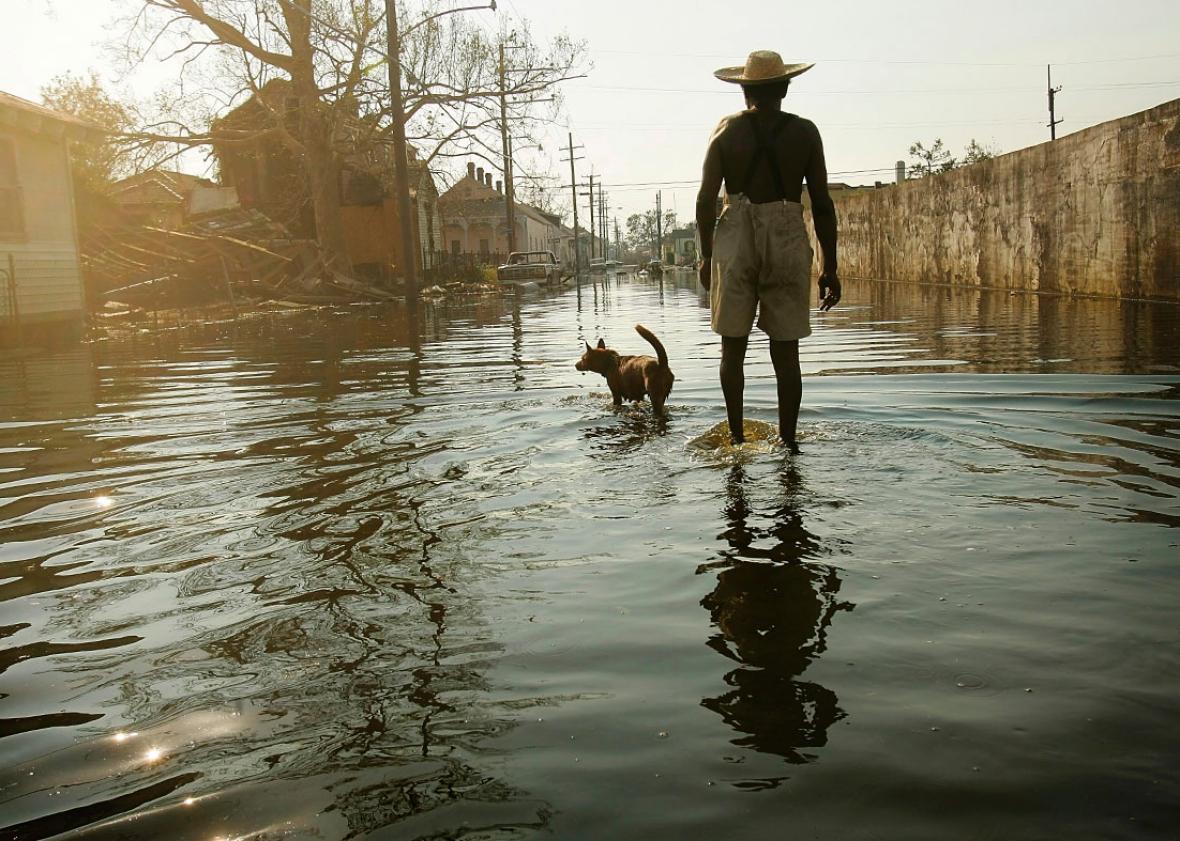 On Mother's Day in 2013, after hundreds of safe parades over seven years, a gunman injured 20 at a second line in the Seventh Ward. Mayor Mitch Landrieu called the parade a "sacred event," and emphasized that the clubs should not be blamed for the violence. "They are what's good about this city," he said. The measured response suggested that the clubs' status as post-Katrina standard bearers had generated some political capital. It did not, however, resolve all tensions between the clubs and the city. Parade fees recently increased again, and Jackson is contemplating another legal challenge.
* * *
The parades' elevated profile also belies major setbacks in re-establishing black neighborhoods. Ten years on, the demographic changes anticipated in the post-Katrina footprint debate have become reality: New Orleans is now a whiter city. It has approximately 100,000 fewer black residents today than in 2000. The black majority in the city is down from around 67 percent to 60 percent. The big parade in 2006, galvanic as it was, could not pre-empt policies across all levels of government that failed to support the return of black residents.
The city has rebounded economically, but the growing numbers of tourists and proliferation of startups touted by officials have done little to raise wages and open doors for many black workers. The Data Center, an independent nonprofit publishing research on the New Orleans area, reports that 44 percent of black households in the city earn less than $20,900 per year, and another 23 percent earn less than $40,000. Sweet Home New Orleans found the vast majority of club members and brass-band musicians were in these categories. The cultural mainstream may have embraced second lines, but their practitioners remain on the economic margin.
The constricted post-storm housing market made re-establishing networks of extended family and neighbors, the historic sources of the city's black culture, especially difficult. The Data Center reports monthly rent and utilities are 33 percent higher than before the storm. Turnover of tenants in Treme, along the route of the big parade, has been dramatic. Frazier, like generations of brass-band musicians, lived in the neighborhood at one time. Now, it's cost-prohibitive. "I don't think any musicians stay in Treme no more," he told me. Byron Vallery, co-organizer of the big parade, sees the same trend in Central City, where he lives in a family-owned home. Relatives in the area have been turning down unsolicited offers to buy their houses. There's still a critical mass of second liners in the area, "but the actual black culture in these neighborhoods, it's getting driven out, slowly but surely," he said.
Working-class black families have found more affordable housing outside of the city proper, in neighboring Jefferson Parish or on the far side of the Mississippi River. The sudden depopulation of New Orleans, and its inequitable recovery, accelerated the kind of inner-city gentrification and suburbanizing poverty seen in metropolitan areas around the country. Many of those remaining in Orleans Parish are straining to make ends meet: Thirty-seven percent of renter households spend more than half of their incomes on rent and utilities.
Some blocks around Lewis' house in the Lower Ninth Ward, at the city's eastern edge, have reverted to nature—the "parkland" imagined by Nagin's rebuilding commission, come to pass. Former neighbors couldn't afford to rebuild or moved to be close to family or to be in a neighborhood with a hospital.
Despite losses like these, Lewis is confident about the future of second lining. "Culturewise, we're alive and well," he said. He sees the economic disparities of the recovery on a continuum. "Living here in New Orleans is always a challenge," he told me. "From slavery through segregation all the way up till now." Post-Katrina displacements have been immense, and traumatic, but second-line culture is built to resist displacement.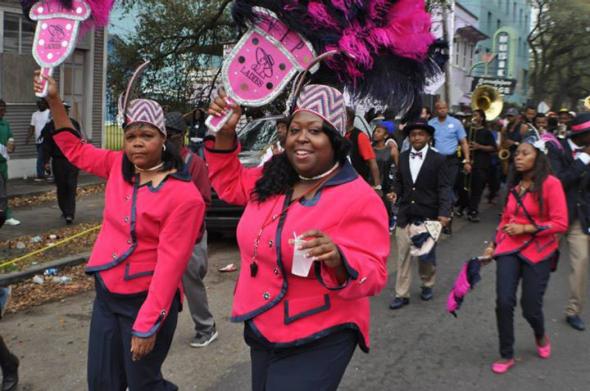 This March, the VIP Ladies paraded in pink jackets and navy pants, with fans of pink and navy plumes. Jackson founded the club in Central City, where most of its members lived before the storm. Today, only one member is still there. Five never made it back to New Orleans. Six landed in other historically black neighborhoods in the city, and six, including Jackson, are in suburbs across the river.
The VIP Ladies kicked off their second line from a house on South Liberty Street, though the member who used to live there now stays in Jefferson Parish. Like every other active club, the Ladies still use their traditional route. "That is not going to stop just because we have a new group of people here," Jackson told me. For her, the parade route is a foothold in the neighborhood she grew up in, even if she doesn't live there anymore. Gilda Gordon, a founding member of the club, has severe asthma and couldn't be around the contaminants floating through post-Katrina New Orleans. Her first trip back was for the big parade in 2006. For the next eight years, while living in Texas, she saved money to travel back whenever the Ladies paraded. For her, and others, second lines have become rolling reunions, maintaining a sense of community and a connection to life before the flood that can be hard to sustain across the river or out of town.
When the VIP Ladies turned onto Claiborne Avenue with the Stooges Brass Band behind them, Jackson blew a whistle. The ladies laid their fans in the middle of the street and, taking their time, danced around them in a circle. Then they gathered them and strutted toward Tapps II, their headquarters on South Rocheblave, ruling Central City again, if only for the day.