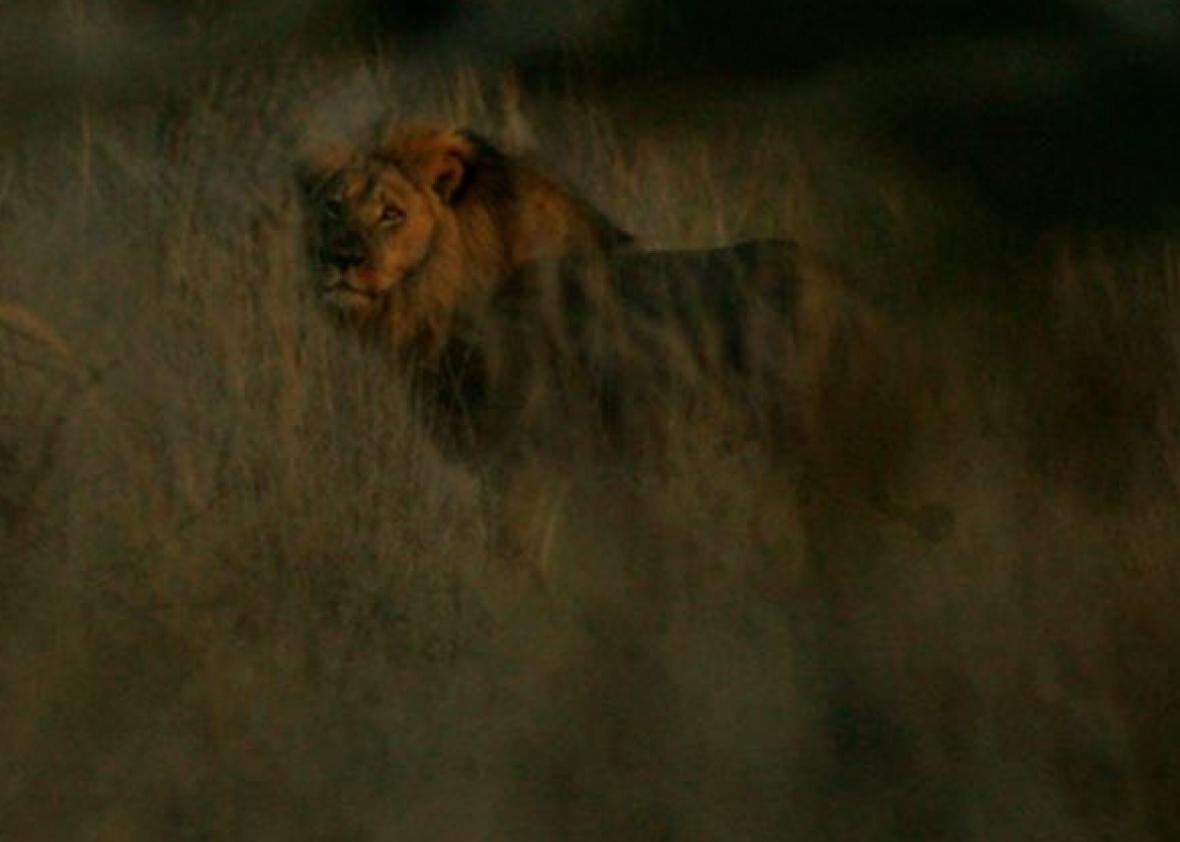 Jericho is alive and well. Despite assurances Saturday from the Zimbabwe Conservation Task Force that Jericho, a lion identified as Cecil's brother had been killed by illegal hunters, he was spotted feeding on a giraffe this morning. Shortly after news of Jericho's supposed death, other conservation groups expressed doubts about the news. And the good news was confirmed this morning. David Macdonald of Oxford University's Wildlife Conservation Research Unit wrote a statement detailing the good news this morning:
Last night we were surprised so see rumours of the death of a second lion, Jericho, circulating in the media — we had no evidence for this. The rumours claimed he too had been hunted illegally. The WildCRU field research team and a National Parks ranger set out at daybreak to attempt to find him. People will realise that even with the aid of tracking equipment, this is difficult and skilful work in remote bush. Andy Loveridge contacted me moments ago. Jericho was seen alive and well at 06.15am. He has been feeding on a giraffe kill with the lionesses from his pride.
The Zimbabwe National Parks and Wildlife Management Authority also confirmed the news.
The Zimbabwe Conservation Task Force that first reported Jericho had been killed also acknowledged their mistake but insist a lion has in fact been killed:
We were given 3 separate confirmed reports last night that is was Jericho. We could not reach the research station in Hwange to verify if Jericho was indeed alive after they reported that they were receiving signal from his collar.
We apologize for reporting that he had died but were confident that our sources were in fact correct. This was a case of mistaken identity, but a lion has in fact been killed…although we are relieved that it was not Jericho, we are not happy that yet another lion has been killed…
And it turns out reports of his death were not the only things that were widely exaggerated. Jericho is not, in fact, Cecil's brother. Wildcru's Macdonald explains:
They were not related though their bond was one close to brotherhood. Male lions often form what are termed co-operative "coalitions" with unrelated males in order to better compete with other males for territories and prides. In fact 42% of male lion coalitions are genetically unrelated, though larger coalitions tend to be brothers or half-brothers.
---