Ten years ago this morning, National Weather Service meteorologist Robert Ricks faced a dilemma. As the forecast coordinator that day for the Slidell, Louisiana, office—which has responsibility for New Orleans—he needed to find a way to convey the urgency and seriousness of the situation his region would face the next day as Hurricane Katrina made landfall.
This is what he came up with: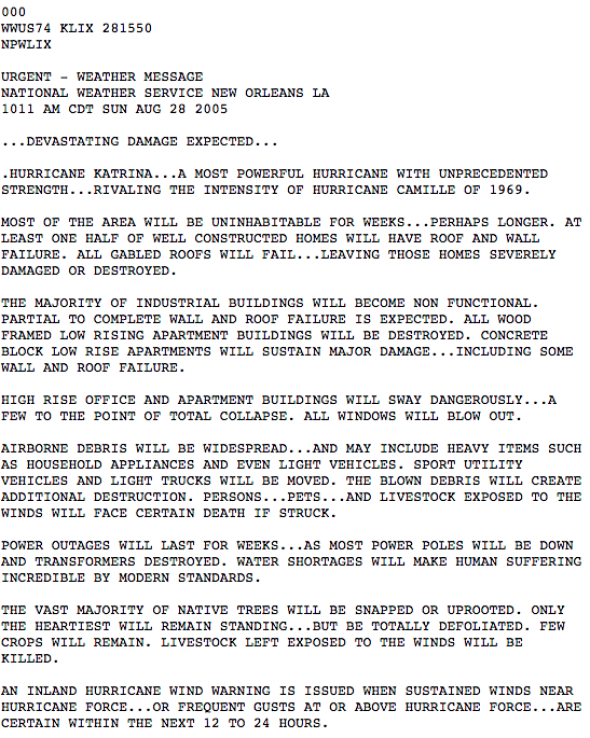 These bold words, considered by many to be the most dire—and effective—weather forecast ever issued by the National Weather Service, are now in the Smithsonian Museum of American History, along with a rosary from Ricks' grandmother he held as he and his fellow forecasters rode out the storm.
At a conference of broadcast meteorologists earlier this year, Ricks said, "On that particular fateful day, when I issued that product … I was awestruck."
Another, less widely circulated official forecast he issued that day, the Area Forecast Discussion, was more to the point: "Godspeed to all those in the path of this storm."
Bold statements like Ricks' have been occasionally used—and officially encouraged—in recent years by the National Weather Service, as part of an effort to increase the effectiveness of sometimes bland government bulletins during true weather emergencies. Most notably, meteorologist Gary Szatkowski's "personal plea" during Hurricane Sandy's New York City-area landfall in 2012—which included gut-wrenching statements like "if you are still reluctant (to evacuate), think about your loved ones"—earned him hero status.
Ten years later, Ricks is happy that his statement helped motivate evacuations of New Orleans during Katrina, and that it's paved the way for blunt honesty from forecasters during times of crisis. But personally, he's seen enough hurricanes. At the conference earlier this year, Ricks said The Statement had already done its job: "We hope we never have to use it again. My career is fulfilled if I never have to do this ever again, trust me."