The central point of contention between Hillary Clinton and the Black Lives Matter activist she spoke with in New Hampshire last week in a much-discussed exchange was her argument that his organization needed to supplement its protests by proposing laws and litigating court cases. To which activist Julius Jones responded, more or less, that since systematic mistreatment was a problem created by the mostly white United States power structure, it should also be incumbent on that power structure, and not the people it's systematically oppressing, to solve the problem.

In any case, Clinton's objection in general terms is now somewhat moot: Several anti-police brutality activists working under the name Campaign Zero just launched a very detailed website advocating criminal justice reforms in 10 different areas—ranging from marijuana law to stop-and-frisk profiling to the prosecution of police-involved shootings to the distribution of body cameras—that would address the central concerns of the Black Lives Matter movement.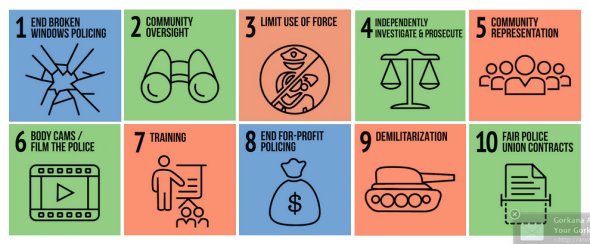 (Brief semantic interlude: Black Lives Matter is a specific activist organization but also a slogan/chant/hashtag used by a wider group of activist individuals and groups who are not necessarily formally affiliated. Campaign Zero was launched not by the Black Lives Matter organization per se but by four activists involved with the larger movement, including prominent Twitter and protest presences DeRay McKesson and Johnetta "Netta" Elzie.)
What's particularly savvy about the site is that it's not just thorough and specific but that it cites local laws that have already passed as models—linking, for example, to a Colorado law that gives residents the right to sue law enforcement agencies that seize recording devices (i.e. cell phones pulled out to tape an officer during a traffic stop) or destroy recorded material without permission or a warrant. The part of Clinton's response in the New Hampshire conversation that seems to have been best-received by policy wonks was her articulation of the idea that politicians can't change real-world conditions unless they're given specific practical goals to work with. In this generous reading of her remarks, Clinton is a sort of eager middlewoman or salesperson who takes the product (a reform idea generated by true believers) and convinces skeptical customers (moderate/independent/cautious voters) to buy it. With this site, Campaign Zero is saying to mainstream politicians: Here are some products that have been sold before—now do your job.