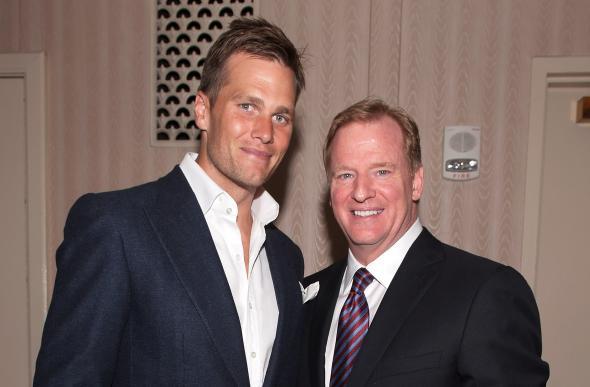 Update, 5:40 p.m.: The NFL has filed suit in New York asking the courts for a "declaratory judgment" upholding Brady's suspension, or in other words asking for a preemptive affirmation of its decision. Writes Mike Florio of Pro Football Talk: "The question now becomes whether the NFLPA will proceed with its own lawsuit," presumably in a different venue that it believes will be maximally favorable to Brady, "and if so whether one of the two judges will defer to the other one." (The NFLPA says it will appeal Goodell's ruling but doesn't appear to have made a filing yet.)

Original post, 3:34 p.m.: On May 11, NFL commissioner Roger Goodell—citing dubious evidence—announced that New England Patriots star Tom Brady would be suspended four games for participating in a scheme to deflate footballs below the pressure boundary required by league rules. Brady appealed his suspension, an appeal which was heard by none other than NFL commissioner Roger Goodell. Perhaps not surprisingly, Goodell has now declared that he will not reduce Brady's penalty, adding insult to injury by alleging that the quarterback destroyed a cell phone in an effort to hide incriminating evidence. From the NFL's statement:

On or shortly before March 6, the day that Tom Brady met with independent investigator Ted Wells and his colleagues, Brady directed that the cell phone he had used for the prior four months be destroyed.  … The commissioner found that Brady's deliberate destruction of potentially relevant evidence went beyond a mere failure to cooperate in the investigation and supported a finding that he had sought to hide evidence of his own participation in the underlying scheme to alter the footballs.
(Brady told the NFL that he regularly destroys his old phones and that he had begun using a new phone "on or about" the day that he spoke to Wells. Needless to say, the NFL doesn't know whether there actually was incriminating evidence on Brady's phone, because they never saw it.)

Brady and the NFL Players Association are reportedly likely to file a lawsuit in federal court contesting Goodell's ruling. Third-party arbitrators have ruled against Goodell in a number of high-profile cases in recent years: Disputes involving Ray Rice, Adrian Peterson, and the New Orleans Saints players implicated in the "Bountygate" scandal all ended with Goodell-levied penalties being overturned.

---