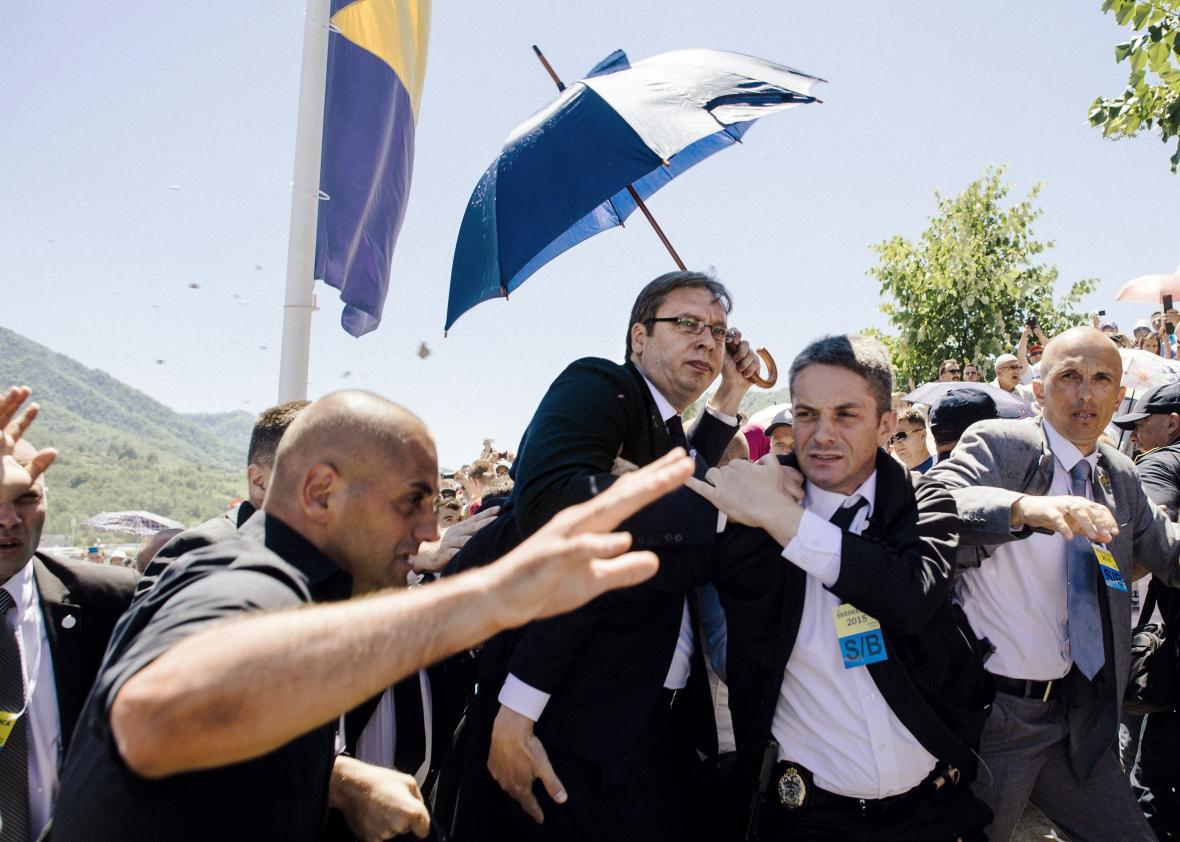 It was supposed to be a solemn day of remembrance for the worst massacre in Europe since the Holocaust. Instead, it became a stark reminder of how feelings remain raw two decades after the slaughter of 8,000 Bosnian Muslims that Belgrade refuses to recognize as genocide. At a mass burial to mark the slaughter, a crowd pelted Serbian Prime Minister Aleksandar Vucic with stones and water bottles. An aide tells the Associated Press that someone hit Vucic on the face and broke his glasses. Vucic's presence at the event was supposed to be seen as a sign of reconciliation. Now though, Serbia's foreign minister, Ivica Dacic, said the reaction of the crowd amounted to an attack on Serbia as a whole.
"By deciding to bow to the victims, Serbia's prime minister behaved like a statesman," Foreign Minister Ivica Dacic said in a statement. "This is another negative consequence of politicizing this subject that has brought new divisions and hatreds instead of reconciliation."
The attack hardly came out of nowhere though, considering it took place mere days after Russia vetoed a U.N. resolution that would have condemned anyone who refuses to characterize Srebrenica as genocide. Plus, few forget Vucic's past as a radical nationalist who served under Slobodan Milosevic, notes the BBC. Still, he did receive some praise from none other than former president Bill Clinton, who praised Vucic for showing up at all. "I want to thank the prime minister of Serbia for having the courage to come here today and I think it is important that we acknowledge that," Clinton said before the attack.
The United Nations had declared Srebrenica a safe haven for civilians during the 1992-1995 war. But in July 1995, Dutch troops looked on helplessly as a group of Serb troops began killing Muslim men and boys. Around 1,000 of the victims remain missing. On Saturday, Bert Koenders, the foreign minister of the Netherlands, says his country "shares responsibility" for the massacre. "Nobody can undo what happened here but we mourn with you," Koenders said.
---