In June 2014, Tudaxun Hoshur was put on trial in China's Xinjiang Uighur Autonomous Region for crimes against the Chinese state. Tudaxun, 39, hadn't spoken with his family in nearly two months and had no way to tell them about his charges or how he had ended up in a Chinese detention facility. But he had befriended another detainee who was later released and told Tudaxun's family why the Chinese government was holding him. Authorities weren't interested in anything Tudaxun had done. Rather, they were asking him questions about the work his brother Shohret Hoshur, a U.S. citizen, was doing in Washington as a reporter for Radio Free Asia.
On June 10, 2014, Tudaxun was sentenced to five years in a labor camp, China's gulag, for "endangering state security." Per Radio Free Asia, the evidence against Tudaxun consisted of claims he promoted Hijrat, the traditional pilgrimage from Mecca to Medina, and opted to pray at home instead of going to a mosque. But the stated evidence was little more than a smokescreen. Everyone familiar with the case—from Shohret and his co-workers to American officials and press freedom activists—says that Chinese authorities were simply looking to punish Shohret for his reporting on China's human rights abuses in Xinjiang. With the sentence, the Chinese government broke new ground in its strategy of state-backed repression. As far as anyone can tell, China became the first government to persecute a family member of an American journalist in retaliation for his reporting.
While reporters with dual citizenship have sometimes been targeted, this is the first time Beijing has attempted such a move against the family of a reporter with sole U.S. citizenship. "I'm not aware of any other cases in which the [Chinese] government has arrested the family of an American reporter," says Maya Wang, a China specialist at Human Rights Watch. Added Bob Dietz, Asia program coordinator at Committee to Protect Journalists, "No one can recall another case like this in China. … The lengths they're going to is an indicator of just how seriously they view the threat" in Xinjiang.
The Chinese government's frustration with Shohret's work wasn't a surprise. For years, Shohret has served as Radio Free Asia's point man for coverage of Xinjiang—East Turkestan, as the local Uighur population calls it. Tensions between Han and Uighurs, a Turkic Muslim population similar to Kazakhs and Kyrgyz, have spiked in recent years. Economically, Uighurs are trampled underfoot by the state, with the Han population dominating new industry. Culturally, Beijing has toppled the pillars of traditional Uighur society, destroying mosques, banning fasting during Ramadan, and constructing a police state. Beijing helped pile the tinder for blowback, which came in the form of a mass 2009 riot. Hundreds died. And the violence continues, six years on: mass assaults, attacks on state checkpoints, knife-wielding gangs, and the predictably brutal police response. Beijing couches the Uighurs' struggle in Islamist terms familiar to the West; Uighurs reply that they are fighting for their freedom.
In the aftermath of the riots, dozens of Uighurs suddenly disappeared, never to be seen again. In a series of interviews with family members and authorities, Shohret detailed the lives and circumstances of 38 of the missing people in an award-winning series about regional repression and the plight of the disappeared. "I think authorities in China view my reporting as contradicting the narrative they'd like to establish about the Xinjiang region," Shohret told me via email. "Since [2009], the entire region has been under lockdown and heavy security."
Shohret first left Xinjiang in 1994, fleeing so that he could continue his work without Beijing's cudgel hanging over his head. He never used his family as a source; he never wanted to offer an excuse for authorities to implicate them. They were merchants and farmers, not privy to any organized resistance. There was no need to tap them for insights into the region's political structures. Indeed, until 2009, there was little reason to think about relocating his family to a safer place. Shohret, after all, was an American journalist—a certain layer of protection presumably extended to his closest kin.
But then, in September 2009, after Shohret broadcast a report on a 31-year-old Uighur man who was tortured to death, local officials began harassing his family, forcing them to tell Shohret to stop his reporting. A month later, CCTV directed blame for the riots on foreign instigators—identifying Shohret and his team at Radio Free Asia, among others. For a time, the tensions quieted. Then President Xi Jinping came to power in 2012, and everything began falling apart. "The Chinese authorities have wanted to prevent reportage from East Turkestan in order to cover up their 65-year long crimes against humanity: the massacres, mass murders, extrajudicial killings, widespread torture, long prison sentences, and state enforced disappearances, etc.," says Alim Seytoff, director of the Uyghur Human Rights Project. According to Seytoff, the past year has only brought an "acceleration of Chinese state repression."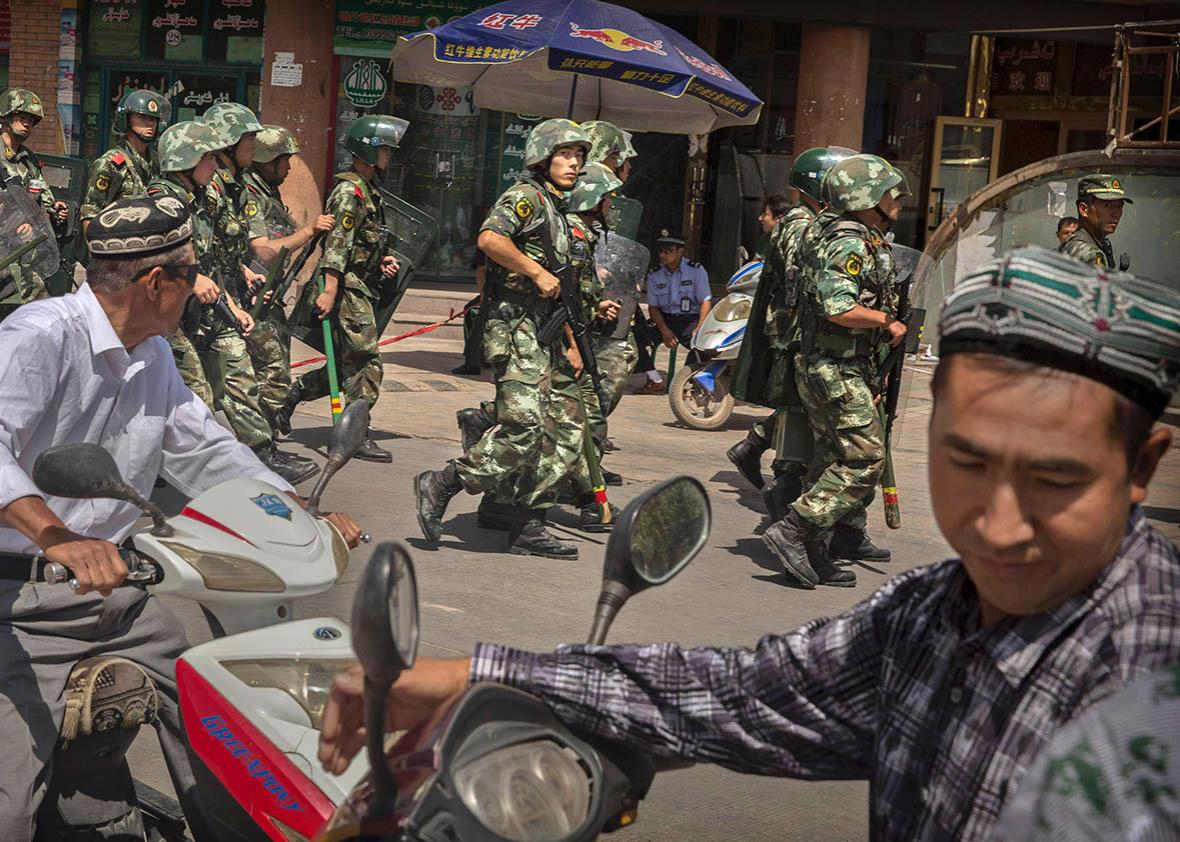 Tudaxun's arrest last year was the first time Shohret's family was targeted. A Xinjiang police officer told Shohret during a phone interview soon after his brother's arrest that his family could be "terminated." Then, in August, Shohret's younger brother, Rexim Hoshur, disappeared after leaving his house. A few hours later, Shohret's other brother, Shawket Hoshur, vanished after a visit to the local state security office. As with Tudaxun, Chinese officials claim both brothers are guilty of "leaking state secrets." According to Shawket's wife, local government officials have said Shohret's siblings will be released only if he quits his job at Radio Free Asia. "There is no doubt in my mind that this is an attempt to obtain my silence," says Shohret. "Chinese authorities have made it very clear, through interactions with my family leading up to the detentions, arrests, and imprisonment of my brothers, that they are targeting me."
Again, the fact that Chinese authorities have targeted a journalist's family shouldn't necessarily warrant surprise; China is the world's leading jailer of journalists and consistently threatens to pull the credentials for Western journalists who cover topics the government considers sensitive. What is unprecedented is that the Chinese government is now persecuting the family members of an American journalist.  
As it is, Washington's response has been largely restrained. "We urge Chinese authorities to cease harassment of his family and to treat them fairly and with dignity," a State Department spokeswoman said in January. Michael Quinlan, spokesman for the department's East Asia bureau, repeated the call last month. But that's about it. A letter last week from Sen. Marco Rubio and Sen. Mark Warner to Secretary of State John Kerry called Hoshur's case "particularly disturbing," pointing that "there is no room for this kind of intimidation" in bilateral relations. The sum of China's response: "[RFA's account] is completely inconsistent with reality and not worth refuting," said Foreign Ministry spokesman Hong Lei.
Meanwhile, no one has heard from Shohret's brothers since August. Rexim and Shawket are scheduled to face their trumped-up charges in secret trials, with Rexim's trial coming this Friday and Shawket's postponed from last week to an unknown date. (The delay came as a directive "from higher [Chinese] authorities," according to Shawket's lawyer.) Both likely face a lengthy sentence to a Chinese labor camp—all to get an American journalist to stop his reporting.
Not that it'll work, says Shohret. "Giving up would send the wrong signal," he says. "Not just to China but also to all countries with repressive media environments. It would tell them it is worthwhile to punish journalists or go after their families. … So many journalists have made great sacrifices and have set a high mark for bravery. I feel I owe it to them and our chosen career to continue my work."