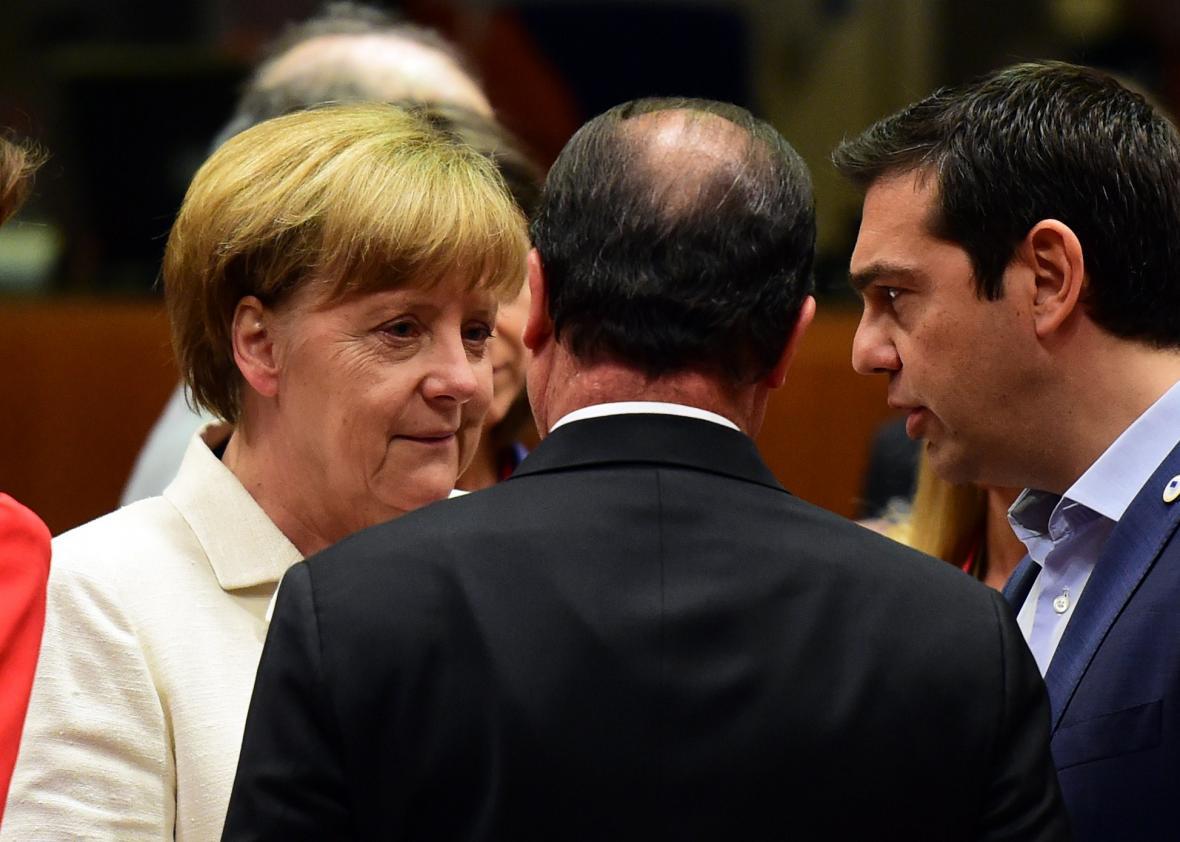 Update: Looks like this may be yet another crucial weekend that wasn't. Or at least it looks like it will be a crucial weekend with a cliffhanger ending. Eurozone finance ministers are suggesting that leaders give Prime Minister Alexis Tsipras until Wednesday to pass new austerity measures before even beginning negotiations on an $83 billion bailout, reports Bloomberg. But this would be the final offer, and failure to meet the deadline would lead to Greece's suspension from the currency union, according to Finnish Finance Minister Alexander Stubb.
"It has far-reaching conditionality, on three counts: Number one, it needs to implement laws by July 15. Number two, tough conditions on for instance labor reforms and pensions and VAT and taxes," Stubb said, according to Reuters. "And then number three quite tough measures also on for instance privatization and privatization funds. And for us the most important thing is that … this whole package has to be approved by both the Greek government and the Greek parliament and then we'll have a look."
Politico's Tara Palmeri posted the list of reforms that the Eurogroup finance ministers are proposing in a draft document that the leaders will discuss Sunday night.
Earlier, German Chancellor Angela Merkel made it clear her government had lost patience with Greece. "The most important currency has been lost and that is trust," she told reporters. "That means that we will have tough discussions and there will be no agreement at any price."
Germany appears to have gained sufficient backing to make sure that a temporary Greek exit from the euro will be discussed by the 19 leaders of the Eurozone. "In case no agreement could be reached, Greece should be offered swift negotiations on a time-out from the euro area, with possible debt restructuring," notes the conclusion of a four-page draft document obtained by the press.
Original post, 7:22 a.m.: It's all about the Eurozone Sunday, and the mood in Brussesls is "grim, somber, and ugly," the Guardian cheerfully reports. In what everyone agrees is one of the most fateful days in the Eurozone's history, Greece will face its last chance to convince creditors that it should be given another shot at enacting reform in exchange for a fresh bailout. At least for now though it seems Greece won't be leaving the euro on Sunday, as some thought might happen, because that would require agreement from EU leaders. European Council President Donald Tusk announced Sunday morning that he had canceled a meeting of EU leaders so that the sit-down between the 19 euro-area leaders can continue "until we conclude talks on Greece."
There are two ways to interpret the cancellation of the summit, writes the BBC's Jenny Hill:
The first—that talks are going so badly that there's no point in flying Europe's leaders in to discuss a deal that won't happen today.
But under those circumstances you'd expect leaders to gather for emergency talks. Which is why some here interpret the cancellation as a positive sign; it implies that, while a deal is still a long way off, the will to strike that deal—today—is there, even if the negotiations have been slow, painful and at times bad-tempered.
For now, the ball remains in the court of the finance ministers, who on Sunday morning said an imminent deal was unlikely, reports Bloomberg. "If this was a negotiation from one to 10, I think we're still standing somewhere between three and four," Finnish Finance Minister Alexander Stubb said before the Sunday talks. "We're very far away" from an agreement. The ministers resumed a meeting that had been put on pause late on Saturday after discussions got a bit heated following nine hours of "acrimonious debate," as Reuters reports. It will be an uphill battle for Greece as a group of hardliners led by Germany are skeptical that Athens can—or should—be given the benefit of the doubt. Germany is not so subtly passing around a proposal that would put Greece in the corner, negotiating a temporary five-year exit from the euro until it is judged to be fit enough to return.
The Telegraph describes how Germany sees the two options for Greece:
An incendiary plan drafted by Berlin's finance ministry, with the backing of Angela Merkel, laid out two stark options for Greece: either the government submits to drastic measures such as placing €50bn of its assets in a trust fund to pay off its debts, and have Brussels take over its public administration, or agree to a "time-out" solution where it would be expelled from the eurozone.
The word "trust" that has seemingly become a mantra in these negotiations cropped up again and again on Sunday as even those who would naturally gravitate toward a deal say they just don't know whether they can believe promises coming out of Athens. "The main obstacle to moving forward is a lack of trust," Italian Economy Minister Pier Carlo Padoan told reporters. "I would like to see the Greek government take concrete actions starting [Monday] in parliament to implement measures that are needed for Greece in the first place."
---