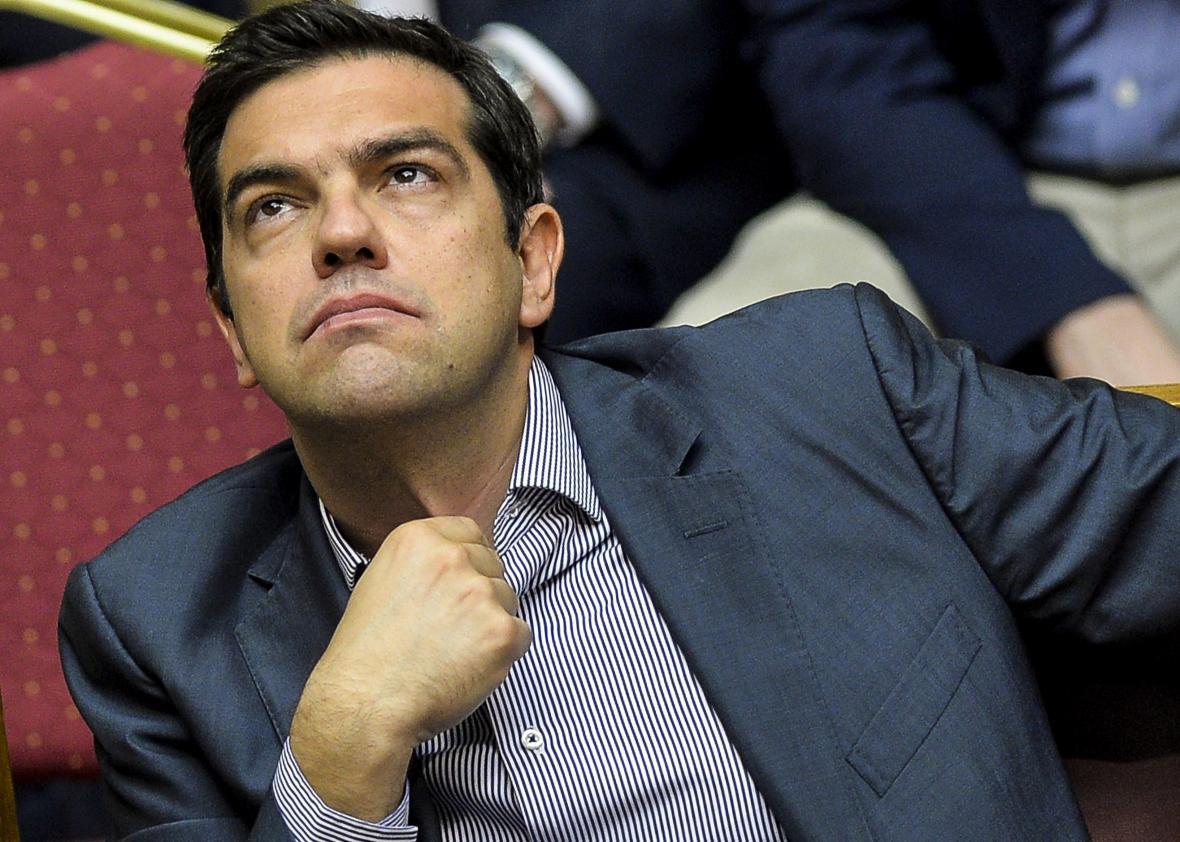 This is it. It's one of the most—if not the most—crucial weekend since the whole Eurozone crisis began and European finance ministers have "serious doubts," according to Reuters. Greek Prime Minister Alexis Tsipras began Saturday with a victory, although he had to rely on lawmakers from the right to get parliament to approve a string on harsh reforms that includes steep spending cuts and tax increases. Now the Eurozone finance ministers are taking up the issue and were mired in discussions Saturday to decide Greece's fate.
The finance ministers will have to determine whether Greece's latest proposal for its third financial bailout since 2010 should be considered. They will then put forward those recommendations to heads of state who will be meeting on Sunday. It's difficult to gauge just what the ministers will decide, but the coverage is tinged with a bit of hope for Greece. The Washington Post, for example, says there "was growing optimism that Greece would be able to overcome the deep-seated mistrust among some of its creditor nations—particularly Germany and a number of eastern European nations."
Trust seemed to be the word of the day on Saturday as ministers repeated again and again that while the new proposals signify progress, no one is sure whether Athens can be trusted. "It almost seemed that if Alexis Tsipras received a euro for every time the word 'trust' was mentioned, Greece's financial problems would be over immediately," notes the Guardian.
Although some ministers took pains to highlight how everything must be done to make sure Greece stays in the Eurozone, they were also skeptical of the proposed reforms. "What guarantees can Greece give that what is currently on the table will also be implemented?" Austria's finance minister wondered. Most important though is what appears to be continued German skepticism of the Greek proposals, according to local reports cited by Bloomberg.
As Slate's Joshua Keating noted on Thursday, it's a bit difficult to get excited about these Greece deadlines when it seems that every week there's a new make-or-break moment for the country. This weekend, however, is seen as particularly momentous. The New York Times explains:
While no bailout deal is expected this weekend, the question is whether Europe will decide to continue negotiating a rescue with Greece, or leave its banks to collapse and its virtually bankrupt government to default on its loans. European leaders have set a deadline of midnight Sunday to reach that decision.
---