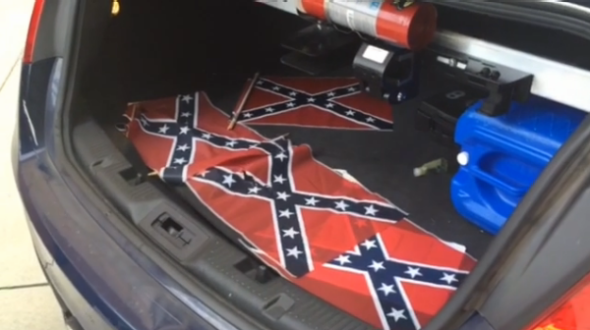 Four Confederate flags were found at about 6 this morning on the grounds of the Ebenezer Baptist Church and the Martin Luther King Jr. National Historic Site's visitor center, Atlanta news outlets report.
King and his father were both pastors at Ebenezer church, and a national historic site encompasses King's birthplace, the historic church building, the church's new home, and a number of other structures. From the Atlanta Journal-Constitution:
The flags were placed below a poster that states "BLACK LIVES MATTER, HANDS UP," by a garbage can, on the path to the MLK Visitor Center and on a corner near the church. Just after 9:30 a.m., they were removed and placed in the trunk of an Atlanta police squad car.
Local and federal authorities are investigating.
---