Tropical Storm Bill is making landfall on Tuesday along the Texas coast, bringing a high risk of flooding to an already rain-soaked part of the country. That's just going to be the start of a week of extreme weather for much of the country.
A "ring of fire" weather pattern, more typical of the height of summer, will focus the tropical moisture from Bill's remnants along a narrow arc from Houston to St. Louis to New York City over the course of the week. The latest weather models show that Bill may actually intensify just slightly after making landfall, and the National Hurricane Center's latest update shows an intact cyclone lasting at least through Illinois on Saturday.
This isn't unprecedented, but it is rare. Thanks to all the rain over the last several weeks in the eastern half of the country—May was the wettest month in U.S. history—Bill will have plenty of soil moisture to work with. That could juice the storm just enough—via an unusual process known as the "brown ocean" effect—to maintain its strength long after landfall. In 2007, Tropical Storm Erin did roughly the same thing, and ended up producing a swath of heavy rain and damaging wind gusts up to hurricane force all the way into central Oklahoma.
Bill's fury could extend much further. A deep dome of high pressure is anchored over the Southeast right now, which will force the tropical storm's remnants up and over it, through the Midwest and toward the Mid-Atlantic and Northeast. Thunderstorms would have been more likely to occur this week across this arc anyway, but Bill will exacerbate the flooding potential all the way to New York City this weekend. The National Weather Service is expecting 7 to 9 inches of rain—several months worth—along this swath over the next seven days.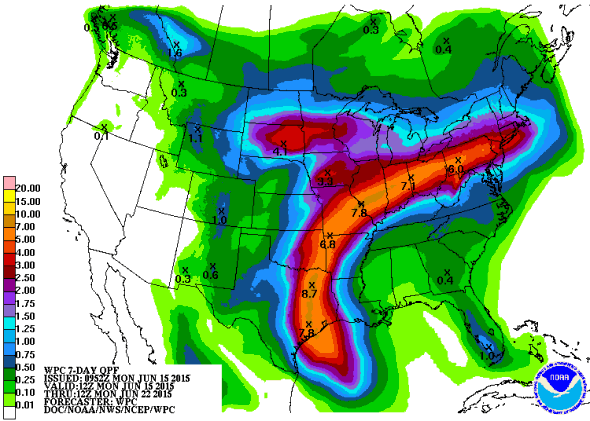 As for the response of U.S. cities, a voluntary evacuation order was issued for Galveston Island on Monday, where a storm surge of up to 3 feet was making its way inland on Tuesday morning. Bill will bring up to a foot of rain to the troubled "flash flood alley" region of central Texas that got walloped with record-setting flooding in late May. Houston, which just went through a major flood of its own, could get as much as 10 inches.
This part of Texas—a triangle from San Antonio to Dallas-Fort Worth to Houston—is especially prone to rapidly-rising rivers due to a unique blend of hilly terrain, shallow soil, relentless urbanization, and some of the historically heaviest rainfall rates in the country. As the climate warms, extreme rainfall events are getting more intense, and Texas is among the most vulnerable places in America.
Bill is a classic El Niño-fueled mid-June "home grown" tropical system, and not at all out of the ordinary for this time of year. The oddity is that it could be remembered much more for its impact after landfall.
Meanwhile, underneath the southeastern dome of high pressure, a record-setting heat wave is underway. Columbia, South Carolina could top out around 105 degrees Fahrenheit by mid-week, and probably wouldn't mind some of that rain.