On Wednesday night, a gunman—identified as 21-year-old Dylann Roof of Columbia, South Carolina—murdered nine people at a weekly prayer meeting at Emanuel African Methodist Episcopal Church in Charleston. Among the dead is 41-year-old Rev. Clementa Pinckney, pastor at the church and a four-term Democratic state senator. The shooter is a young white man, and police are calling the murders—the worst mass shooting in South Carolina's history—a hate crime. It's appropriate.
Emanuel AME isn't just a church; it's the oldest black congregation in the South (outside of Baltimore) and a historic symbol of black resistance to slavery and racism. Its founder, Morris Brown, was one of the first ordained pastors of the AME denomination, founded in 1816 in Philadelphia. Upon his return to Charleston, he started a branch that quickly changed the social and religious landscape of the city. Within two years, more than three-quarters of black Methodists in the city—more than 4,000 people—had left their segregated denominations to join the AME church.
Now home to huge chunks of Charleston's black population, Brown's church was soon a site for organizing and anti-slavery activism. One of its earliest members was Denmark Vesey, a free black carpenter who preached a message of liberation. In 1822, he and other leaders plotted an uprising, drawing thousands—slave and free—into a plan to secure arms, commandeer ships, and kill slaveholders.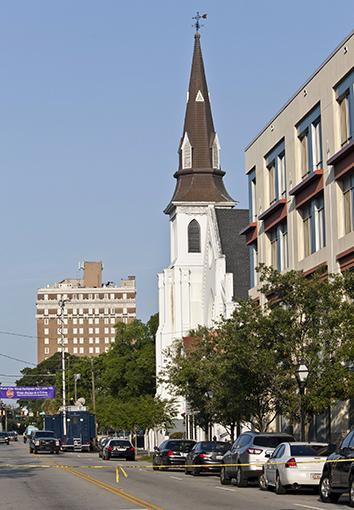 Informed by hostile slaves, however, white officials discovered the plot and arrested Vesey and a host of other co-conspirators. They executed him; deported dozens of blacks (including one of his sons); restricted the manumissions that had added to Charleston's free black population; and blaming "black religion," destroyed the AME Church. Its congregants were scattered, and independent black churches were all but banned. Members and their families would meet in secret until after the Civil War, reorganizing, rebuilding near Fort Sumter—with a church designed by Vesey's other son, Robert—and adopting the name Emanuel. An 1886 earthquake destroyed this building, however, and congregants replaced it with the structure we see today.
In the 20th century, Emanuel AME welcomed leaders like Booker T. Washington, Martin Luther King Jr., and Roy Wilkins, former executive secretary of the NAACP. During a 1969 strike for union recognition, Coretta Scott King led black hospital workers in a march from the church steps. State troopers, police, and nearly 1,000 National Guardsmen were on duty.
This legacy of activism is still part of the church. As a state senator, the late Pinckney was a vocal advocate for police body cameras, urging them in response to the fatal shooting of Walter Scott in North Charleston earlier this year. They are our "No. 1 priority," he said in April.
The attack on Emanuel AME sits in a long history of violence against black churches. The most famous attack—or act of terrorism—was the 1963 church bombing at the 16th Street Baptist Church in Birmingham, Alabama, where the Ku Klux Klan killed four girls preparing for Sunday services. Such attacks were common throughout the civil rights period, and they re-emerged in the mid-1990s, when arsonists attacked black churches in South Carolina and other states.
It also sits in the long history of American terrorism. The Klan was arguably the first terrorist group in American history, and it aimed its violence at recently freed slaves and, later, their descendants. Lynchings claimed thousands of lives and were deliberate acts of terror against black communities and their allies. Civil rights leaders and activists were routinely killed by organized defenders of Jim Crow, and the worst terrorist attack on American soil, before Sept. 11, was in Oklahoma City, where Timothy McVeigh, a young white man with links to white supremacists, killed 168 people, including 19 children.
With that in mind, it's easy to see why violent racists would single out black churches. They are major institutions for black Americans, vital sites for religious life and civic engagement. They've nourished activists, produced leaders, and provided a foundation for the long struggle against discrimination. They've been schools, training grounds, and safe havens. Even today, they're often the nucleus for political efforts in black communities around the country, from "Souls to the Polls" in state and national elections to organizing around local issues and concerns.
It's still early, and the world is still reacting to the tragedy at Emanuel AME. "We will come together as a city and as a state to lift up those who need us most right now," said South Carolina Sen. Tim Scott in a statement released early Thursday morning. "I hope for their sake, and for the people of Charleston, that the perpetrators of this terrible crime are swiftly brought to justice."
We don't know the shooter's exact motives, but we have an idea. Reportedly, according to a survivor, he said, "You rape our women, and you're taking over our country, and you have to go," before opening fire.
In other words, Emanuel's blackness—its great status in black history—made it a target for violence and hate. And although it has nothing to do with the racial conflicts of the past year, this steady string of disturbances of deaths feels wearying, as if the universe is trying to say that, occasionally, it bends toward injustice, too.