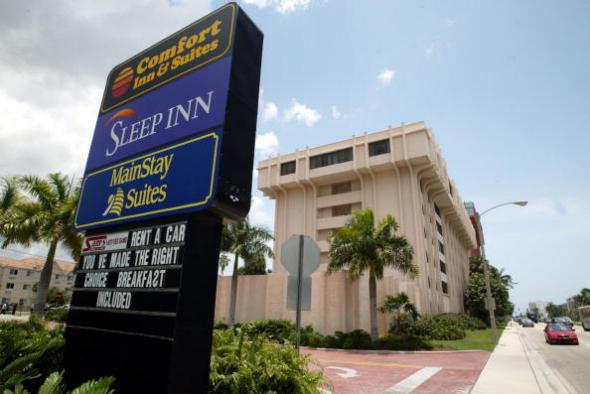 A Wednesday report in the Tampa Bay Times says the Choice Hotels company is suing a man who allegedly took advantage of a website glitch to commit reward-points gift-card fraud:
Robert Chat, 38, discovered the Choice Hotels booking system didn't erase his rewards points when he cancelled a reservation, the suit said. So Chat began making, and quickly cancelling, hundreds of reservations from October to January, then redeeming gift cards earned as a "reward," Choice Hotel alleges. Chat denies wrongdoing.
The gift cards could be used at a wide variety of stores and restaurants, including Dunkin' Donuts, Home Depot, Target and Applebee's.
Choice Hotels says Chat redeemed $48,500 worth of gift cards that he didn't deserve. Chat admits to redeeming points for cards, but he says the cards weren't worth nearly $48,500 and told the Times he "stayed at over 1,100 Choice hotels in the last five years" to earn points. That would work out to 220 hotel stays per year.

Here's what the paper was able to find about Chat's occupation:
It is unclear what Chat does for a living. Chat is listed by the state as president of Dragonsong Weapons Inc., a company that makes and sells swords. It is unclear if the company is still in operation. Articles of incorporation were filed in 2010, but there have been no corporate filings since, state records show.
A YouTube video from 2010 purports to show three men in a backyard testing a Dragonsong "katana" by chopping at an item that has been "soaked in water to simulate the difficulty in cutting through a neck and spinal column of a human that has given up their will to live."
The men in the video give Dragonsong's product high marks, though a 2010 post about Dragonsong on the Bladeforums.com knife review website says Chat is "nothing but talk" and "his [web]site seems like trash." (Said site doesn't appear to be currently operational.) A poster on a different Bladeforums thread also asserts that Chat accused him of taking money to write a positive review of a different sword company's product and called him a "scum sucking bottom of the barrel maggot" who "takes money to convince people to buy garbage from china" in an email.

---