The Emanuel African Methodist Episcopal Church opened its doors on Sunday to hold the first worship service since becoming the scene of horror a few days ago when a gunman opened fire during Bible study and killed nine church members. Around 1,2000 dignitaries, church members and journalists gathered at the church that is affectionately referred to locally as Mother Emanuel for a service that emphasized messages of love and healing. "The doors of the church are open," declared the Rev. Norvel Goff during prayers, according to CNN. "No evildoer, no demon in hell or on Earth can close the doors of God's church."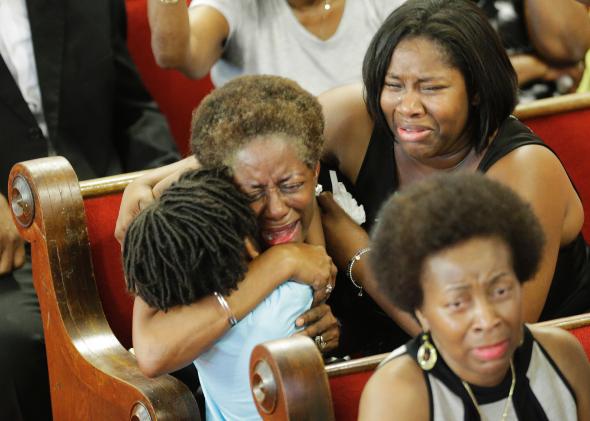 Hundreds lined up from the early hours of Sunday in the Charleston heat to participate in the service as police officers lined the stairs and checked everyone's bags. There were so many people that some took a seat in the basement room where the shooting took place and others stayed outside listening to the service through speakers. Gov. Nikki Haley, U.S. Sen. Tim Scott, North Charleston Mayor Keith Summey, Charleston Mayor Joe Riley, and California Congresswoman Maxine Waters were some of the notable names who occupied the first pew, reports the Post and Courier.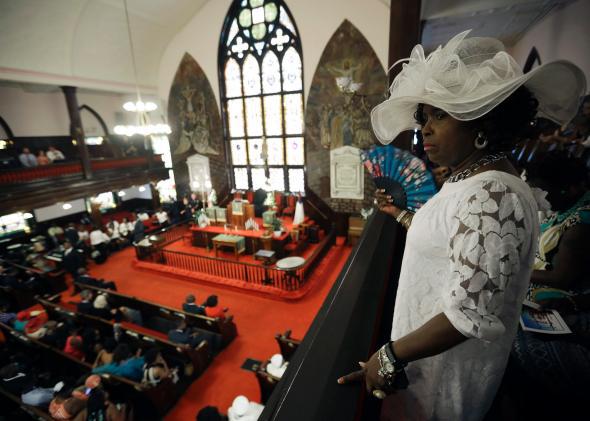 Goff led the service after the church's pastor, the Rev. and state Sen. Clementa Pinckney was one of the nine people gunned down. Pinckney's absence was evident and his seat at the pulpit was covered with a black cloth, notes the Washington Post. "It has been tough, it's been rough, some of us have been downright angry, but through it all God has sustained us and has encouraged us. Let us not grow weary in well-doing," said Goff.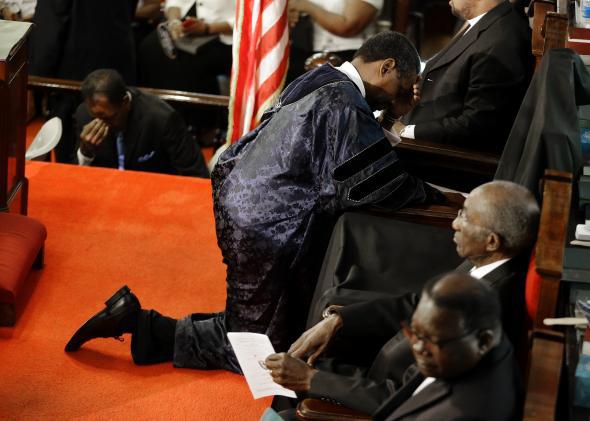 Goff noted that many people were surprised when relatives of the victims "spoke of forgiveness and didn't have malice in their hearts," but that's because they don't know the congregation. "A lot of folk expected us to do something strange and to break out in a riot" Goff said, according to NBC News. "They just don't know us because we are a people of faith, and we believe that when we put our forces and our heads together working for a common good there is nothing we cannot accomplish together in the name of Jesus."
Outside the church was filled with balloons and flowers honoring the victims as well as posters calling on politicians to remove the Confederate flag from outside the statehouse, reports ABC News.