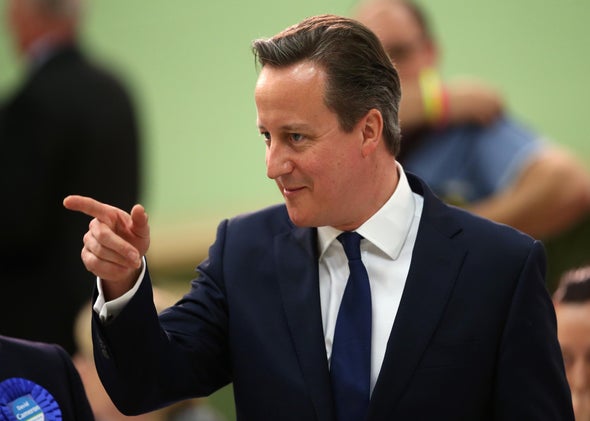 If British election exit polls conducted for the BBC, ITV, and Sky News are reflective of the vote in Thursday's general election, the Conservative Tories, led by Prime Minister David Cameron, will likely come just short of an absolute majority in Parliament. The Labour Party, facing an unexpectedly painful outcome under the leadership of Ed Miliband, is not giving up just yet. The BBC reports that "Labour has rejected an exit poll suggesting it would get 239 MPs to the Tories'$2 316," but if the exit polling "is accurate, Cameron will be able to remain in Number 10 as the head of a minority government without the need for a coalition."
Even without the Tories winning a majority outright, the results are a stunning reversal from public polling leading up to the election, which showed the Conservatives roughly tied with the liberal Labour party, with each showing about 35 percent support.  
According to the BBC, the Scottish National Party "could be set to wipe out Labour in Scotland"; the former head of the SNP says he is "delighted" at the party's near-sweep, which comes after Scotland's long-anticipated referendum on independence failed to go in the party's favor last September.* From the Wall Street Journal:
The Scottish National Party appeared set for a landslide victory in Scotland on Thursday that promises to shake up British politics—and keep dreams here of independence alive.
The SNP was projected to win 58 of the 59 Scottish seats up for grabs in the U.K. election, according to exit polls, significantly higher than pre-election polls forecast. The result would propel the party past the Liberal Democrats to become the third-largest group in the 650-member lower house of Parliament in London.
Thursday's election had its share of colorful moments. There were several reports of supporters of right-wing UKIP leader Nigel Farage intimidating voters and Labour Party organizers in the district where Farage was campaigning to remain in Parliament. Farage, known for his strident anti-immigration, anti–European Union positions, "looks on course to lose his seat," according to the Telegraph, which notes that Farage has said he would resign as head of UKIP if he failed to win re-election.

Meanwhile, in a more lighthearted display of electoral enthusiasm, members of the Official Monster Raving Loony Party turned out to support Nick the Flying Brick, their "gravitational theorist" candidate in Doncaster North. The results there aren't in yet, so there's still a chance that Nick will be declared the victor over Labour Party leader Ed Miliband. After a cascade of unexpected losses, Labour should take nothing for granted.
*Correction, May 8, 2015: This post originally misstated that former SNP leader Alex Salmond is its current leader.
---