Two trains suffered damage to windows and at least one of them was hit by a projectile near Philadelphia shortly before Tuesday's deadly Amtrak derailment.
The Philadelphia Inquirer reported that just before the crash of Amtrak train 188, which resulted in at least seven fatalities and dozens of injuries, a local SEPTA train was damaged after a projectile hit an engineer's window.
At around the same time, a third train—Amtrak train 2173—experienced a cracked window after a loud thump was heard just before it arrived in Philadelphia.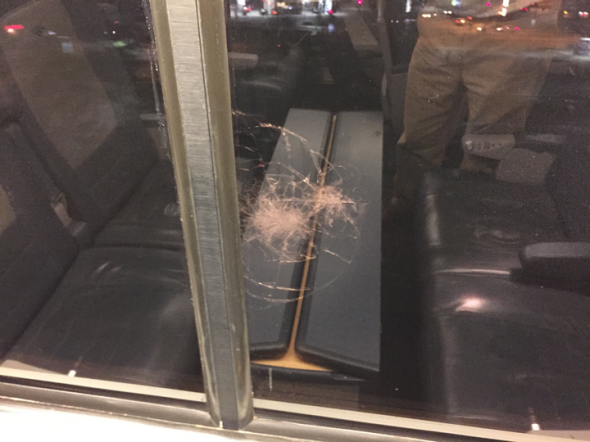 The National Transportation Safety Board was investigating the cause of the crash, but did not immediately respond to inquiries about whether or not the two separate incidents of window damage were related to the crash.
SEPTA spokeswoman Jerri Williams, who also had not returned a Slate request for comment as of press time, told the Inquirer that there was "no indication" that the SEPTA projectile incident and the Amtrak crash "are related in any way."
More from the Inquirer:
At about 9:25 p.m. Tuesday, SEPTA's northbound Train 769, en route to Trenton on tracks on the Northeast Corridor beside the Amtrak rails, was struck by "an unknown projectile" that broke the engineer's window, SEPTA spokeswoman Jerri Williams said.
No injuries were reported and the train was held at the North Philadelphia station. The 80 passengers were transferred to buses.
About three minutes later and four miles away, near Frankford Junction, Amtrak's northbound Train 188 derailed on the Northeast Corridor tracks, killing at least six and injuring scores.
At around the same time, Slate director of technology Doug Harris was on a southbound Amtrak train from New York to D.C. when his train suffered similar damage:
I was traveling south this evening on Amtrak train 2173 just prior to arriving in Philadelphia when I heard a loud thump. A passenger a couple rows ahead of me pointed to his window at a large crack that just appeared.
When we arrived in Philadelphia, a few Amtrak workers examined the window. The conductor was the first—alerted to the crack by other passengers, I believe. He suggested that the passenger sitting by the window move to another seat. The conductor soon returned with a man who appeared to be a maintenance worker. He examined the glass and noted that the impact didn't break "the second layer." They left and the conductor returned a third time with two uniformed Amtrak police officers. They looked at the window, took photos, and left.
I learned of the derailment of Amtrak 188 about 30 minutes later.
According to Amtrak's status system, my train arrived in Philadelphia at 9:14 p.m. and departed at 9:26 p.m. The impact on the window happened approximately five minutes before we arrived. Amtrak 188 derailed only a few minutes later, at approximately 9:30 p.m.
Any implication that the crash and the two separate accidents were related would be speculative and would not even necessarily indicate foul play. But it is apparently not common for projectiles to hit and damage windows on trains in that corridor, so if that was what occurred on Amtrak train 2173 as well, then it would be an unusual coincidence.
"We keep comprehensive safety statistics … but that's not one of them," said Federal Railroad Administration spokesman Michael England when asked about how often projectiles hit trains. "It's not a common enough occurrence, if it was something that happened frequently enough it would be something statistically that we would collect."
The Inquirer reported that the United States Attorney's Office was not yet investigating the crash or the projectile incident on the SEPTA. The cause of the crash was not yet known as of press time, but the Inquirer reported that the train's "black box" recording device had been recovered and was being sent to an Amtrak center in Delaware for analysis. The incident occurred at a curve with a speed restriction of 55 miles per hour, according to reporting by the Wall Street Journal, and one passenger told CNN that she felt like the train was going too fast around the curve.
Update 1:15 p.m.: This post has been updated to reflect the increased number of fatalities.
Update 5:10 p.m.: Philadelphia Magazine reports that the projectiles have been confirmed, but that they were unrelated to the derailment. "That may have been stones or rocks," said Philadelphia Mayor Michael Nutter. "Nothing to do with this particular incident." SEPTA has also updated the time of the projectile hitting its train to 9:10 p.m., according to Philadelphia Magazine.