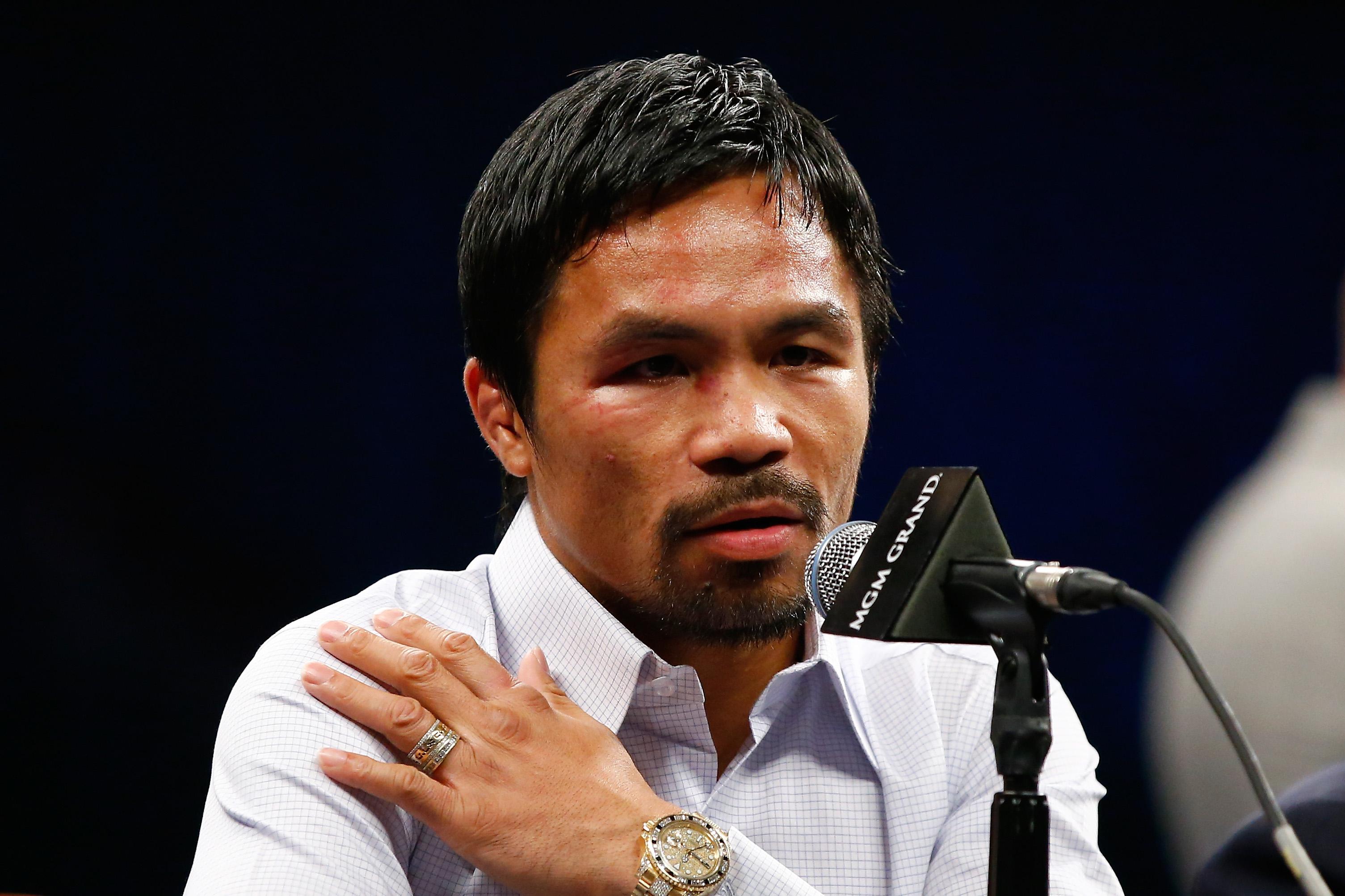 The Mayweather–Pacquiao "Fight of the Century" may be over in the ring, but for Manny Pacquiao the battle is spilling over into the courtroom. On Tuesday, two Las Vegas residents filed a $5 million class action suit against the Filipino boxer and his promotional company, alleging their failure to disclose a shoulder injury Pacquiao sustained during training constituted fraud.
Pacquiao lost the lucrative title fight in a unanimous decision Saturday night; almost immediately after the defeat the Pacquiao camp grumbled that Pacquiao had fought hurt. In fact, Pacquiao had this to say following the fight: "I don't want to make alibis or complain or anything … [but] it's hard to fight one-handed."  
If you bought a ticket to the fight, or bet $10,000 on Pacquiao, you'd probably be a bit peeved that that teensy weensy detail wasn't disclosed beforehand. If you got sucker punched by the $100 pay-per-view price tag, you might, rightfully, feel like Pacquiao owes you a day of your life back, or maybe a night out on the town, or perhaps dinner—fine, a beer.
"The lawsuit was filed by Stephane Vanel and Kami Rahbaran in federal court in Nevada. It seeks compensation under laws meant to protect consumers and asks for status as a class action on behalf of ticket buyers, pay-per-view television viewers and people who gambled on the fight," Reuters reports. "When Pacquiao's team filled out its pre-fight medical questionnaire on Friday, a query about any shoulder injury was marked 'No' before the form was then signed by Pacquiao and his adviser."
No?! Thank God Manny Pacquiao wasn't in charge of the global Ebola repsonse. The only logical conclusion then is that he was fighting one-handed on purpose. While intriguing, you'd still probably want your money back. Mostly because of this: "It is estimated that pay-per-view revenues could top $300 million, and wagers in the state of Nevada alone on the fight could surpass $60 million," according to ESPN. "Ticket revenues from the fight were expected to generate $72 million." ESPN reports Pacquiao will undergo surgery to repair his torn rotator cuff and will be out of action for at least nine months.
---