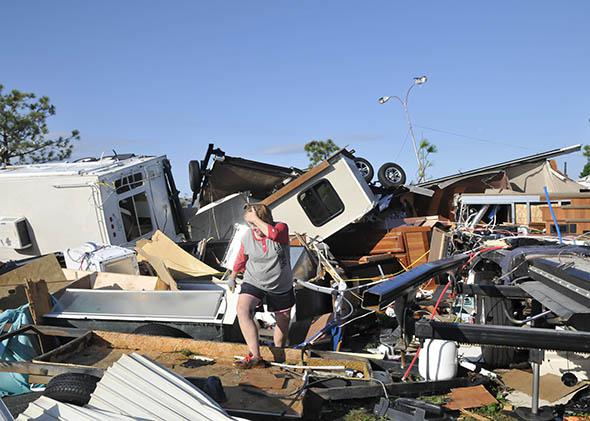 Wednesday was a weird weather day in the nation's heartland. About 50 tornadoes were reported from Texas to Nebraska, with at least two of them crossing through the Oklahoma City area, bookending a period of extremely heavy rainfall and making for a stressful few hours for local meteorologists.
There was also a strange scare in Tuttle, Oklahoma, after a tiger sanctuary suffered a direct hit from one of the tornadoes—briefly freeing multiple animals. In a separate incident, a cow was rescued from a mud whirlpool near Haskell, Texas.
The National Weather Service has dispatched damage survey teams to judge the strength of the tornadoes. But in a place known for its deadly tornadoes, the bigger story—by far—was the rain.
For the first time ever, the National Weather Service issued a "flash flood emergency" for Oklahoma City as the city racked up more than 7 inches of rain—nearly tripling the previous record for the date. At one point, more than 3 inches of rain fell in a single hour. 
According to local reports, a woman drowned in a tornado shelter at her southeast Oklahoma City home Wednesday night, a tragic and heartbreaking consequence of the record-breaking rainfall. This is the first time I've ever heard of such a death in a tornado shelter—though several children also drowned at a nearby elementary school in 2013 while seeking shelter from a large tornado.
Local police also dispatched dive teams to rescue stranded motorists and responded to a report of a man trapped in a floating mobile home. Roads were washed away. There were also accounts of tornado shelters erupting out of the ground due to the heavy rain:
To be clear, despite these extremely rare incidents, moving to a tornado shelter is still your safest option when there is a tornado warning for your area. Keep in mind that Oklahoma City has never had as much rain as quickly as it did Wednesday night. But the recent drowning deaths could create an increase in demand for aboveground safe rooms, which the National Weather Service says are just as safe as below-ground tornado shelters.
One of the clearest consequences of climate change is an increase in rainfall intensity due to a quickening of the hydrologic cycle, the process by which water evaporates and turns into rain and snow. Wednesday's rainfall record in Oklahoma joins other notable flash flooding incidents in recent years in Boulder, Colorado, Long Island, New York, and Pensacola, Florida, among many others.
What is shaping up to be the biggest tornado outbreak so far of 2015 will continue over the next few days. The Storm Prediction Center has already issued a "moderate risk" of severe weather in the same area for Saturday, the second-highest alert level on its new five-point scale.
---