Cleveland Police Officer Michael Brelo stood on a car and fired 15 shots at the two occupants inside seconds after he and other officers fired more than 120 shots at the vehicle. But he was acting within his constitutional rights, Judge John P. O'Donnell ruled on Saturday.
Brelo was the only one charged in the 2012 killings of Timothy Russell and Malissa Williams even though he was one of 13 officers who fired 137 shots into the car after it backfired, leading officers to believe someone had fired a gun, reports ABC News. Out of all the officers who fired their weapons though, prosecutors said Brelo was the only one who actually intended to kill 43-year-old Russell and 30-year-old William noting that the other officers stopped firing at the car once it had been surrounded by police. Prosecutors say that at the time he climbed onto the car's hood, Brelo's actions went from justifiable to reckless, reports the New York Times.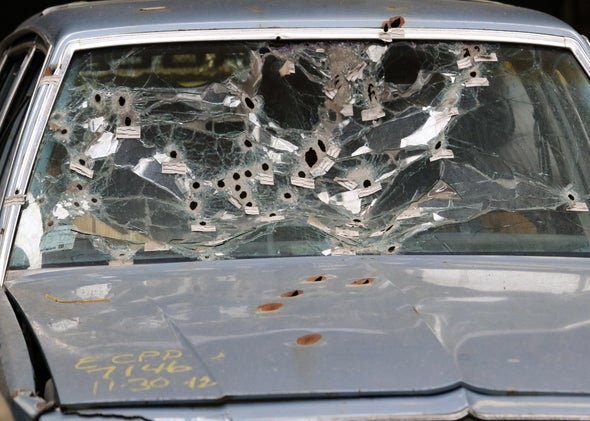 After reading a 34-page summary of the case, the judge made it clear he disagreed, saying that "Brelo's entire use of deadly force was a constitutionally reasonable response to an objectively reasonably perceived threat of great bodily harm from the occupants of the Malibu, Russell and Wiliams."
Anger at the verdict was immediate outside the Cleveland courtroom as people began changing "no justice, no peace" and "hands up, don't soot," reports the Cleveland Plain Dealer. "All I know is that I don't trust police no more. No police. None," said Malissa Williams' brother Alfredo Williams. "I can't recover from this. …This verdict isn't real. This verdict is fake." Brelo's lawyer, meanwhile, portrayed his client as the underdog in a "David vs. Goliath fight," notes CNN. "The prosecution in this case spared no expense and was, in fact, ruthless," attorney Patrick D'Angelo told reporters.
The case is unlikely to end here. The U.S. Justice Department, U.S. Attorney's Office and the FBI will begin reviewing the testimony and evidence to examine all available legal options. "We will continue our assessment, review all available legal options, and will collaboratively determine what, if any, additional steps are available and appropriate given the requirements and limitations of the applicable laws in the federal judicial system," said the joint statement cited by the Associated Press.
The killing of Russell and Williams is only one of the incidents in recent years that has raised questions about use of deadly force by the Cleveland Police. And the verdict comes as residents wait for the investigation into the killing of 12-year-old Tamir Rice, who was shot and killed when he was seen holding a toy gun. Saturday's verdict amounts to "a very bad precedent for Cleveland," an activist tells the AP. "Police murder people of color and not have to serve one day in jail."