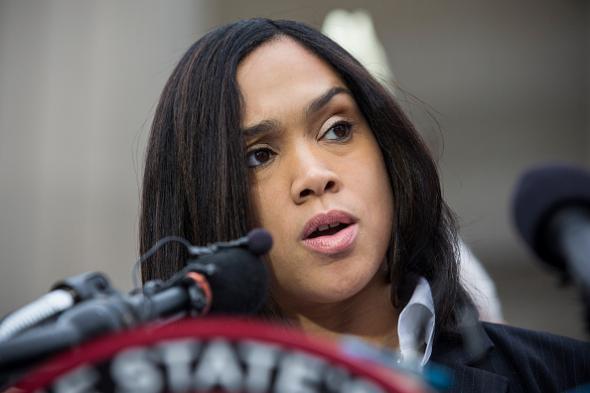 Marilyn Mosby, the Maryland state's attorney for Baltimore, announced Friday that her office had charged six police officers in Freddie Gray's death. Mosby now becomes a, perhaps the, focal figure in the biggest ongoing news story in the United States, and the content and delivery of her speech announcing the charges—as well as her star-on-the-rise backstory—suggest she is eager for the challenge.
Mosby, 35, was elected to her office and sworn in this January; she's reportedly the youngest top major-city prosecutor in the United States. A Boston native, she met her husband—Baltimore City Councilman Nick Mosby, described Thursday as a rising star himself by NPR—as an undergrad at Tuskegee University in Alabama before attending Boston College Law School. She worked as an assistant state's attorney in Baltimore from 2006 to 2011 before becoming a "field counsel" for Liberty Mutual insurance.

This January a Baltimore magazine interview discussed Mosby's belief in the importance of trust between law enfrcement officials and the communities they serve, a theme she also spoke about in her forceful and often eloquent Friday press conference. Here's the full video thereof:
After describing her office's version of Gray's treatment—in summary, she said officers negligently failed to buckle him in the police van in which he was being transported and then repeatedly ignored clear evidence of a medical emergency after he was hurt—Mosby began speaking more broadly, alluding to the common "no justice, no peace" chant of civil rights protesters.
Her words:
To the people of Baltimore and the demonstrators across America: I heard your call for "no justice, no peace." Your peace is sincerely needed as I work to deliver justice on behalf of this young man. To those that are angry, hurt, or have their own experiences of injustice at the hands of police officers, I urge you to channel the energy peacefully as we prosecute this case.

That "no justice, no peace" reference, not surprisingly, has already been criticized by a Fox News host. (On the other side of the aisle, the Huffington Post called her "objectively badass.")

Mosby also spoke about her family's history in police work, perhaps as a response to potential pushback against her move to charge the officers—pushback that has already begun via a police union open letter that calls for the appointment of an independent special prosecutor in the case, noting Mosby's connections to Gray family attorney William Murphy, who donated to her campaign and advised her during her transition into the prosecutor's office.

Her words:
To the rank and file officers of the Baltimore city police department—please know that these accusations of these six officers are not an indictment on the entire force. I come from five generations of law enforcement. My father was an officer. My mother was an officer. Several of my aunts and uncles. My recently departed and beloved grandfather was one of the founding members of the first black police organization in Massachusetts. I can tell you that the actions of these officers will not and shoudl not in any way damage the important working relationships between police and prosecutors as we continue to work together to reduce crime in Baltimore.
And she closed her remarks with a statement directed to "the youth of this city."

Said Mosby:
To the youth of this city—I will seek justice on your behalf. This is a moment. This is your moment. Let's ensure that we have peaceful and productive rallies that will develop structural and systemic changes for generations to come. You're at the forefront of this cause. And as young people, our time is now.
Much remains to be done in the case of Freddie Gray's death, and the response by the accused, their attorneys, and their supporters will no doubt be substantial and immediate. For better or for worse, Marilyn Mosby's time is now.

---