California's current megadrought hit a shocking new low this week: On Thursday, the state's snowpack officially ran out.
At least some measurable snowpack in the Sierra mountains usually lasts all summer. But this year, its early demise means that runoff from the mountains—which usually makes up the bulk of surface water for farms and cities during the long summer dry season—will be essentially non-existent. To be clear: there's still a bit of snow left, and some water will be released from reservoirs (which are themselves dangerously low), but this is essentially a worst-case scenario when it comes to California's fragile water supply.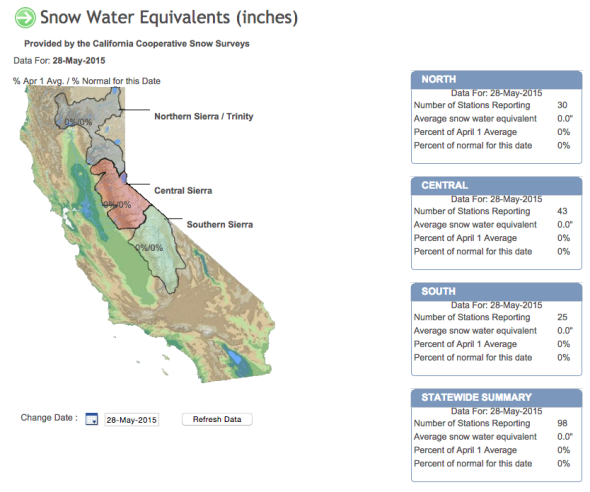 The state knew this was coming and has been working to help soften the blow—but they're fighting a losing battle. Bottom line: 2014 was the state's hottest year in history, and 2015 is on pace to break that record. It's been too warm for snow. Back in April, Gov. Jerry Brown enacted the state's first-ever mandatory water restrictions for urban areas based mostly on the abysmal snowpack. In recent days, the state's conservation efforts have turned to farmers—who use about 80 percent of California's water.
With a burgeoning El Niño on the way, there's reason to believe the rains could return soon—but not before October or November. The state's now mired in such a deep water deficit that even a Texas-sized flood may not totally eliminate the drought.
Welcome to climate change, everyone.