The news from last week's horrific Amtrak derailment has followed a predictable course, from focus on the deaths and injuries to a search for an explanation and then for accountability. For currently inexplicable reasons, the train accelerated at precisely the wrong time: as it approached a dangerous curve. And since Amtrak hadn't gotten around to installing a system called Positive Train Control, which could have stopped the train automatically, the engine jumped off the tracks at the curve, and passenger cars flipped over or were crushed.
As soon as the issue of blame surfaced and then, inevitably, possible lawsuits, so did this fact: Because of a damages-limiting federal law enacted in 1997, the victims and their survivors are unlikely to be fully compensated for injury or death. The law limits recovery to a total of $200 million per accident; that's probably not enough in the case of a mass disaster like this one, in which a single victim's claim could reach $20 million. Eight people were killed in the Philadelphia accident, and scores were seriously injured. Twenty remain hospitalized, with five in critical condition. Perhaps this tragedy will spark a reform or repeal of this ill-advised law, but I wouldn't count on it. An even worse train accident that killed 25 people seven years ago in California didn't lead to remedial action by Congress. All that's come out of that legislative body since this latest disaster has been a tone-deaf committee vote in the House of Representatives the very next day to slash Amtrak's paltry funding even more.
Why is there a $200 million limit in the first place? As usual with Amtrak, the reason can be traced to congressional reluctance to fund the program at sustainable levels. At the time the 1997 law was passed, the federally subsidized company was facing bankruptcy and needed bailout funds. The reluctant lawmakers ponied up the dough needed to keep the wheels turning, but they inserted the liability-limitation provision into the Amtrak Reform and Accountability Act. The effect was to shift fiscal responsibility from the taxpayers as a whole to the injured parties by reducing the monetary sum they'd otherwise be eligible to recover in damages through the tort system. And the amount has never been increased to reflect inflation.
Although the gun industry enjoys a near-total exemption from civil suit, liability caps at the federal level are rare. They are more common at the state level but usually limit only the amount of noneconomic (or "pain and suffering") loss that can be recovered. This train-friendly federal law, on the other hand, is particularly draconian because it caps all recovery, including damages for hard economic losses. Once the $200 million cap is reached, everyone else is out of luck for any and all damages they might have suffered, whether they're lost wages, hospital bills, long-term care, or … whatever. That's the sign of a law gone seriously astray.
It's unlikely, though, that liability will be determined by who can get to the courthouse fastest to try dipping into this limited pot. (At least one suit has already been filed, but that was by an Amtrak employee, whose claim is covered under another law.) There are a few possible paths that might be followed, but, again, none will lead to full recovery for all—or perhaps any—victims, because of the law.
First, the litigation could follow the model established in the 2008 California case. That accident, significantly, did not involve Amtrak: A freight train and a California regional passenger train collided, killing 25 and injuring 135. Although the $200 million cap was seen as a way to reduce Amtrak's costs (and thereby the level of federal funding), it applies, oddly, to all railway accidents, no matter who the defendant is. The defendants simply deposited the full $200 million with the court and then exited the case.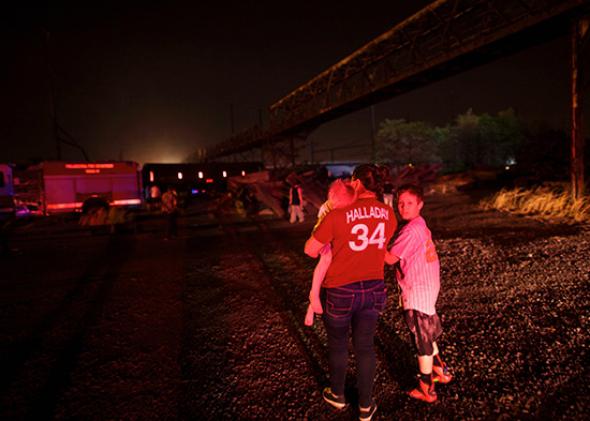 The judge was then saddled with the impossible task of giving everyone less than they deserved—or nothing, for some post-traumatic stress disorder cases—an exercise that the judge memorably described as not "one Sophie's choice … but over 120 of them." The plaintiffs essentially had to take what they got, and the judge's struggle to achieve equity was poignantly on display throughout his long and sympathetic opinion.
Another option would be for Amtrak to immediately make the $200 million available, and find an impartial figure to administer a compensation fund that would pay out various victims according to categories and formulas. This fund could operate outside the confines of formal litigation.
For instance, the families of those killed might be eligible for a certain amount, while those who suffered serious and permanent injuries might receive another sum, while those whose harm was less severe could expect to get less. Those with no injuries at all could expect to receive something but probably not much. Kenneth Feinberg, who has administered any number of public and private funds—including the September 11th Victim Compensation Fund, the BP oil spill fund, and One Fund Boston (for the victims of the Boston Marathon bombing)—is already being discussed as one possible administrator for such a fund.
Of course, no one could be compelled to take the cash a fund administrator was offering, but that approach might seem better, at least to those with lesser injuries, than taking a chance on the judicial system—which might run out of money to distribute by the time a case advances.
Whatever method is chosen, let's hope that the $200 million comes reasonably close to affording full compensation to those who were injured or whose loved ones were killed by this entirely preventable accident. But whether or not it does, two things are quite clear.
First, Amtrak needs more damn money. In fact, the automatic speed regulator itself is so expensive and Amtrak's funding so limited that Pennsylvania's own Sen. Pat Toomey co-sponsored a bill in 2013 that would have postponed the required installation from 2015 to 2020! The measure didn't pass, and the system is indeed coming into place by year's end (and right away in the area of the crash). The problem, at bottom, is that the company is expected to turn a profit like any business but is also required to operate loss-leading lines that no sensible corporate actor would retain, like the sparsely populated California Zephyr line, which carries a dismal load of 376,000 people each year. Amtrak is thus whipsawed—it can't make money, but it is vilified and punished (by insufficient funding) for not being a successful business. Since retaining lines like the Zephyr is obviously considered a public good, Congress should follow that logic to fuller subsidization.
Second, this nutty and cruel damage-cap law should be repealed right away. No judge or fund administrator should have to pick winners and losers from among deserving victims, but that's exactly what the current law ends up requiring in mass-casualty cases. And while we're waiting, futilely, for the law to disappear, Congress can take the more expedient course of coughing up compensatory cash to increase the available amount in this case. Or the lawmakers can continue to cut funding and live with the consequences, while passengers die.
The author would like to thank his friend and colleague Jean Eggen for her insights regarding the procedural issues relating to any potential claims.