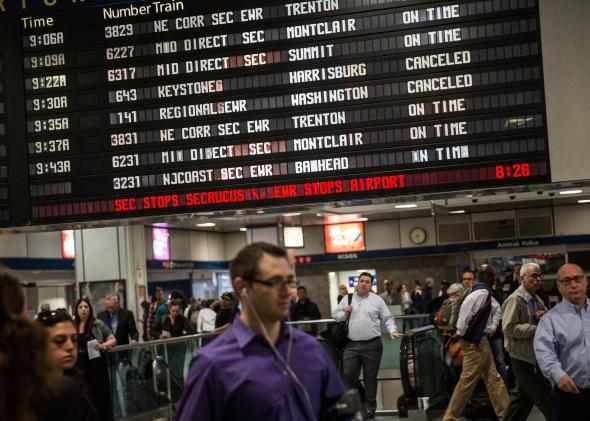 Update, May 20, 2015, 4 p.m.: Magliari called me to say that the company was now providing automatic refunds to individuals who had not yet contacted the company to either change their travel plans or officially request a refund. "Rather than assume what people want to do …. our intention was to see what people wanted" to do in terms of changing their travel plans, he told me. The company wanted to provide customers with the option to change their travel plans on their own, if they preferred, rather than being handed a straight refund. "It's been a couple days now, so we're reaching out and automatically doing something."
A notice published on Amtrak's web site on Wednesday indicated that the company would now be informing passengers of their automatic refunds: "Customers affected by train cancellations due to the May 12 incident will be notified via e-mail or phone regarding their refund. This communication will begin today and refunds will be processed automatically beginning today." The headline has been updated to reflect the announcement.
Update, May 20, 2015, 2:30 p.m.: Amtrak spokesman Marc Magliari responded with the following statement:
If Amtrak does not provide a service the passenger paid for, the passenger gets a full refund without penalty or fee, disregarding any restrictions to the contrary that may apply to the fare plan, passenger type or promotion code (unless the form of payment, such as Transportation Certificate, does not allow a refund, in which case an eVoucher applies). This is standard policy.
"Refund" means the return of spendable money to the customer in the form of cash, a credit card credit, or a refund check. 
Passenger must contact us via email at Amtrak.com or 800-USA-RAIL. Better to call if rescheduled travel is imminent.
He also said that "rather than Amtrak assuming what the passenger wants done with what they paid us for service that was canceled, we'd like to work with them by phone, email, or in person at a ticket office, without any penalty for a full refund."
Original post, May 15, 6:18 p.m.: Amtrak is apparently not automatically refunding money for passengers whose trains were cancelled because of Tuesday's deadly train derailment in Philadelphia.
Passengers have received calls and email messages notifying them of the service cancellations, but it seems as though you have to go through the process of requesting a refund in order to get your money. Amtrak sent me the following message on Wednesday:
Our records indicate that you are scheduled to depart on Amtrak train number 187 from New-York-Penn-Station-New-York at 9:10PM on Thursday May 14 and arriving in Washington-District-of-Columbia. 
That schedule has been cancelled due to a-service-disruption. There is no alternate service available. To speak to a customer service representative about travel options such as selecting another date or destination call us at 8772319448 at your earliest convenience.
We apologize for any inconvenience and thank you for being a valued Amtrak customer.
Sincerely,
Amtrak
Amtrak also called me to tell me about the cancellation, but what they didn't make clear in either message was that you apparently needed to speak with an Amtrak representative in order to get a refund.
When you do call Amtrak's customer service number, you hear the following message:
Customers who are holding tickets for one of our cancelled trains may obtain a refund by calling 1-800-USA-RAIL. We will honor all refund requests that we receive for cancelled service through May 19."
A representative I spoke with on Friday confirmed for me that passengers need to request a refund in order to get one.
I might be missing something (such as how Amtrak deals with passengers who want to change their travel plans rather than get an automatic refund), but not automatically refunding money to stranded passengers seems like bad form on the part of the commuter rail company.
Amtrak's standard refund policy states: "Cancellation or change of reservations does not generate a refund (except for eTicket reservations)."
It also says there is a time limit for the normal refund procedure. "An Amtrak ticket becomes non-refundable, not valid for carriage and has no exchange value, after one year from the date payment was made for that ticket," according to the company's web site.
As of publication time Amtrak's press department had not returned request for comment on their refund policy and how it applied in this case.
---