A new report based on the archived emails of a CIA contractor who died in 2008 documents close collaboration between the American Psychological Association (APA) and individuals involved in the CIA's post-9/11 "enhanced interrogation" program—a program whose activities have been described as torture by, among many others, President Obama.

The late contractor's emails were originally obtained, apparently with the help of a human rights investigator who is one of the report's authors, by New York Times national security writer James Risen. Risen wrote about the report, whose other authors include psychologists and doctors affiliated with institutions such as Harvard and New York University, for the Times on Thursday. Some of the report's material was discussed in Risen's previous work, including the 2014 book Pay Any Price.
The crux of the new report's narrative is the Bush administration's belief and legal insistence that the involvement and approval of health professionals ensured that "enhanced interrogation" did not constitute torture. From a 2005 legal memo by Principal Deputy Assistant Attorney General Steven Bradbury:

Thus, no technique is used in the interrogation of any detainee – no matter how valuable the information the CIA believes the detainee has – if the medical and psychological evaluations or ongoing monitoring suggest that the detainee is likely to suffer serious harm. Careful records are kept of each interrogation, which ensures accountability and allows for ongoing evaluation of the efficacy of each technique and its potential for any unintended or inappropriate results.
The American Medical Association and American Psychiatric Association publicly prohibited their members from taking part in any military or civil interrogation—even as monitors—in November and May 2006, respectively. The APA, on the other hand, actively OK'd and defended its members' involvement in national security interrogations. (Among the roles performed by the APA, the country's largest organization of psychologists, are setting professional standards and credentialing graduate programs.) From a set of 2005 guidelines:

Psychologists should encourage and engage in further research to evaluate and enhance the efficacy and effectiveness of the application of psychological science to issues, concerns and operations relevant to national security … Also valuable will be research on cultural differences in the psychological impact of particular information­ gathering methods and what constitutes cruel, inhuman, or degrading treatment.
As the new report observes, the APA's 2005 guidelines on member participation in interrogations track quite closely with the kind of health-professional participation the Bush lawyers believed was legally necessary. And what the report documents in detail is that this does not seem to be a coincidence; rather, top APA officials had extensive correspondence and multiple meetings with active and former CIA, Defense Department, and White House officials before their guidelines were issued. One former White House official, according to an email sent by a top APA official, even wrote part of the guidelines.
The APA, however, told the Times that it wasn't involved in "coordination":

Rhea Farberman, a spokeswoman for the American Psychological Association, denied that the group had coordinated its actions with the government. There "has never been any coordination between A.P.A. and the Bush administration on how A.P.A. responded to the controversies about the role of psychologists in the interrogations program," she said.

But that denial is hard to square even in the strictest sense with facts laid out in the emails published in the new report. A 2004 meeting between national security and APA figures was, an email shows, explicitly held as officials (to use Farberman's word) "responded" to controversies including what one email described as the "Abu Ghraib prison situation." And an invitee to that meeting, White House adviser Susan Brandon, appears to have been saved in the address book of an APA executive as "Oval Office Susan." (In other words, Farberman's denial of "Bush administration" involvement appears to be contradicted even if you only define "Bush administration" to mean officials that were directly affiliated with the White House.)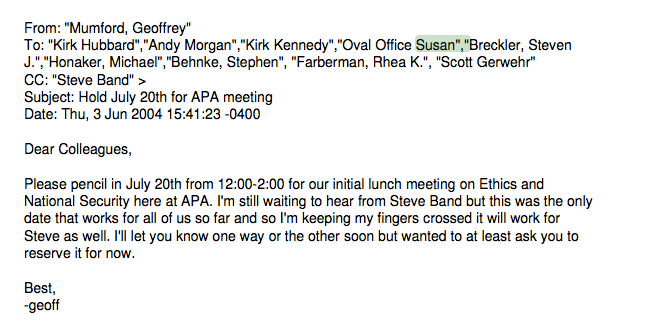 One of the other attendees at the 2004 meeting was CIA official Kirk Hubbard, who would go on to work for a contracting firm founded by James Mitchell and Bruce Jessen, the psychologists who designed and led the "enhanced interrogation" program despite having had no previous background in intelligence or interrogation of real-life suspects. (The pair had participated in interrogation-related studies and military training.) James Mitchell was himself an APA member until 2006, and Mitchell and Jessen both attended a 2003 conference co-sponsored by the APA where interrogation techniques were discussed. (Before that conference, the APA offered to provide the CIA's Hubbard with a hotel room.)
In 2005, after the APA's report on its new guidelines was released, APA science policy director Geoff Mumford wrote an email to Kirk Hubbard, who by that time had left the CIA to work for Mitchell Jessen and Associates, a CIA contractor. "I hope this finds you well," wrote Mumford, "and that you are as pleased as we are with the report."

And yet: In 2007, the head of the APA's "ethics directorate" denied that Mitchell had been an APA member and said the APA had "no contact whatsoever with [Mitchell and Jessen] concerning interrogations or interrogation techniques."
In November 2014, the APA announced that a former federal prosecutor named David Hoffman would conduct an independent investigation into the organization's role in the enhanced-interrogation program. That investigation is ongoing.