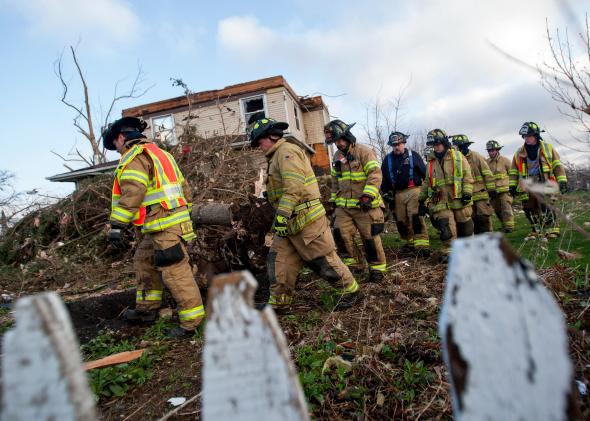 Northern Illinois was hit hard by tornadoes Thursday evening, in the worst outbreak of severe weather so far in 2015. Several towns about 80 miles west of Chicago suffered the worst damage.*
Though I'm not a big fan of storm chasing, this video, calmly taken from the side of a highway, is perhaps the best I've seen, capturing what it must have been like to be in Rochelle, Illinois, the largest town impacted by the storms. You can hear the town's tornado sirens wailing eerily in the background:
That's exactly the kind of sensible, hype-free weather reporting from storm chasers that helps scientists without putting themselves in harm's way. (Though I still advise against storm chasing in most situations.)
Another video was taken a few miles north of Rochelle by audibly terrified local residents (some language understandably NSFW):
As the tornado moved northward, it also swept through tiny Fairdale, Illinois, with devastating consequences, including at least one death:
Meteorologists from the National Weather Service office in Chicago are on the scene Friday morning in a routine attempt to gauge the strength and path of the tornado, and said there could have been more than one. The Weather Channel has speculated that the tornado that hit Fairdale may be the strongest in Northern Illinois in nearly 50 years. The National Weather Service will determine an official intensity estimate (and post it here), likely on Friday.
The Rochelle tornado was one of more than 30 that have been reported across seven states over the past three days. April has been a bit more active than March, which had a record-setting slow start when it comes to severe weather.
What's important is that Thursday night's tornado(es) were extremely well forecast: A tornado watch was issued five hours in advance, including for the entire Chicagoland area, and a warning was issued for Rochelle about 20 minutes before the tornado struck. A large-scale environment favorable for severe weather, especially tornadoes, was anticipated at least six days in advance:
Weather scientists are actually getting to the point where they're wondering if people sometimes have too much warning for tornadoes, which may be giving rise to extremely unsafe behaviors like attempting to outrun the storm by car (as was unfortunately popularized in the recent dud of a disaster movie Into the Storm).
Another round of severe weather is possible across the Southeast on Friday from the same storm system that produced the Illinois tornadoes. There's a heightened risk of tornadoes especially for the Baltimore, Maryland to Washington, D.C., to Richmond, Virginia area. Though the absolute risk is low, it is about 20 times greater than on a typical April 10.
Update, 1:55 p.m. Eastern: The Storm Prediction Center has boosted the odds of a tornado on Friday in the Washington, D.C., to Richmond, Virginia, area to "five percent within 25 miles of a point." Even though 5 percent may not sound like a lot, that's about 50 times greater than on a typical April 10.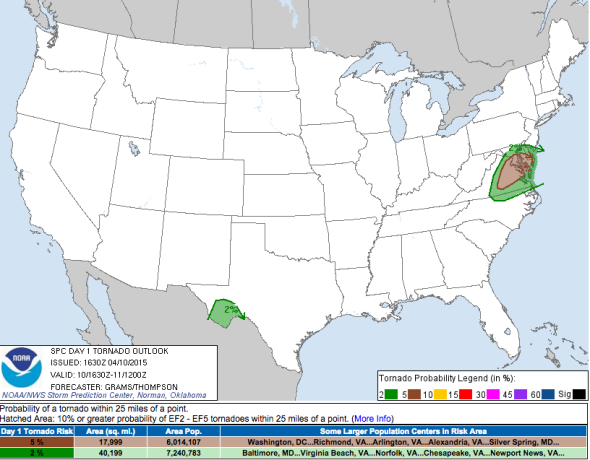 *Correction, April 10, 2015: This post originally misstated that the worst-hit towns during Thursday's tornadoes were located about 80 miles east of Chicago. They are located about 80 miles west of Chicago.
---