Also in Slate: Experts knew massive quake was coming: "Nightmare waiting to happen."

A devastating 7.9-magnitude earthquake has struck Nepal, killing more than 1,900 people in the country's worst quake in 80 years. According to the latest count, at least 1,896 people were confirmed dead in Nepal, 44 in India, 17 in Tibet and four in Bangladesh, according to Reuters. Everyone warns the death toll will almost certainly continue rising. The earthquake struck between the capital of Kathmandu and Pokhara, the country's second-largest city, reports the BBC. An hour after the first shallow quake a 6.6-magnitude aftershock struck. There were at least 15 aftershocks of a 4.5 magnitude or greater in Nepal, according to the U.S. Geological Survey.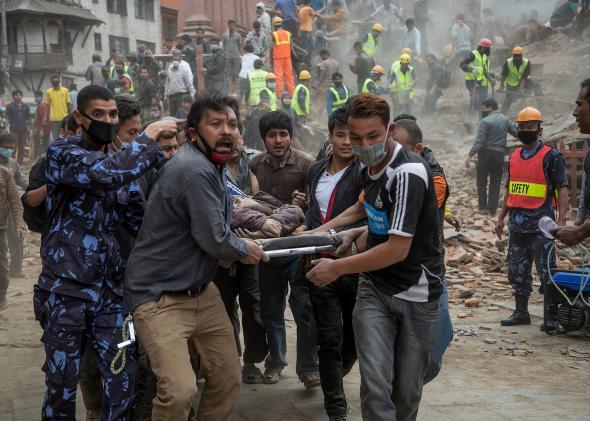 Aid agencies have appealed for help to care for survivors, who will have to make do without shelter, electricity, or running water, reports CNN. "With every minute the situation becomes worse," said Devendra Tak, of the aid agency Save the Children. "Tonight is going to be a very tough night out there for people in Kathmandu and for people in the surrounding villages."
Part of the reason why the quake was so devastating was not only its magnitude, but that it was very shallow, experts explained. "The shallowness of the source made the ground-shaking at the surface worse than it would have been for a deeper earthquake," David A. Rothery, professor of planetary geosciences at the Open University in Milton Keynes, north of London, told the Associated Press.

The earthquake caused an avalanche on Mount Everest that buried part of the base camp, killing at least 10 people. The area is full of tourists, because it's the start of the main climbing season. An Indian army mountaineering team claims it found 18 bodies on Mount Everest, reports Reuters. The Tourism Ministry estimates there were at least 1,000 climbers, including 400 foreigners, at base camp when the avalanche began, reports Reuters.
Several historical landmarks have been wiped out by the earthquake, including the 19th century Dhararahara tower, and many people are thought to be trapped in the rubble. Several other UNESCO world heritage sites, which are Nepal's main tourist attractions, were destroyed.
This post has been updated with new information since it was originally published.