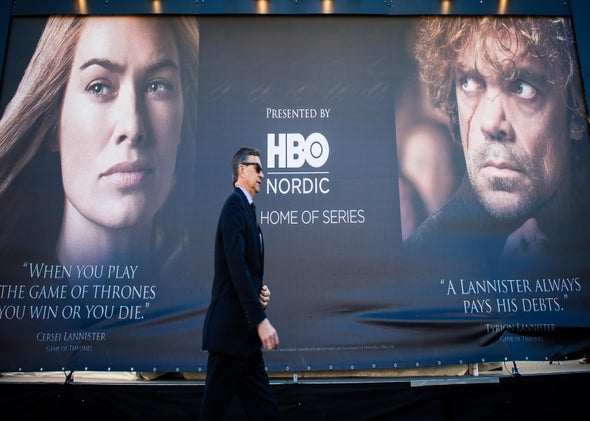 The most pirated TV show of 2014 may break its own record again this year after the first four episodes of the highly anticipated Season 5 were leaked online late Saturday night and started spreading like wildfire hours before the premiere. "The copies were first spotted on the private torrent tracker IPT, but they soon made their way to more public sites such as The Pirate Bay, RARBG and KickassTorrents," reports Torrent Freak. It seems the source of the leak is screener copies that HBO sent out to the press and other, notes Deadline. "Sadly, it seems the leaked four episodes of the upcoming season of Game of Thrones originated from within a group approved by HBO to receive them," HBO said in a statement Sunday. "We're actively assessing how this breach occurred."
The leak is seen as a huge blow to HBO, particularly because it comes shortly after the cable network owned by Time Warner has launched HBO Now, a streaming service that allows people to watch its shows and movies for $15 a month without a cable or satellite package. The Game of Thrones premiere has been widely seen as the first high profile trial of how the service delivers, notes CNet.
HBO has long battled against piracy, and Game of Thrones was by far the most downloaded TV show for a third consecutive year in 2014. With more than eight million downloads via BitTorrent it wasn't even close, with the Walking Dead coming in second place with 4.2 million downloads, according to Torrent Freak. While the leaked episodes may be catnip to loyal fans, many are likely to hold off or re-watch later because the episodes posted online are standard definition.
While some insist that piracy ends up decreasing revenue, some in the industry have also suggested it can help build buzz around a TV show, notes Variety. And the creators of Game of Thrones have long seemed to take a soft attitude on piracy. "If you go around the world, I think you're right, that Game of Thrones is the most pirated show in the world," Time Warner CEO Jeff Bewkes told investors during a 2013 earnings call. "Now that's better than an Emmy."
Can't wait for Season 5? Take the surprisingly difficult Slate quiz on who is dead and who is alive on the show. Or watch a recap.
---