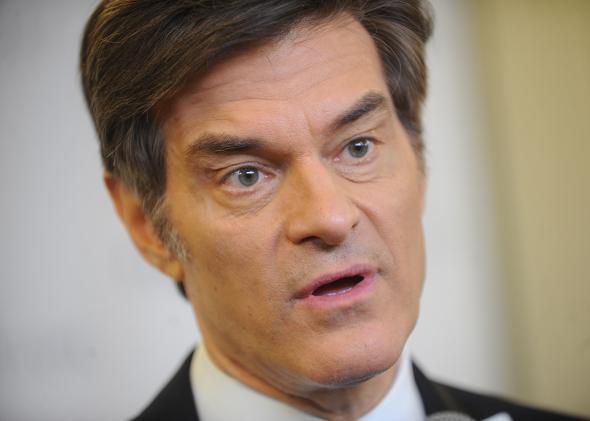 Dr. Mehmet Oz is firing back at the group of doctors who wrote a strongly worded letter to Columbia University saying the heart surgeon and TV personality should not be part of the university's medical faculty. "I bring the public information that will help them on their path to be their best selves," Oz said in a statement published on Twitter and Facebook. "We provide multiple points of view, including mine, which is offered without conflict of interest. That doesn't sit well with certain agendas which distort the facts."
In the letter, published in full by Slate on Friday, the doctors say one of the reasons they are opposed to Oz's affiliation with the university is his "baseless and relentless opposition to the genetic engineering of food crops." That characterization, however, is exaggerated, insists Oz. "I do not claim that GMO foods are dangerous, but believe that they should be labeled like they are in most countries around the world," he said.
The university has made clear it plans no action against Oz. "The university does not regulate faculty engagement in public discourse," a Columbia spokesman told USA Today. The author of the letter to Columbia, Dr. Henry I. Miller of Stanford University, responded to the university by saying that "freedoms end where patient safety begins, and Oz's promotion of worthless products that might have side effects and that delay patients' seeking safe and effective therapies threatens public safety." Miller called Oz "a quack and a fake and a charlatan," according to the New York Daily News.
---