YEREVAN, Armenia—On Thursday, in Etchmiadzin, Armenia, just 300 miles from the borders of Syria, Iran, and Iraq, the head of one of the oldest Christian churches on the planet—Karekin II, Catholicos of All Armenians—canonized 1.5 million saints. They were the 1.5 million people who died during the Armenian genocide—a genocide whose centennial is observed around the world on Friday; a genocide that, in deference to Turkey's policy of genocide denial, President Barack Obama recuses himself from naming, circumscribing the truth with phrases like "great catastrophe." 
As Etchmiadzin's bells tolled 100 times for those who died 100 years ago, just down the road in Yerevan, Armenia's capital, sound checks were taking place for a different sort of ritual: System of a Down's final concert of their Wake Up the Souls tour. Thousands of young Armenians flowed into Yerevan's central Republic Square to hear this to hear this Southern California–based band, whose members are Armenian American.*
Massive screens and speakers flanked the stage as the band's lead singer, Serj Tankian, made a point that President Obama knows well, singing, "The plan was mastered … genocide."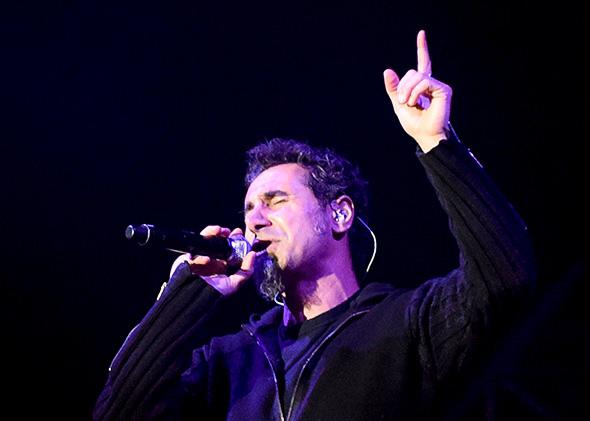 In the rain, I stood and listened with the audience, just as I had sat in the sun in Etchmiadzin. In both places people spread out over acres, as cameras mounted on booms focused in and out on the various parts of the ritual, beaming simultaneously via satellite and Internet to the rest of the world. The crowd was a bit younger than the one at the canonization, but their hearts were in the same place. They were looking for something to transport them from dreary rationalizations for why some greater good should trump a dose of honesty.
Armenians to Armenia are like Lebanese to Lebanon—there are more of us outside than in. Especially since 1915, when as a minority ethnic group in the foundering Ottoman Empire, the Armenians were systematically, and in various unthinkable ways, almost completely deleted from what is now the Republic of Turkey. Nowadays, whether you meet one in Buenos Aires, Addis Ababa, Jerusalem, Detroit, or Beirut, it is hard to find an Armenian whose family wasn't affected, as mine was, two generations back by this genocide.
Armenians are tenacious about this history—some would say to a tiresome degree. Our tenacity is driven partly by Turkish denial of the Armenian genocide, a denial supported by heads of state in Australia, the United Kingdom, and yes, even the United States. Ever the realpolitik, intellectual strategist, Obama contradicted his campaign promise once again this week, when he effectively told the world that putting the word genocide next to the word Armenian would not be worth the offense such a conjunction would cause the government of Turkey, which has been known to imprison people for "insulting Turkish character."
The Obama administration's spokesman suggested that more lives could be saved by sparing the Turkish government its rightful responsibility. But sometimes, as the psalm goes, and as Karekin II pointed out, we need to let our "right hand forget its cunning." America's deafness toward the Armenian genocide can be traced in part to what Anthony Lake, as a young foreign service officer, once described as an "intellectual approach which views foreign policy as a lifeless, bloodless set of abstractions … disembodied and dehumanized terms which encourage easy inattention to the real people whose lives our decisions affect or even end."
Scores of politicians from around the world know, as Pope Francis showed us a few weeks ago, that naming the Armenian genocide can only improve the clarity of our thinking. President Obama understood better when, as a candidate, he asserted his "firmly held conviction that the Armenian genocide is not an allegation, a personal opinion, or a point of view, but rather a widely documented fact supported by an overwhelming body of historical evidence. The facts are undeniable." Today, he could take a page out of Pope Francis' book, when Francis called his flock—or whomever would hear—out on the dangers of standing mute, as though we couldn't hear.
President Obama and I were in grade school, and learned to call a rose a rose, around the same time. What if our fifth-grade teachers had decided to reframe the enslavement of Africans, or the history of Native Americans, or the Dutch colonization of Indonesia as incidental details, secondary to larger historical events? What kind of political reality could justify that to a child's ears?
Let's get personal—that's how we connect; that's where accountability, the truth of our actions and words, begins, where we start to learn from our mistakes. If we are to wakefully respond to forces like ISIS, the truth of our human experience must precede political exigencies. In canonization and concert alike, this is the message I hear Armenia shouting out to be heard.
Back in the crowd, as a witness to that heavy metal ritual, as an American Armenian descendant of a few of those new saints, I could see why we need giant screens flanking the stages, sound towers spreading the word. I want my president to hear again what he already learned from Armenia: Human survival requires memory and ears that listen. The Armenian story is bigger than Armenians. Those new saints remind us not just of the resilience of the Armenian people, but of core values: truth, humanity, historic responsibility.  I'm sure you can hear that.
Correction, April  24, 2015: This article originally misstated the number of people at the System of a Down concert in Yerevan, Armenia. It was thousands, not tens of thousands. (Return.)