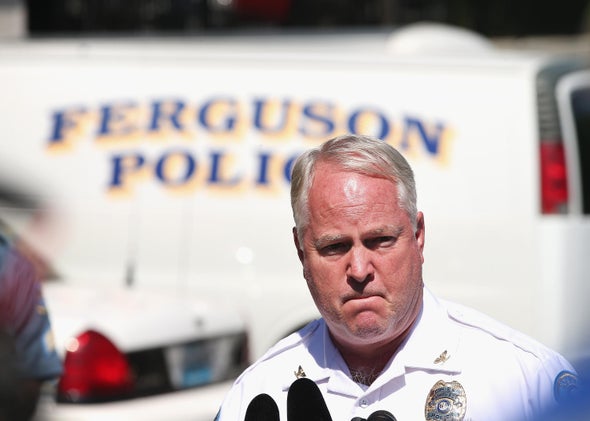 President Obama harshly criticized Ferguson, Missouri police on Friday, saying its practices of racial discrimination were "oppressive and abusive." But the U.S. Justice Department report that accused the city's police and court officials of persistent racial bias wasn't enough to get rid of the police chief—at least not yet. "He's still the chief," Ferguson Mayor James Knowles III told the Associated Press, adding that his job was not to "just chop heads."
Underlings, however, are starting to go. Racist emails discovered as part of the Justice Department probe led to the resignations of police officers Capt. Rick Henke and Sgt. William Mudd as well as the firing of the city's top court clerk, Mary Ann Twitty, reports CNN. The three workers demonstrated "egregious racial bias," said Knowles.
Tom Jackson may not be in the job of Ferguson police chief much longer though, as Attorney General Eric Holder raised the possibility that the federal government could end up dismantling the city's police force if necessary to deal with the issues outlined in its investigation. "We are prepared to use all the powers that we have, all the power that we have, to ensure that the situation changes there. That means everything from working with them to coming up with an entirely new structure," Holder said, according to the Washington Post. "If that's what's necessary, we're prepared to do that," he added, when asked whether the federal government could move to dismantle the police department.
Meanwhile, Obama gave his most extensive comments yet on the report and said Ferguson must now decide where it wants to go from here. "Are they going to enter into some sort of agreement with the Justice Department to fix what is clearly a broken and racially biased system?" Obama asked. The president also did not dispute the decision not to charge Darren Wilson for killing 18-year-old Michael Brown. "That was the decision that was made, and I have complete confidence and stand fully behind the decision that was made by the Justice Department on that issue," Obama said, according to Reuters. Speaking at a town hall at South Carolina's Benedict College, Obama explained the standard for a civil rights charge was very high, adding: "We may never know what happened."
---