On almost any night in Charlottesville, Virginia, you'll find throngs of students on "The Corner," the commercial strip of bars, restaurants, coffee shops, and boutiques that serves the University of Virginia community. Most of those students will be drinking, and some of them will be underage.
About 12:45 a.m. on Wednesday, one of those students—Martese Johnson, a third-year in the College of Arts and Sciences—was arrested while trying to enter Trinity Irish Pub. According to eyewitnesses, he was grabbed and flung to the ground after a bouncer for the bar turned him away. "The uniformed ABC Agents observed and approached the individual after he was refused entry to a licensed establishment," reads the statement from the Virginia Department of Alcohol and Beverage Control, whose officers made the arrest. "A determination was made by the agents to further detain the individual based on their observations and further questioning." Initial reports said he had attempted to use a fake ID, but in a press conference on Thursday, his lawyer denied this. "Martese presented a valid Illinois state identification card, issued in 2011," said attorney Daniel Watkins. Likewise, Johnson's roommate says that "Martese does not own a fake ID."
Aside from Johnson's account and the official ABC report, the best look at what happened is a cellphone video, which shows a bloodied Johnson—injured by the fall—on the pavement, surrounded by ABC enforcement officers. Johnson is angry—yelling "I go to UVA" and that the officers are "fucking racists"—but he isn't struggling. Johnson was detained and taken to a nearby medical center, where he was treated for his injuries.
It's true we don't know what happened before the video was shot, and that ABC officers described Johnson as "agitated and belligerent." And it's possible that the charges—"resisting arrest, obstructing justice without threats of force, and profane swearing or intoxication in public"—are appropriate. But so far there's no evidence Johnson was violent with the agents, and there's an unconfirmed claim he wasn't drunk. "[Johnson] apparently was not intoxicated by way of a breathalyzer test," said Marcus Martin, UVA's vice president for diversity and a professor of emergency medicine at the medical school, who spoke to Johnson after the incident. And if he was intoxicated? The Virginia criminal code treats "profane swearing and intoxication in public" as low-level misdemeanors that don't require arrest.
This isn't the first time ABC enforcement agents have used excessive force or been overzealous in their methods. In 2013, half a dozen plainclothes ABC officers swarmed a UVA student as she left a grocery store in her car. Guns drawn, they tried to detain the young woman, mistaking her bottled water for alcohol. She was arrested and charged with three felonies, all of which were dropped. Later, the student—Elizabeth Daly—sued the Virginia ABC, winning a settlement of more than $200,000.
Put simply, Virginia's unusual liquor laws, which give wide police power to the enforcement arm of the state's alcohol board, play an important part in understanding this story. At the same time, we shouldn't reduce this to the familiar ground of policy. The protests that Johnson's arrest has provoked at UVA are connected to larger national currents as well as the school's unique history.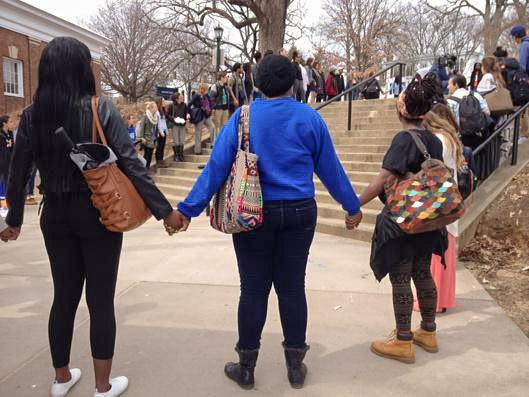 Johnson is black, and for himself as well as other students, this linked his experience to other incidents of police violence against black men, part of a larger narrative of race and policing, and reflected in the rhetoric of the protests. Students, black and white, chanted "Black Lives Matter" and "Hands Up, Don't Shoot," the slogan derived from early—and false—reports of the shooting of Michael Brown in Ferguson, Missouri. No, Johnson wasn't killed, but his experience resonated with black students at UVA. "It's still hard for me," said one law school student at a Wednesday rally for Johnson. "I can't believe I'm even up here right now, I have no words—because I'm sick and tired of this," he said. "What I'm going to do is to continue to say that black lives matter until it's true." Likewise, said one of the organizers, second-year student Aryn Frazier, "We're here for Martese. We are here to love the countless other victims of police brutality. We are here for them. We are here because we could be them."
What's more, there's the particular racial atmosphere of the university. It would be inaccurate and unfair to say that all black students at UVA share a common experience of the school and its institutions. Some find community in the student mainstream, others in the rich collection of black organizations and clubs, and others still in their particular networks of friends and classmates. But while experiences vary, many black students can speak to moments of racial tension and outright racist aggression. "People call you the N-word and say that you don't belong here. They don't realize what that does to the psyche. Then you have to go to class," explained one protester in an interview with ThinkProgress. To that point, I spoke with one alumnus who was once taunted with racial slurs while walking through campus, and another who could point to multiple incidents across his college career. Indeed, my first month at UVA was marked by a rash of racial disturbances, including one in which a black student living in a prestigious "Lawn" room—adjacent to the Rotunda, at the center of the university—was greeted with racist epithets (including "Nigger") on his door.
And beyond these individual experiences is the broad context of black life at the UVA. For most of the last decade, first-year black enrollment held steady at 9 percent. As of 2012, it had dipped to 6 percent, which school officials attribute to the recession, weak economy, and a lack of outreach to younger students and their families. It says something of the present university environment that, out of the 47 Lawn room assignments for the 2015 school year, not a single one of the honors went to a black student.
At a school as large as UVA, shrinking black enrollment—and the persistence of racial microaggressions—can create the feeling of isolation, even as the school keeps its commitment to programs and services for black students and other students of color, from a strong mentoring program and dedicated Office of African-American Affairs to merit scholarships for minority students and a dedicated team of minority college recruiters.
It all adds up to a fraught environment of unresolved problems, where police violence against a black student sparks mass protests of dissatisfied students—black and white—and the school administration joins the criticism. UVA President Teresa Sullivan declared her "commitment to seeking the truth about this incident," while Marcus Martin, joined with the school's dean of African-American affairs, Maurice Apprey, to condemn the entire incident. "We are outraged by the brutality against a University of Virginia undergraduate student that occurred in the early hours Wednesday, March 18, 2015," reads their statement. "This was wrong and should not have occurred. In the many years of our medical, professional and leadership roles at the University, we view the nature of this assault as highly unusual and appalling based on the information we have received."
Martin and Apprey are right. The assault of Martese Johnson is unusual—the kind of extreme event that rarely happens at a place as genteel and comfortable as Charlottesville. But that also makes it fitting. UVA is a school with a painful racial past. Designed by a slaveholder and built by slaves, it was one of the only educational institutions to own and use slaves. Its remembrance of that injustice is haphazard, and it's only in recent years that it's begun to talk openly about and commemorate the lives of enslaved people at the university, to say nothing of its founder, Thomas Jefferson, and his life of great brilliance and terrible depravity. The school lacked serious black enrollment until the 1970s, and there are still spaces in the university—like the predominantly white Greek system—that feel hostile to many black students.
For all the pain this has caused Johnson, it's also an opportunity for UVA to renew its efforts at self-reflection and bolster its forward action. And the better my alma mater can understand its difficult past, the better it can confront and address the questions of its unsettled present.