Penis researchers studying penis size in the penis journal BJU International have analyzed upward of 15,521 penises and have determined the average penis length in 20 previous penis studies is 5.16 inches when erect.
This latest penis study, which claims to be the first comprehensive look at all previous penis studies published in English, measured penises of men ages 17 to 91 in Europe, Asia, Africa, and the United States. It also determined that most penises fall in a normal range of size, and that 2.28 percent of the population has unusually small penises. The study claims it could be useful for academic purposes or to help assess men complaining of small penis size, who might be diagnosed with "small penis anxiety" or body dysmorphic disorder.
The research also allows doctors to chart a patient's penis size compared with the rest of the population.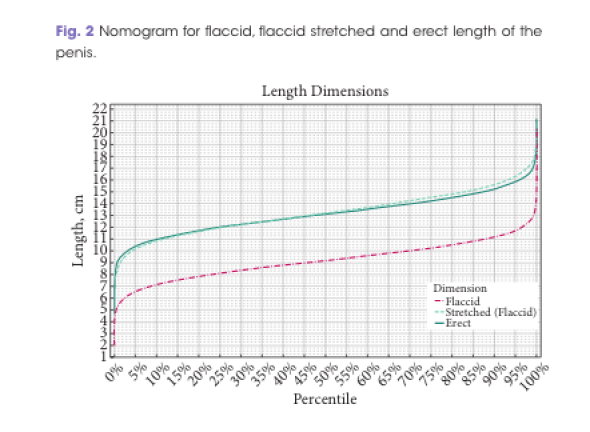 The researchers noted that these studies had a potential flaw in self-selection, because "some of the volunteers across different studies may have taken part in a study because they were more confident with their penis size than the general male population." The study found no significant correlation between penis size and shoe size, penis length and index finger length, and other comparisons such as "testicular volume." The only consistent correlation it did find was between stretched flaccid penis length and erect penis length. If you want to know how penis researchers stretch a flaccid penis, click here, and if you want to know more details about the study, click here.