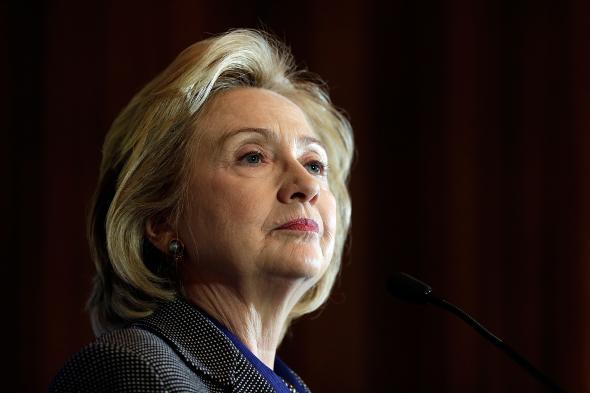 Conservative attorney-cum-activist Larry Klayman, whose accomplishments include throwing Obama impeachment parties that drew tens of people to the White House and filing a suit against Rachel Maddow for $50 million only to be ordered to pay her legal fees, is turning his focus back toward one of his favorite targets: the Clintons. Klayman has vowed that he will bring Hillary Clinton to justice for her use of a private email account while serving as secretary of state, an arrangement first reported this week in the New York Times.
An email sent from Klayman's former organization Judicial Watch on Wednesday pledges hard-hitting legal action against Clinton, who will evidently soon be the subject of several court filings.* Best to let them explain:
Larry Klayman, Esq., the founder of Judicial Watch and now Freedom Watch and a former federal prosecutor at the U.S. Department of Justice, announced today that he is filing motions for orders to show cause why Hillary Clinton and the Obama State Department should not be held in criminal contempt for lying to various courts (and obstructing justice) over their responses to FOIA Requests seeking records concerning Hillary Clinton's role as Secretary of State in releasing information about Israeli war plans and methods to eliminate the Iranian nuclear weapons of mass destruction programs and the decision-making process in her granting waivers to companies, countries and other interests. …
Just yesterday, General David Petraeus agreed to a criminal plea deal over his alleged misuse of national security classified information. It is likely that Hillary Clinton's misuse rises to an even greater level of criminality.
The message goes on to detail Klayman's decades-long legal beef with the Clintons, including obstruction charges Klayman says Hillary should have faced for withholding documents he requested during the Starr investigation. Klayman claims she only escaped jail because "a District of Columbia predominantly African-American Democrat jury would have never convicted her." At the time, Klayman also accused the Clintons of smearing his dead grandmother's name by way of a Newsweek article about a lawsuit Klayman filed against his mother.
In his more recent action against Rachel Maddow and MSNBC, Klayman claimed his client, heavy metal preacher Bradlee Dean, was defamed when Maddow accurately relayed a quote from Dean's radio show in which he expressed support for laws overseas applying the death penalty for homosexuality. After Klayman sued Maddow and a handful of other journalists on Dean's behalf, the case ended with a dismissal and an order for Klayman to pay more than $24,000 in legal fees. Klayman insisted he lost because of sexism and anti-Christian bias on the part of the female judge.
Three years later Klayman is ready to do battle with his old nemeses the Clintons. But Bill and Hillary aren't Klayman's only targets in the unfolding email scandal, according to the missive sent out to his supporters.
Hillary Clinton's accomplices, such as her State Department chief of staff, Marsha Scott, who was also implicated in the email scandal during the Clinton administration when she was the First Lady's chief of staff in the White House, must also be held to account and legally prosecuted if found culpable, as is likely based on past history.
There are undeniably troubling issues related to the use of private email by government officials, since retention of correspondence is a vital part of overall transparency and accountability. A Larry Klayman lawsuit would at least ensure that the dusty legal tussles over disclosure would not lack in entertainment value.
*Correction, March 6, 2015: This post originally misidentified Larry Klayman as belonging to the organization Judicial Watch. He is the founder, but no longer works there.
---