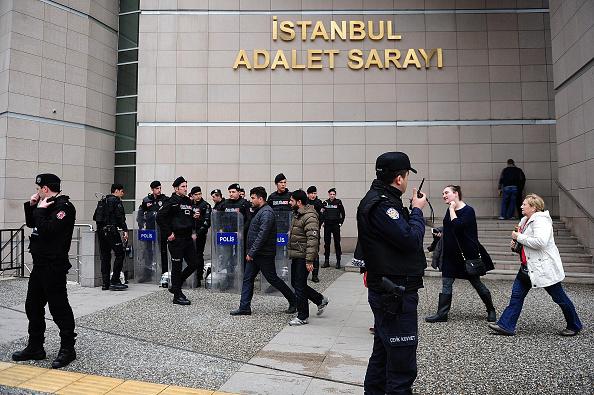 Update, 4:10 p.m.: Authorities say that Kiraz, the prosecutor who was taken hostage, has died.

Original post, 3:43 p.m.: Reports say that two leftist militants were killed when security forces raided an Istanbul courthouse where gunmen were holding a prosecutor—who has been "seriously wounded"—hostage. The captors had earlier released a striking photo of the prosecutor, Mehmet Selim Kiraz, with a gun to his head:
Kiraz—who was taken to a hospital for emergency surgery—has been investigating the death of a teenager, Berkin Elvan, who died at age 15 after being knocked into a coma when he was hit by a tear gas canister during anti-government protests in 2013. From the AP:
A website close to the left-wing DHKP-C group said that militants from the banned organization had taken the prosecutor hostage at midday and had given authorities three hours to meet five demands, including forcing policemen held responsible for the teenager's killing to confess to the death.
The group also demanded that the policemen be tried by "peoples' courts" and for court officials to drop prosecutions or investigations against people who took part in protests denouncing the boy's death.
The DHKP-C is considered a terrorist group by the United States and the European Union. Authoritarian Turkish leader Recep Tayyip Erdogan—who was previously the country's prime minister and is now its president—has claimed that Berkin Elvan had connections to "terrorist organizations," though that allegation does not appear to be substantiated. (Many reports from credible outlets say Elvan was caught up in protests while trying to buy bread.)

---