Per observations by Time magazine and the Atlantic's Conor Friedersdorf, the dodgy justification Hillary Clinton gave this week for conducting official business on a personal email account might be even dodgier than it first appeared.
At her Tuesday press conference, Clinton said her team had employed a "thorough process" to identify "all my emails that could possibly be work-related" so they could be handed over to the State Department. Time notes that the explanation of this process (given in a document subsequently released by Clinton's staff) doesnt make it sound all that thorough:
First, the lawyers searched all emails with a ".gov" email address in any address field, which yielded 27,500 emails—more than 90% of the total correspondence ultimately provided to State.
Next they searched for the first and last names of more than 100 State Department and other U.S. government officials … Then they sorted and checked for "misspellings or other idiosyncrasies" to locate documents the search might have missed.
Finally, they performed a search for specific keywords, including "Benghazi" and "Libya." It is not clear how many such terms were used as filters.
So instead of actually reading all the emails to determine which were germane—which might sound like a lot of work but is actually something that junior legal employees are quite used to doing, as they'll tell you on the one night a week they don't sleep, using a sports coat as a pillow, behind a filing cabinet at the office—the Clinton team did an automated search for certain words and threw away everything else. (Clinton has said emails that weren't work-related were deleted.) This means, for example, that messages to top aides who also didn't use State Department accounts wouldn't have come up unless they also involved one of the keywords. And as Friedersdorf points out (and as anyone who has ever sent an email about a complicated subject realizes), humans don't always communicate by using full proper nouns: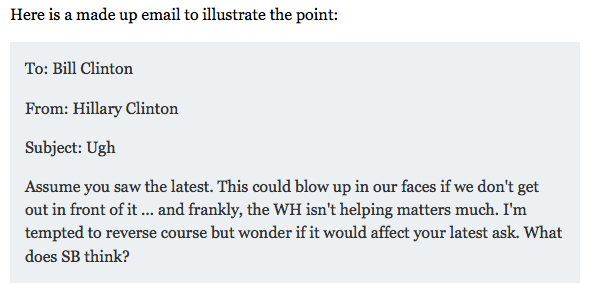 Just to reiterate the timeline:
In 2005 a State Department document asserted that "sensitive but unclassified" information should not be discussed on personal email.
In 2007, Clinton said that the Bush administration's "secret White House email accounts" (she was likely referring to a scandal involving Karl Rove) were an insult to the Constitution.
In January 2009, Clinton became Secretary of State and set up a private email account to use for official business.
In October 2009 a federal regulation was released that stated "agencies that allow employees to send and receive official electronic mail messages using a system not operated by the agency must ensure that Federal records sent or received on such systems are preserved in the appropriate agency recordkeeping system."
In February 2013, Clinton left her position as secretary of state.
It was only in December 2014—and only after a request from the State Department—that Clinton submitted her dubiously compiled file of work-related emails for archiving.