The co-pilot on the Germanwings flight who is believed to have purposefully crashed the plane into the French Alps had previously vowed to "do something" in order to be remembered, his alleged ex-girlfriend said. German daily Bild published an interview on Saturday with a 26-year-old flight attendant who said she was in a relationship with Andreas Lubitz last year. "When I heard about the crash, I remembered a sentence, over and over again, that he said," the woman said, according to Reuters. " 'One day I'll do something that will change the system, and then everyone will know my name and remember it.' "
The woman, who is identified only as Maria W., told the German paper she was "very shocked" when she heard the news. "I didn't know what he meant by that at the time, but now it's obvious," she said. "He did it because he realized that, due to his health problems, his big dream of working at Lufthansa, of a having job as a pilot, and as a pilot on long-distance flights, was nearly impossible." She says Lubitz told her he was in psychiatric treatment but did not speak about the issue much.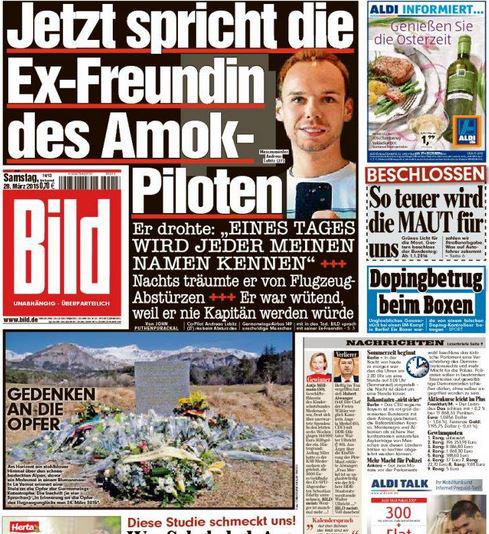 Lubitz apparently put his pilot training on pause at one point due to "burnout syndrome," according to the Guardian. Lufthansa CEO Carsten Spohr has said Lubitz suspended his pilot training that began in 2008 "for a certain period" before restarting, notes AFP. Lubitz's former girlfriend says she finally broke up with him because she was afraid of him, claiming he suffered terrifying mood swings.
"He would suddenly freak out in conversations and yell at me," she said. "At night he would wake up screaming 'we are crashing' because he had nightmares. He could be good at hiding what was really going on inside him."
Lubitz hid from his employers that he was being treated for depression, according to the Wall Street Journal. A source tells the Journal that Lubitz's neuropsychologist had excused him from work for a period of time that included the day of the crash. There is no evidence though that Lutbitz was under the effects of medication that could have clouded his judgment. "When someone makes the same decision five or six times all leading toward one specific end you have to assume they are acting intentionally," the source added.