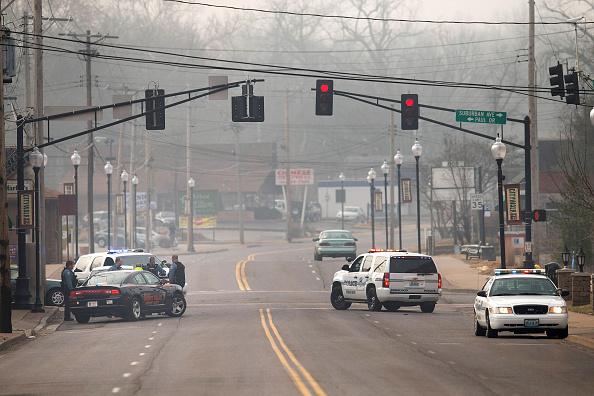 Update, March 12, 4:15 p.m.: Whoever shot two police officers in Ferguson, Missouri, last night is "a damn punk," Attorney Feneral Eric Holder said at a Justice Department event Thursday afternoon. From Politico:

"This was not someone who was trying to bring healing to Ferguson," Holder said, speaking before the announcement of a new Justice Department policing initiative. "This was a damn punk … who was trying to sow discord in an area that is trying to get its act together and trying to bring together a community that has been fractured for too long."
Police said after a Thursday morning home raid that three individuals were being questioned in connection with the case, but none of the three has been formally taken into custody.
Original post, March 12, 2015, 11:46 a.m.: Video footage apparently taken by a St. Louis-area activist named Heather De Mian captures the moment that two officers were shot early Thursday morning outside the Ferguson, Missouri, police station:

Greg Jonsson of STLtoday.com, meanwhile, reports that the injured officers—a 41-year-old and a 32-year-old—have been released from treatment:
A St. Louis Post-Dispatch writer named Kim Bell reports that authorities have raided a home in Ferguson in pursuit of a suspect in the shooting:
Bell has since tweeted that no one was found in the attic; one of her colleagues says at least two individuals were taken out of the house earlier in handcuffs.
---