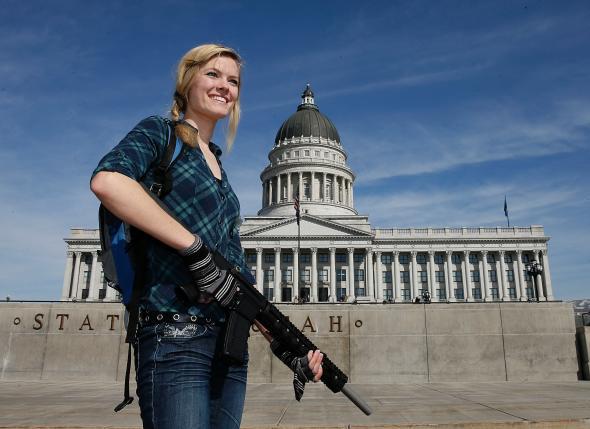 Presidents Day is well known throughout America as the country's "third best non–gift giving holiday." Look it up. As such, on Friday, we here at the Slatest were understandably excited on what we will call (just this once) bizarro Black Friday—the Friday before the big one (Presidents Day)!—and we missed this story. Our apologies.
In a holiday-themed ICYMI, we'd like to direct your attention to the great state of Utah and its efforts to turn back the clock to when all travel was conducted on horseback and bring back the firing squad as a means of carrying out the death penalty in the state. The practice was banned for new death row prisoners in 2004 for pretty obvious reasons.
Here's more on the statehouse shenanigans from the Associated Press:
The Republican-controlled House of Representatives voted 39-34 Friday morning to approve the measure, sending it to an uncertain fate in the state's GOP-controlled Senate. Leaders in that chamber have thus far declined to say if they'll support it, and Utah's Republican Gov. Gary Herbert won't say if he'll sign it … Rep. Paul Ray, a Republican from Clearfield who is sponsoring the measure, said after the vote Friday that he thinks it will be just as close in the Senate, and he hasn't started trying to press his case in that chamber. Ray argues that a team of trained marksmen is faster and more humane than the drawn-out deaths that have occurred in botched lethal injections. His bill would call for a firing squad if Utah cannot get lethal injection drugs 30 days before an execution … A handful of inmates on Utah's death row were sentenced before the law changed and still have the option of going before a firing squad in a few years once they have exhausted any appeals. It was last used in 2010 when Ronnie Lee Gardner was executed by five police officers with .30-caliber Winchester rifles.
A quick ICYMI recap of this ICYMI post: Utah's potential solution to faulty, inhumane lethal injection cocktails is to line up the firing squad. OK, now we're all up to speed.
---