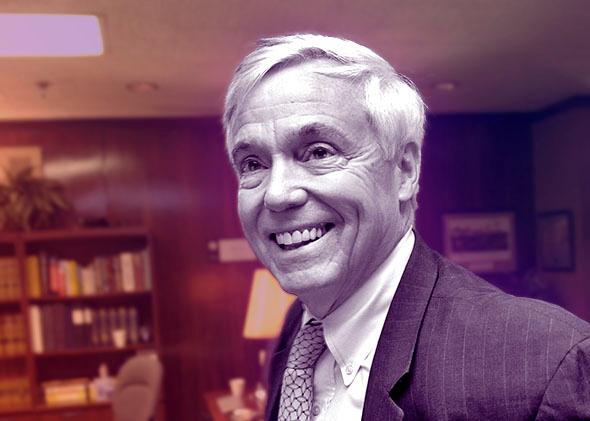 In northeast Virginia, some conservatives are looking for blood. The tensions in the state's Republican politics often have national implications: The state gets bluer all the time, Virginia Republicans aren't ready to make nice with each other, and Democrats' growing clout could give their nominee an edge in 2016. Now, a primary threat to the Virginia speaker of the House means Republicans' internecine tensions are about to erupt.
That leading Virginian Republican, William Howell, has represented the commonwealth's 28th District in the House of Delegates since 1992 and is facing a credible primary challenger who has won support from one of the nation's most prominent conservatives. Susan Stimpson, who is challenging Howell, previously chaired the Stafford County Board of Supervisors and ran unsuccessfully to be the Republicans' 2013 lieutenant governor nominee. The primary is on June 9.
If Howell goes down, he'll be joining a string of powerful Virginia Republicans who have been eliminated in primary campaigns, and he'll give an extra jolt of vim to the Virginia grassroots conservative activists looking to grow their influence in the state party. The most obvious example of their effectiveness is the saga of former U.S. House Majority Leader Eric Cantor, who lost last year to then-professor Dave Brat in a primary upset that astounded literally everyone, including Brat. In fact, Cantor's high-profile defeat wasn't without precedent. In June 2013, Virginia Delegates Joe May and Beverly Sherwood both lost to upstart conservative primary challengers who targeted them for backing a hefty tax hike. Both were longtime members of the House of Delegates, and both chaired committees.
Americans for Tax Reform celebrated Joe May's loss, and now it's hoping for more blood. The organization doesn't endorse candidates, but it criticizes specific candidates' records and did so against May. Its president, Grover Norquist, endorsed Stimpson last week and called Howell "a serial tax-hiker." His statement also blamed Howell for the election of Virginia's two Democratic senators, Tim Kaine and Mark Warner.
This isn't to suggest that the primary is a clear-cut instance of Gadsden flag–toting conservative insurgents clashing with business-chummy good-ol'-boy RINOs. The Washington Post ran an editorial mocking charges that the speaker is too centrist and saying he "has guided the House of Delegates from one conservative milestone to another." And Fred Barnes in the Wall Street Journal praised Howell's role in blocking the Medicaid expansion into Virginia.
But his conservative credentials aren't unassailable. As speaker, he oversaw the passage of the largest tax hike in state history, and that alone was more than enough to make him an attractive target for a primary.
"He's been given opportunity after opportunity after opportunity to govern and pass legislation to the benefit of taxpayers, small businesses, and families in Virginia, and he's done the opposite," said Paul Blair, state affairs manager at ATR. "Raising taxes is what politicians do instead of reforming government, and the speaker is the best living example of that theory."
And James Parmelee, the chairman of the Northern Virginia Republican PAC, said Stimpson can make the race competitive.
"Susan Stimpson is a solid candidate," he said. "She has a wide statewide following and did very well—didn't win, but did very well—in her lieutenant governor race."
Parmelee's group hasn't endorsed anyone in the primary. He added that a Stimpson win would give more energy to the grassroots conservative activists who have already taken out a handful of Old Dominion Republicans. "People see that very secure, powerful incumbents can lose to an issue-based campaign," he said.
That doesn't mean Howell is going the way of Cantor (which, given Cantor's lucrative new Wall Street gig, isn't the worst way to go). For starters, Howell and his staff seem to be taking the challenge seriously. While Cantor's staff kept busy "browbeating" any reporters who mentioned Brat (that's per Breitbart's Jonathan Strong), Howell has put together a serious political operation. Matt Moran, a spokesman for the speaker, also said they won't run a negative campaign.
"We're not going to try to win this race by just spending more than her on flashy TV ads and blowing up the mailboxes," said Moran.
That's probably smart. One of Cantor's key mistakes was lobbing awkward negative ads at Brat that backfired colossally by raising his name recognition with voters. Nor was he the only Old Dominion Republican incumbent to be hoisted on his own negative-ad petard; Joe May launched awkward, salacious attacks at his primary contender that backfired by making him look petty and mendacious.
"We're not going to take anything for granted," Moran said. "We're going to learn from the mistakes that other incumbents have made, and we're going to win."
So Howell is the clear front-runner. He'll have a substantial fundraising advantage, and he won't be taken by surprise the way Cantor was. But perhaps the most interesting difference between Howell's and Cantor's challenge is that Howell faces a former protégée. The speaker helped Stimpson kick-start her political career, so her decision to try to take him out raised a few eyebrows.
"One of the hardest things to do in politics is hold your friends accountable, but frankly it's one of the things missing in Richmond and Washington," Stimpson said in an email.
"No one needs to be in office for 30 years," she added.
---