In 2012 the presidential candidates barely talked about poverty, but in the first stirrings of this cycle's GOP nominating contest, the issue is coming up a lot. Sen. Marco Rubio devoted a significant portion of his new book on economic opportunity to the issue. Sen. Rand Paul has explained that he is "spending a lot of time going to areas of big cities where people live in poverty, and there is high unemployment, and there is this sort of despair, and I'm saying, 'You know what? Give Republicans another chance.' " And Wednesday, Jeb Bush gave the first in a series of speeches devoted to inequality, which he says is the No. 1 issue of our time. His message was encapsulated by the Detroit Free Press headline: "Jeb Bush in Detroit: Americans have right to rise out of poverty."
Is the Republican Party about to have a battle of ideas over poverty? There are several ways we'll know whether this new interest is real or simply a mark of political positioning. Of course, there are the policies the candidates will put forward, which will be evaluated on their merits. But perhaps even more important is the measurement of how a candidate spends his or her time. In a political campaign, there is nothing more valuable than a candidate's time. Where he or she goes tells us what the candidate really cares about.
There hasn't been a robust effort to talk about poverty in the GOP nominating process since George Romney ran for president in 1967. During that campaign, he embarked on a 17-city tour of the "ghettos," engaging in often confrontational exchanges with people who were never likely to vote for him. The level of risk-taking, candor, and general fearlessness in Romney's tour would put today's timid politicians in traction. "We must rouse ourselves from our comfort, pleasure, and preoccupations and listen to the voices from the ghetto," Romney said in one speech.
In August 2012, Paul Tough outlined President Obama's nonexistent public remarks on the issue in the New York Times. "Obama hasn't made a single speech devoted to poverty as president, and if you visit barackobama.com these days, you would be hard-pressed to find any reference to the subject whatsoever." When Rep. Paul Ryan asked Mitt Romney's campaign to highlight the issue on the campaign trail, he was told that it was off-message, according to one source familiar with his thinking. After the campaign, Ryan embarked on a concentrated self-education effort, traveling through poor neighborhoods. It became the backbone of his recent book The Way Forward. (Bob Dole's campaign strategists told Jack Kemp, Dole's running mate in 1996, that he was wasting his time campaigning in the poor neighborhoods of Harlem and the South Side of Chicago. Incidentally, Kemp was Paul Ryan's mentor.)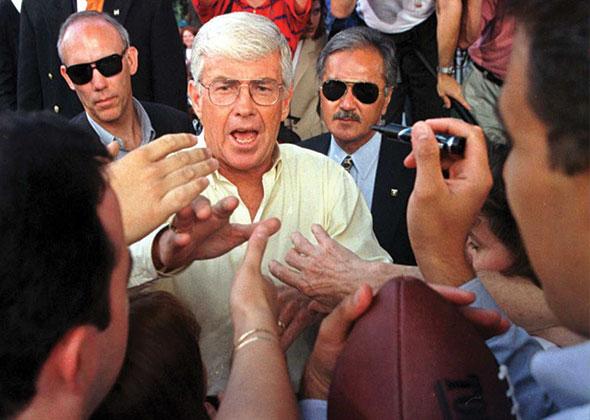 In his remarks in Detroit on Wednesday, Jeb Bush outlined how a candidate builds legitimacy on an issue. In an answer to how he distinguishes himself from his brother and father, Bush said he did it as a gubernatorial candidate by hitting the streets. "I knew I had to share my heart," he said. "You've got to care for people before you get their vote." Bush said he visited 250 schools. "By the end of that journey, people knew I wasn't just the brother of George W. Bush," he said. "I earned it by working hard to connect with people in a way that truly mattered." Bush wasn't just connecting with people he met on his visits; he used the hard work to prove that he was going beyond offering rhetoric about education.
So one measure of seriousness would be whether the candidates actually put themselves in the presence of the poor. While that may show seriousness of commitment, there are downsides to making such public forays. When Robert Woodson, president of the Center for Neighborhood Enterprise, took Paul Ryan on his yearlong tour of hard-hit neighborhoods, he and Ryan agreed to do it silently to keep it from being a circus show. Woodson praises Ryan for his deep commitment to the issue, which he says he hasn't seen yet from the other conservatives talking about poverty. "I have watched how some of them have done it and so far I haven't seen the level of sincerity, it comes across as a gimmick," he says. "It has been about themselves. None of these people seem to be able to get themselves out of the way and connected with people the way Paul did."
In the modern campaign, candidates in both parties spend much of their time at the other end of the income scale tending to the needs of wealthy financial backers and pleading for contributions from their wallets. As fundraising has become more important, time spent in close quarters with people who have little has decreased. Now the GOP's candidates are raising the stakes: The more they talk about poverty, the more it will highlight if there is a poverty of effort.