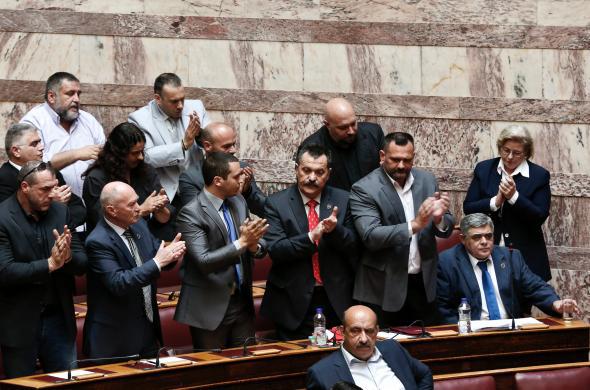 A judge in Greece has ordered 70 members of the far-right, neo-Nazi Golden Dawn party—including its leader and 12 other active elected legislators—to stand trial as a "criminal group." Greek authorities first accused Golden Dawn of criminal activity in September 2013, when party leader Nikos Michaloliakos and several other members were arrested. The party finished third in this year's Greek elections, winning 6 percent of the national vote. From the AP:
The members were ordered to stand trial after the investigation found "evidence to support the offences of membership of a criminal organization and aggravated unlawful possession of weapons," according to a copy of the indictment seen by the Associated Press.
Prosecutor Isidoros Doyiakos, who headed the investigation into Golden Dawn's activities, said the organization aimed "to propagate and impose its political beliefs and theories through violence."
Doyiakos said Golden Dawn's organized assault squads "armed with bats iron bars, brass knuckles, and knives" to carry out streets attacks against immigrants and left-wing activists.
Slate's Josh Keating chronicled Golden Dawn's history of malfeasance when Michaloliakos was first arrested. Wrote Keating:
The party, which has blamed the country's problems on "Jewish bankers," denied the Holocaust, and uses a symbol similar to a swastika as its logo, has been involved in several instances of thuggish behavior against other lawmakers while its supporters have been implicated in dozens of incidents of violence against immigrants, particularly those of South Asian and African descent. 
Things came to a head earlier this month with the murder of the well-known anti-fascist activist and rapper Pavlos Fyssas, aka Killah P, by 10 men wearing black T-shirts and camouflage. A Golden Dawn member was arrested in connection with the murder and the party's offices were raided. Golden Dawn has denied involvement in the murder.
Michaloliakos is in custody and left jail to attend a 2014 session of parliament in which other legislators voted to lift his immunity from prosecution. Michaloliakos and other jailed MPs are expected to be similarly escorted by police to the first session of the newly elected legislature on Thursday.
---