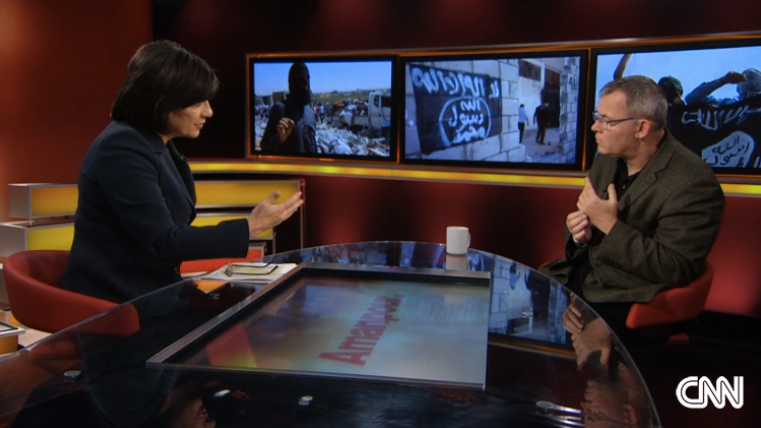 Update, Feb. 4, 2015: François, who spoke in English during his interview with Amanpour, has clarified that he did not mean to suggest that his captors themselves did not have copies of the Quran. He told Slate.fr that hostages asked the ISIS hostage-keepers for copies of the book but were rarely given access to one. Translated from the original French:

"We had a lot of trouble getting a Quran. We were bored to death, they didn't want to lend us their books, they didn't want to lend us anything. At one point, for three days, we had a Quran in French and we lost it in one of the transfers."
François' clarified remarks are still consistent with his larger point to Amanpour—that the ISIS soldiers he encountered did not emphasize religious principles when "hammering" the hostages with pronouncements about the terrorist group's ideology:
"I don't think that this is a religious movement, I think that it's a political movement and that their guards have talking points against democracy for example, that have nothing to do with the Quran."
François did say that he believes the guards were "religious" on a personal level.

Original post, Feb. 3, 2015: Didier François, who was held hostage along with three other French journalists by ISIS for 10 months before being released in April 2014, told CNN's Christiane Amanpour in an interview that his captors did not keep a copy of the Quran. Asked by Amanpour if any of the guards where he was held ever spoke to captives, François said that the hostage-keepers forcefully described their violent ideology—but that religion did not enter into the doctrine as they expressed it. Said François:

There was never really discussion about texts or—it was not a religious discussion. It was a political discussion. It was more hammering what they were believing than teaching us about the Quran. Because it has nothing to do with the Quran.
They didn't even have the Quran; they didn't want even to give us a Quran.
The entire 13-minute interview is worth watching; François was held alongside since-murdered American captives including James Foley and Steven Sotloff.

France negotiated with ISIS for the release of François and the other French journalists, but has denied paying for their freedom.

---